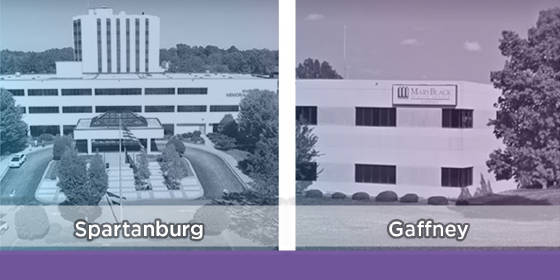 Spartanburg Regional Healthcare System has reached an agreement to acquire Mary Black Memorial Hospital in Spartanburg and Mary Black Hospital in Gaffney.
Spartanburg Regional Healthcare System to acquire two Mary Black Hospitals
Spartanburg Regional Healthcare System (SRHS), recently announced a definitive agreement has been reached with subsidiaries of Community Health Systems, Inc. (CHS) to acquire Mary Black Health System (MBHS). The transaction is expected to close by the end of the fourth quarter of 2018, subject to customary regulatory approvals and closing conditions.
The two CHS hospitals involved in the transaction are:
Mary Black Memorial Hospital – Spartanburg
Mary Black Hospital – Gaffney
The transaction includes all physician clinics and outpatient services associated with the two hospitals, which will become part of Spartanburg Regional Healthcare System once the transaction is complete. The regulatory review process has just begun, and the acquisition is not final.
Substantially all employees in good standing at the time the transaction is closed will be hired. Upon closing, more than 8,000 associates will be employed, and SRHS will operate six hospitals in Spartanburg, Union and Cherokee counties.
SRHS acknowledges MBHS's long standing contributions to the community and looks forward to working with its stakeholders and leadership to ensure a smooth transition for the patients, associates and community.
Spartanburg Community College Foundation awards $80,000 in scholarships to students
The Spartanburg Community College Foundation has awarded more than $80,000 in private scholarships to 53 students for the 2018-2019 academic year. "Awarding scholarships is one of the most worthwhile efforts of the Foundation as it gives us an opportunity to directly impact a student and their educational journey," explains Bea Walters Smith, executive director of Advancement and the SCC Foundation. "Thanks to the generosity of donors and many supporters, the SCC Foundation scholarship program is evolving."
"The SCC Foundation has raised private dollars over the years to establish a variety of scholarships designated to specific academic areas as well as general scholarships and emergency funds to assist students with one-time emergency needs," adds Smith.
Congratulations to the following SCC students who have been awarded scholarships for the 2018-2019 academic year:
Wil Myers Scholarship
Vincent Meeks, Spartanburg
HVAC Scholarship
Daquan Sartor, Spartanburg
Renard Steadman, Spartanburg
Austin Wilson, Spartanburg
John B. White Scholarship
Silas Henderson, Woodruff
Debra Ann Kay Memorial Scholarship
Katrina Gragg, Greer
Phillip Logay, Boiling Springs
Chris Duerksen Memorial Scholarship
Renika Clark, Spartanburg
Lakesha Williams, Spartanburg
Spartanburg Lions Club
Karon Madison, Spartanburg
Cameo McCarroll, Spartanburg
Shirley M. Tillotson Memorial Scholarship
Ashley Hicklin, Spartanburg
Todd Reynolds Memorial, Chesnee High School Memorial Scholarship
Zachery Henson, Chesnee
Foster & Ruth Gray Chapman Single Parent Achievement Award
Chasity Lyles-Norman, Spartanburg
Deveney Littlejohn, Inman
Ashley Williamson, Gaffney
Austin Sierra, Spartanburg
Cassandra Williams, Woodruff
Faeren Drennen, Greer
Kayla Burris, Spartanburg
John C. Johnson Memorial Scholarship
Lydia Thompson, Spartanburg
J M Smith QS/1 Scholarship
Allison Crocker, Moore
Allison Henderson, Gaffney
Taylor Lowery, Gaffney
Angel Pennington, Gaffney
Rebecca Phothong, Spartanburg
Somaly Tough, Inman
Caroline Ragsdale Reutter Memorial Scholarship for Culinary Arts
Hannah Acrey, Gaffney
Workman Cantrell Memorial Scholarship for Culinary Arts
Kerry Bowden, Woodruff
Katina Pruitt, Chesnee
Wallace Eppes Johnson Curriculum Enhancement Scholarship
Candace Logan, Spartanburg
Spartanburg County Medical Society Health Careers
May Traylor, Spartanburg
The Jean Miller McAbee Memorial Scholarship for Horticulture
Alaina Langner, Greenville
Emily Kishbaugh, Spartanburg
The Jimmy Painter Horticulture Scholarship
Harris Vaughan, Rock Hill
William Price, Kinards
Phillip Schwerin, Fort Mill
Jordan Owens, Belton
Meaghan Cleary, Mauldin
David Driggers, Gray Court
Stephen Rodgers, Greenville
Crossland Bryant, Martinez, GA
Caleb Barnes, Easley
William Ivey, Union
Radiation Protection-Utley Scholarship
Sunshine Chandler, Gaffney
SSS Management/Duer Coil Scholarship
Corey Rice, Spartanburg
Jasmine Scurry, Boiling Springs
James Scurry, Boiling Springs
Shaneese Jeter, Spartanburg
Senjeur Dorcely, Inman
SCC General Scholarships
William Gregg, Spartanburg
Water Environment Association of SC (WEASC)
Anthony LeCog, Woodruff
Economic Visionaries Honorarium Scholarship for Amy Wood
Jayla Twitty, Landrum
Economic Visionaries Honorarium Scholarship for Lynn Good
Timari Dawkins, Spartanburg
Green Cloud Technologies growing its Greenville County headquarters
Columbia - Green Cloud Technologies, one of the nation's fastest-growing providers of hosted solutions and services, recently announced the opening of its new Greenville County headquarters. The company's $7.8 million investment is projected to create approximately 50 new jobs over the next five years.
Green Cloud Technologies was founded in 2011 by a team of industry veterans with more than a century of combined information technology, telecom and communications experience. The start-up was established with a business model focused on building partner networks and providing customers with world-class servers, as well as backup and recovery solutions. The company's expansive suite of Cisco-powered, cloud-based products, services and support is scalable to applications of any size - from small and medium-sized businesses to enterprise-class organizations.
Previously housed in Greenville's NEXT Innovation Center, Green Cloud Technologies' new, 14,470-square-foot headquarters facility is located in the Haywood Ridge Office Park at 510 Airport Road in Greenville. The new facility offers convenient access to Interstate 385 and the Greenville Downtown Airport. Those interested in joining the Green Cloud Technologies team can visit the company's website at www.gogreencloud.com.
"Many across the state of South Carolina are dedicated to supporting an entrepreneurial business environment and training a highly-skilled workforce, so companies like Green Cloud can compete against any global tech company. Our new, modern office will accommodate our projected growth and build on our culture of innovation, teamwork and collaboration, so we can continue to deliver sophisticated, cloud-based technology solutions to our customers," stated Green Cloud Technologies Co-Founder and CEO Keith Coker.
South Carolina Governor Henry McMaster added, "South Carolina is on the cutting edge of industry, and with companies like Green Cloud Technologies investing and growing in our state, that trend will only continue. I congratulate this innovative company and wish them continued success within our borders and beyond."
"We are proud of the growth of Green Cloud Technologies in Greenville, and we are confident in their continued success in providing vital services in a growing area of innovation. Green Cloud Technologies' decision to grow its team and headquarters in Greenville County acknowledges our highly-skilled workforce, our technology-driven business ecosystem and our appreciation for business enterprises in Greenville County," added Greenville County Council Chairman H.G. "Butch" Kirven Jr.
The Coordinating Council for Economic Development has approved job development credits related to this project.
Furman University President receives national award for excellence in experimental education
Greenville - In October 2016, Furman University President Elizabeth Davis unveiled The Furman Advantage, a strategic vision that combines learning with immersive experiences outside the classroom and provides students with more intentional mentoring, advising and reflection.
This month, the National Society of Experiential Education (NSEE) recognized that effort by selecting President Davis as the 2018 recipient of the William M. Burke Presidential Award for Excellence in Experiential Education.
The award recognizes a sitting college president who has made "significant contributions to experiential education and exemplifies a commitment to college students through entrepreneurial support of experiential education on campus and in the community." The honor is presented by NSEE and funded by The Washington Center for Academic Internships and Seminars in memory of Washington Center founder William M. Burke.
"Elizabeth Davis is highly deserving of this prestigious honor," said Stephanie Thomason, president of the National Society for Experiential Education. "She has been the creative and driving force behind The Furman Advantage, which focuses on quality teaching, undergraduate research, study away experiences and internships. Her leadership has been instrumental in expanding and enhancing experiential learning at Furman."
The Burke Award includes a $2,000 scholarship that will be awarded to a deserving Furman student who is involved in experiential learning. President Davis will be honored at the 2018 NSEE Conference Awards Luncheon to be held Sept. 25 in Savannah, Georgia.
Davis was named Furman's 12th President on July 1, 2014. She is a member of the Council of Presidents, which provides guidance to the Association of Governing Boards of Universities and Colleges on issues of governance in higher education, as well as a member of the Council of Independent Colleges (CIC) Board of Directors.
The Furman Advantage is made possible by the financial generosity of The Duke Endowment, which provided a total of $47 million to launch the program in 2016. Another $2.5 million grant from the Endowment has allowed the university to partner with global analytics firm Gallup to study the impact of the university's undergraduate experience and measure the effectiveness of The Furman Advantage.
The National Society for Experiential Education is a nonprofit membership organization composed of educators, businesses and community leaders. Founded in 1971, NSEE also serves as a national resource center for the development and improvement of experiential education programs nationwide.
For more information, contact Furman's News and Media Relations office at 864-294-3107 or visit the NSEE website.