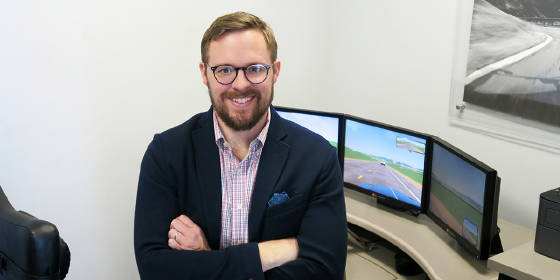 John Lucas, M.D. recently had research published in the British Journal of Sports Medicine.
Local doctor receives international acclaim
John Lucas, MD, is well known in Upstate South Carolina, but he's getting some attention from far away, too – Great Britain.
Lucas' research regarding concussions was recently published in the British Journal of Sports Medicine. He is the lead author of a paper entitled "Provider attitudes and management regarding returning to drive after concussion."
The idea sprang from a conversation during Dr. Lucas' sports medicine fellowship at Wake Forest.
"Patients with a concussion often have delayed reaction times, difficulty concentrating, and feel 'slowed down,'" Dr. Lucas said. "Certainly, these are symptoms which bring into question whether or not patients with concussion should be driving."
Motor vehicle crashes are the number one cause of death among both teens and NCAA athletes – but Dr. Lucas realized that physicians weren't routinely discussing driving with concussed patients.
"When we looked into what we should be advising we found very little information," he said. "We designed a survey to get the thoughts and management practices of other sports medicine physicians around the country."
Dealing with concussions
The main treatment for concussion currently is rest. Dr. Lucas advises limited and sometimes complete brain rest, such as limiting screen time, modification of school activities, and general activity that worsens symptoms.
"Every patient is a little different, so this is tailored to the patient's symptoms," he said.
An important first step is keeping the athlete on the sidelines until the symptoms are resolved.
"I will typically allow some light physical activity once symptoms begin to improve as long as it does not worsen symptoms," Dr. Lucas said.
Driving and concussions
The research indicates that, of the physicians interviewed:
* 83 percent felt that athletes who suffered concussions were at an increased risk of motor vehicle crashes yet fewer than half, 49 percent, routinely counsel their patients about driving.
* In comparison, 85 percent of responders 'almost always' counsel about screen use (television, computer, phone) following concussion.
* 82 percent indicated they did not implement testing to determine whether an athlete with a concussion was ready to return to driving, and 30.4 percent of responders indicated they do not have clear return-to-drive criteria.
"Our study found that physicians are generally good about counseling patients on screen time, academics and returning to sport. I think as physicians begin to realize this is an issue, more conversations will begin to happen," Dr. Lucas said. "Secondly, there is little information out there in terms of what we should be advising these patients."
Dr. Lucas and his team recognized that restricting driving can make it difficult to go to work or school.
Driving simulator
The paper also cites the increased use of driving simulators for rehabilitation. Learn about the driving simulator at Spartanburg Regional's Sports Medicine Institute.
"We are currently working with Clemson University International Center for Automotive Research (CU-ICAR) to study the effects of concussion on driving tasks using driving simulators," Dr. Lucas said. "Further research will help us understand how to appropriately advise patients on driving with and after a concussion."
Three named to endowed professorships
Wofford College has named three professors to endowed professorships, recognizing their excellence in teaching and their leadership and creativity.
They are Dr. Christine Sorrell Dinkins, William R. Kenan Jr. Professor of Philosophy; Dr. Natalie S. Grinnell, Reeves Family Professor in Humanities; and Dr. Timothy D. Terrell, T.B. Stackhouse Professor of Economics.
"These three faculty members are true exemplars of the teacher-scholar," says Dr. Michael J. Sosulski, provost. "Each has exhibited excellence and creativity in teaching, skill in developing courses and programs that serve Wofford student and has made significant contributions to knowledge in their respective academic fields. "They have shown exceptional leadership both in their classrooms and out, advising and guiding student research as well as serving in leadership roles on the faculty. We acknowledge and appreciate their work and congratulate them on their new roles in these endowed professorships. We also are thankful to those who have given generously to the college to make the professorships possible, rewarding exceptional teachers and scholars and, thereby, enhancing the student experience."
Dinkins is a graduate of Wake Forest University and received her master's and Ph.D. degrees in philosophy from Johns Hopkins University.
A graduate of Tulane University with bachelor's degrees in French and English, Grinnell received her master's degree and her Ph.D. in English from State University of New York at Buffalo.
Terrell received his bachelor's degree and master's degree in economics from Clemson University and his Ph.D. in economics from Auburn University.
Endowed professorships and chairs allow Wofford to attract and retain faculty known for excellence for their teaching, scholarship and for leadership and creativity in developing programs in their fields of study.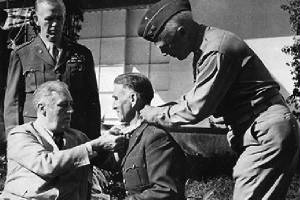 President Franklin D. Roosevelt, left, and Gen. George Patton, right, present the medal of honor to Gen. William Wilbur as Gen. George Marshall looks on in this 1943 photo taken in Casablanca.
Roosevelt, Patton descendants to lecture April 30 at Wofford College
The youngest grandson of World War II's Gen. George S. Patton Jr. and the great-great-grandson of President Franklin D. Roosevelt will talk about their historic ancestors at 7 p.m. Monday, April 30, at Wofford College as part of the Hipp Lecture Series on International Affairs and National Security.
"Reflections on Heroes, History and Family Wisdom: President Roosevelt and General Patton" will be presented by Ben Patton, founder and executive director of the Patton Veterans Project, and Kevin Cushing Chiucchini, co-host of the Armstrong Williams Show on Sirius XM. The program, which is free and open to the public, will be held in Leonard Auditor-ium in Main Building.
"Ben Patton and Kevin Chiucchini will help bring to life the passion, wisdom and courage of their forefathers," says Van D. Hipp Jr., the founder of the Hipp Lecture Series and a 1982 Wofford graduate. "Being able to hear their reflections on Gen. Patton and President Roosevelt will provide a special look into history and how they helped shape the America of today."
Roosevelt was the 32nd president of the United States, serving from 1933 until his death in 1945. A Democrat, he won a record four presidential elections and became a central figure in world events during the mid-20th century. He directed the federal government during the Great Depression, implementing his New Deal domestic agenda in response to the worst economic crisis in U.S. history.
FDR's re-election in 1940 made him the only U.S. president to serve more than two terms. With World War II looming, he gave strong diplomatic and financial support to China as well as the United Kingdom and the Soviet Union while the U.S. remained officially neutral. Following Japan's attack on Pearl Harbor on Dec. 7, 1941, an event he famously called "a date which will live in infamy," Roosevelt obtained a declaration of war on Japan the next day, and a few days later, on Germany and Italy. He supervised the mobilization of the U.S. economy to support the war effort and implemented a Europe-first strategy, making the defeat of Germany a priority over that of Japan. He also initiated the development of the world's first atomic bomb and worked with other Allied leaders to lay the groundwork for the United Nations and other post-war institutions.
Roosevelt won re-election in 1944, but he died in April 1945, just 11 weeks into his fourth term. The Axis Powers surrendered to the Allies in the months following his death, during the presidency of his successor, Harry S. Truman.
Gen. George S. Patton Jr. is best known for his leadership of the U.S. Third Army in France and Germany following the Allied invasion of Nor-mandy in June 1944. He also was a senior officer of the U.S. Army who commanded the U.S. Seventh Army in the Mediterranean and European theaters in World War II.
Patton led a highly successful rapid armored drive across France after the Normandy invasion, and he led the relief of American troops at Bastogne during the Battle of Bulge and advanced his Third Army into Nazi Germany by the end of the war.
After the war, Patton briefly was the military governor of Bavaria. He commanded the U.S. Fifteenth Army for a little more than two months. He died in Germany in December 1945 as a result of injuries from an automobile accident.
Patton's philosophy of leading from the front and his ability to inspire troops with vulgarity-ridden speeches attracted favorable attention. A popular, award-winning biographical film, "Patton," released in 1970, helped transform Patton into an American folk hero.
Benjamin Patton did not follow in the military footsteps of his famous grandfather or his father, a decorated general of the Korean and Vietnam wars. The younger Patton became a producer and executive at PBS and started his own video production company, Patton Productions LLC, a full-service company specializing in marketing and promotional videos and high-end family biographies for private clients. Patton, the co-author of "Growing Up Patton: Reflections on Heroes, History and Family Wisdom" (Berkley Caliber, 2012), has a master's degree in developmental psychology from Columbia University-Teachers College and a bachelor's degree from Georgetown University. He is the founder and executive director of the Patton Veterans Project, a nonprofit organization that teaches combat veterans how to make films that express their experiences and help them return to productive civilian life.
Kevin Chiucchini is co-host on the Armstrong Williams Show on Sirius XM; Williams is one of the biggest names in political talk radio and political talk TV. Chiucchini also is the house manager at Theatre Row, 42nd Street Development Corp., a complex of off-Broadway rental venues, rehearsal studios and office spaces. He received a B.B.A. in international management from Pace University in New York City and studied acting at the Actor's Conservatory, the New York Film Academy and Maggie Flanigan Studio. In addition to being the great-great-grandson of Franklin D. and Eleanor Roosevelt, Chiucchini is the grandson of Kate Whitney and Franklin Thomas, philanthropist and the first African-American president and CEO of the Ford Foundation.
The Hipp Lecture Series on International Affairs and National Security, founded in 2011, is designed to create signature events at Wofford that will capture the attention of students and the public and draw them into important conversations on applying American leadership and ideals to the challenges of international affairs past, present and future.
The lecture series is made possible through the generous donations of Hipp, chairman of American Defense International Inc., a Washington D.C.-based consulting firm specializing in government affairs, business development and public relations.