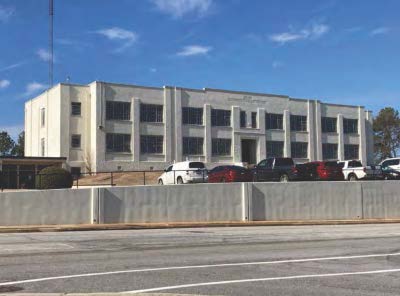 Cumming Street School, among the first school in Spartanburg built for black students, will be added to the City's local Historic Register after a unanimous vote by Spartanburg City Council. City of Spartanburg photo.
City Council votes to add Cumming Street School to local historic register
Prepared by the City of Spartanburg staff
At their meeting on Monday, May 9th, Spartanburg City Council voted unanimously to add the near century-old Cumming Street School to the City's local Historic Register. Now located on the campus of Wofford College, the building once housed one of the earliest schools to educate Black students in the City of Spartanburg. First opening in 1926 for students in grades 1-9, the school served upwards of 1,000 students each year until closing in 1969, when schools in Spartanburg were finally desegregated. Afterwards the school was used by Spartanburg School District 7 as an administrative building.
The move to add the school to Spartanburg's Historic Register comes after signatures were gathered for a petition created by Brenda Lee Pryce and Jim Neighbors that was then submitted to City planning staff. The City's Board of Architectural Design and Historic Review then unanimously approved the school's addition on April 14, then sending the matter to City Council for final approval.
Once a centerpiece of a vibrant historically Black neighborhood known as "Back of College" located between the campus of Wofford College and Spartanburg Regional Healthcare System, the Cumming Street School today is part of Wofford's campus. According to Neighbors, several factors contributed to the neighborhood's decline including Wofford's decades-long acquisition of neighborhood property beginning in the 1950s, Spartanburg School District 7's desegregation that led to the closure of Cumming Street School, and the City's unwillingness to assist the areas's homeowners with needed improvements.
Designed by architect, J. Frank Collins, The Cumming Street School building's otherwise simple, institutional design is accentuated by 16 large window bays, enclosed with historic nineteenth century window frame anatomy. Each window bay holds 45 smaller window panes, a defining architectural detail that adds character to the building façade. Collins designed more than 53 buildings and facilities in Spartanburg, including Duncan Park Stadium, the Masonic Temple in Downtown Spartanburg, as well as buildings on Wofford and Converse College Campus. Collins is also known to have designed other local educational institutions including, Southside Elementary School and Frank Evans High School, which is now home to Spartanburg Community College's Downtown Campus.
While its addition to the local Historic Register does not require any renovation of the building, any future exterior changes to the Cumming Street School building would now need to be approved by the Board of Architectural Design and Historic Review. Wofford currently has no plans to redevelop the site and did not oppose the building's inclusion in the local Historic Register.
Spartanburg Community College recognizes exemplary faculty and staff as 'Chaser Champions'
Recently, Spartanburg Community College recognized five members of its faculty and staff for their exemplary work and dedication to the mission of the College as the first recipients of the "Chaser Champions" annual award:
Garrett Brown, Program Director, Machine Tool Technology
Julie Denesha, Dept. Chair, Nursing
Charm Lowe, Admin, SCC Foundation
Jane Bird, SCC Creative Manager
Rick Teal, VP of Human Resources (Posthumously)
"I am proud to enshrine these outstanding individuals in the annals of Spartanburg Community College's history as the first Chaser Champions and laud their dedication to our students and the communities of which we serve," said Dr. Michael Mikota, President of Spartanburg Community College. "I am also honored to present this award to the family of our former Vice President for Human Resources, Mr. Rick Teal. Rick was a trusted colleague and, most importantly, a treasured friend to everyone he interacted with. His legacy will be cemented at Spartanburg Community College in the tradition of the presentation of this award."
Mr. Rick Teal, SCC's Vice President of Human Resources from 2010 through 2021, launched the SCC Champion program in 2021 to showcase SCC's dedicated faculty and staff who, through their extraordinary dedication and hard work, helped the College successfully navigate the challenges we faced as a result of COVID-19.
Mr. Teal truly believed in SCC's talented workforce and placed a high value on employee recognition and strategic faculty and staff development. With this posthumous award, SCC honors Rick Teal for his dedication to the mission of the College and the continued development and nurturing of SCC's talented faculty and staff.
Mr. Teal is a true Chaser Champion whose legacy will live on with the implementation of new faculty and staff development initiatives that will help elevate our talented and dedicated employees to grow professionally and continue to be leaders at the forefront of their careers.
For full bios on the recipients of the 2022 Chaser Champions Award and a recording of the award ceremony, please visit:
https://www.sccsc.edu/ explore/champions.php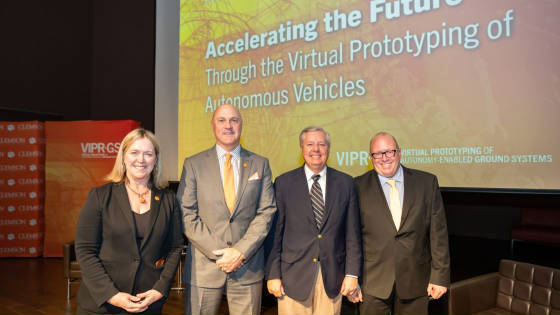 L-R: Clemson University Vice President for External Affairs Angie Leidinger, Clemson University President Jim Clements, U.S. Senator Lindsey Graham, U.S. Army GVSC Chief Scientist David Gorsich. Clemson University photo
Clemson, US Army GVSC expand research partnership for next-generation autonomous vehicles
Clemson University and the United States Army DEVCOM Ground Vehicle Systems Center (GVSC) announced an additional $22 million for a research partnership aimed at developing innovative virtual prototyping tools for designing the next generation of on- and off-road vehicles, with the U.S. government committing up to $100 million to the project. The U.S. Army contributed an initial $18 million for the center in 2020. An additional $22 million committed in 2021 was formally obligated on February 24th of this year. The Virtual Prototyping of autonomy-enabled Grounds Systems (VIPR-GS) Research Center at Clemson University is providing new simulation and digital engineering capabilities, as well as hardware demonstrations to increase efficiency in design-to-build processes in support of GVSC's ambitious goals for rapid modernization of U.S. Army fleets.
Clemson University President Jim Clements and U.S. Army GVSC chief scientist David Gorsich made the announcement. They were joined by U.S. Senator Lindsey Graham and Zoran Filipi, founding director, Virtual Prototyping of Ground Systems (VIPR-GS) Center. The announcement took place at the Clemson University International Center for Automotive Research (CU-ICAR) campus in Greenville.
"The research endeavors at our main campus and innovation campuses throughout the state leverage the talent of our faculty, staff and students to equip our government and industry partners with the tools and workforce of the future," continued Clements.
The recent allocation of funding brings the current commitment to Clemson from the Army to $40 million for VIPR-GS. In the year since the VIPR-GS Center was first announced, 65 faculty and 74 master's and Ph.D. students have been added to support the research goals of advancing autonomous ground vehicle systems.
Research at the VIPR-GS Center is focused on autonomy-enabled ground vehicles, next-generation propulsion and energy systems, manned and unmanned teaming in unpredictable off-road environments, innovative simulations, and digital engineering tools to design off-road vehicle fleet's systems of systems. The Department of Automotive Engineering's hallmark Deep Orange program in the College of Engineer-ing, Computing and Applied Sciences at Clemson engages students in hardware demonstrations and will provide a full-scale testbed for validating research outcomes.
In addition to Gorsich, U.S. Army leaders who traveled to the VIPR-GS Center for the announcement included:
Jeffrey Jaster – Deputy Executive Director, DEVCOM GVSC Research, Technology and Integra-tion.
Denise Rizzo – S&T Fellow for the Office of the Chief Scientist, U.S. Army DEVCOM GVSC.
Shruti Jha – Congressional Lead, U.S. Army DEVCOM GVSC.
South Carolina Bar's Young Lawyer Division partners with local organizations across S.C. to raise money for regional food banks
The South Carolina Bar's Young Lawyers Division (YLD) is partnering with Harvest Hope Food Bank, Lowcountry Food Bank, Second Harvest Food Bank of Metrolina, Golden Harvest Food Bank and Feeding the Carolinas to raise money and awareness for the 2022 SC Legal Feeding Frenzy (SCLFF;) a state-wide virtual fundraising competition to benefit South Carolina's regional food banks.
The goal is for law firms and legal organizations to compete as teams to see who can raise the most in donations. However, anyone can register to form a team online (https:// bit.ly/3P9eMlF) through May 27! Donations will be collected online May 23-27.
"As transportation and rent costs increase, COVID-19 response programs end and inflation rises, individuals and families are facing food insecurity at significantly increased rates and continue to need help," said Ashley Johnson, co-chair of YLD's Community Law Week Committee, which is coordinating the SCLFF. "To address these ongoing needs, food banks require our support more than ever to put food on the table for these neighbors–especially children and seniors. One in seven kids is at risk for food insecurity in South Carolina. For every $1 donated during the #SCLFF2022, the food banks, on average, can provide four meals to our neighbors in need."
"The traditional public service arm of the South Carolina Bar, the Young Lawyers Division always plans events for Commun-ity Law Week and this year decided to expand the outreach for the entire month of May," said Paige Ornduff, YLD President-Elect. "Every dollar raised during the SCLFF stays local and benefits the regional food bank and affiliate food pantries that serve our communities across the state. We know lawyers can be competitive by nature, so the YLD wanted to challenge our colleagues throughout the profession to compete for a good cause, fighting hunger in South Carolina."
You can find out more online about how the YLD is working with Feeding the Carolinas; a network that serves all 46 South Carolina counties, here https://sclegalfeedingfren zy.com/
The South Carolina Bar is a statewide organization dedicated to improving the legal profession, the law, and the administration of justice for all South Carolinians. It serves more than 17,000 lawyer members and provides resources to educators and citizens of the Palmetto State. Learn more at www.scbar.org