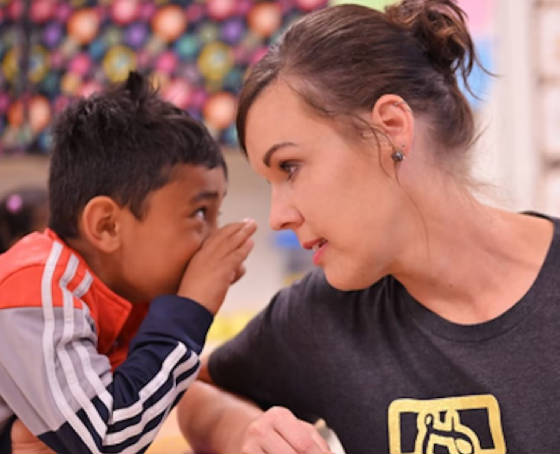 Movement 2030 is a new partnership that will work to create conditions for Spartanburg's children and families to succeed in life, no matter where they are born and raised. Movement 2030 photo
Spartanburg leaders launch 'Movement 2030' to improve social mobility for young people and adults
By Lynne Shackleford
On behalf of 30 business, university, and nonprofit partners, the Spartanburg Academic Movement recently announced the launch of Movement 2030, a groundbreaking place-based partnership to create the conditions for Spartanburg's children and families to succeed in life, no matter where they are born and raised. Movement 2030 has raised $100 million from local, regional, and national funders, which is expected to unlock another $120 million in public and private capital over the plan's seven-year implementation period.
Despite benefiting from over $5 billion in capital investments by employers in the last decade, Spartanburg ranks in the bottom 10% of counties nationwide for economic mobility. Movement 2030 has been thoughtfully designed to address this challenge.
The community-led initiative, which will be implemented by partners throughout Spartanburg, features two primary tracks of work, both of which are critical drivers of upward mobility: it will increase the percentage of Spartanburg's children who are prepared for success in school when they start kindergarten–from the current level of 49% to 65%, in line with high-achieving, similar-sized communities; and it will increase to 70% the percentage of Spartanburg's high-school graduates who enroll in post-secondary programs, setting them on a path to long-term economic prosperity. Move-ment 2030 is also investing in two place-based initiatives–the Northside and Highland neighborhoods–to bring their education outcomes in line with county-wide averages.
By supporting and aligning existing, local efforts around school readiness, post-secondary attainment, and place-based programs, Movement 2030 expects to reach 60,000 people over the next seven years, including 7,000 young people.
"Movement 2030 is the culmination of decades of collaboration by diverse partners throughout Spar-tanburg. With its launch, we mark the beginning of a generational shift for our community," said Dr. Russell Booker, CEO of the Spartanburg Academic Movement, which is serving as the initiative's backbone organization. "By aligning efforts and holding ourselves accountable to clear measures of progress, not only will we improve the lives of thousands of neighbors – we will also be a beacon to the nation of a community where everyone can thrive."
Movement 2030 is funded in part by Blue Meridian Partners' Place Matters portfolio, which provides capital to local, backbone organizations that lead place-based partnerships, as well as national organizations, like SAM partner StriveTogether, that support the success of those partnerships. Spartanburg is one of three communities across the country receiving funding from Blue Meridian this Fall.
"Blue Meridian is proud to be investing in the innovative leadership and strong partnership behind Movement 2030 as a powerful example of how communities can come together around the power of place to improve lives," said Cecilia Gutierrez, Managing Director and lead of Place Matters at Blue Meridian Partners. "The challenge of improving upward mobility for children and families requires long-term, systemic change, and Spartanburg's efforts today will pay dividends for generations to come."
Movement 2030 is also backed by regional and local funders, including but not limited to the Duke Endowment and the Mary Black Foundation. The budget for Movement 2030's efforts was designed in concert with plan development, and funds will be deployed via selected partners, which are responsible for plan implementation. Grounded in shared accountability, Movement 2030's progress will be measured according to carefully designed evidence-based metrics, with a focus on continuous improvement and transparent reporting to community stakeholders.
To learn more about Movement 2030, including how to access school readiness and post-secondary resources, please visit movement2030.org.
Spinx raises $324,960 for the American Cancer Society
Greenville – The Spinx Company, Greenville-based fuel and convenience retail company, has raised $324,960 for the American Cancer Society during a month long, state-wide campaign to provide support for cancer patients and their families. This annual company-wide initiative brings awareness to the American Cancer Society (ACS), and those in need throughout the month of October.
The mission of ACS is to improve the lives of people with cancer and their families through advocacy, research, and patient support, to ensure everyone has an opportunity to prevent, detect, treat, and survive cancer. ACS provides the support and guidance people impacted by cancer need at every step. From increasing access to screening at the local, state, and federal levels and advocating for more affordable healthcare, to guiding patients and caregivers through a free 24/7 helpline and offering free transportation and lodging. In addition, ACS funds help conduct research so people in every community have the opportunity to prevent, detect, treat and survive cancer.
"As a cancer survivor myself, this campaign is very special to me and the entire Spinx family, and we work tirelessly to raise funds that can support those battling this horrible disease," said Stewart Spinks, Chairman and Founder of The Spinx Company. "I am so proud of our stores, the local communities and our team for bringing awareness to the American Cancer Society and providing help to all those in need during their most trying time. On behalf of the entire Spinx team, thank you for all your hard work and generous donations!"
SC Secretary of State Mark Hammond announces Angels for 2023
Columbia - Recently, South Carolina Secretary of State Mark Hammond announced the Angels of 2023. Secretary Hammond recognized twelve Angel charities at a press conference in the Edgar Brown Building on the Capitol Complex.
The Angels honored are organizations that have positively impacted the well-being of South Carolinians and that have demonstrated good stewardship of charitable resources. Representa-tives from all organizations were in attendance to receive a plaque and recognition from Secretary Hammond. The Angels recognized, with the percentage of their expenditures that went toward their program services, are listed below. Those recognized are listed in alphabetical order and are not ranked by the Secretary of State.
• Aiken Center for the Arts, Inc., Aiken, SC 84.4%
• Darlington County Habitat for Humanity, Hartsville, SC 93.7%
• Food for the Soul-Kershaw County, Inc., Camden, SC 84.5%
• Greenwood Pathway House, Inc., Greenwood, SC 84.6%
• Jasmine Road, Inc., Greenville, SC 82.8%
• Lions Vision Services, a South Carolina Charity, Columbia, SC 88.1%
• National Diaper Bank Network, Inc., New Haven, CT 94.9%
• New Directions of Horry County, Inc., Myrtle Beach, SC 80.3%
• Sea Islands Hunger Awareness Foundation, Kiawah Island, SC 98.8%
• Smith Medical Clinic, Inc., Pawleys Island, SC 86.2%
• Stone Soup Animal Rescue Inc., Woodruff, SC 92.1%
• Troop Appreciation Fishing Fund Foundation, Chapin, SC 93.5%
The Angels were selected by review of financial reports submitted annually to the Secretary of State's Office, as well as through nominations from the public. To be selected as an Angel, the charity must have devoted 80% or more of its total expenditures to charitable programs; must have been in existence for three or more years; must make good use of volunteer services; must receive minimal funding from grants; must have a significant presence in South Carolina; and must be in compliance with the South Carolina Solicitation of Charitable Funds Act. Each year, the Secretary of State's Office attempts to showcase Angels with diverse missions that have benefitted communities around the state.
"The Angels recognized today demonstrate how caring and generosity can transform and improve lives," said Secretary Hammond. "As the holidays approach, I hope that everyone will extend the same caring and generosity to others."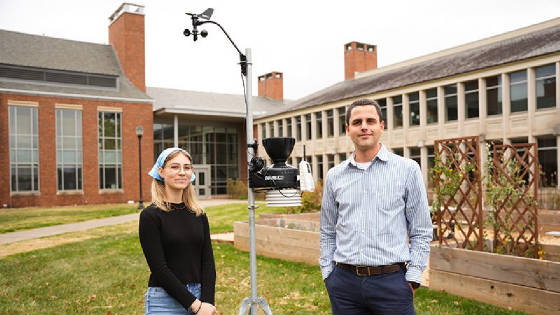 Marie Cecil '24 and Gustavo Coelho, assistant professor of water resources, stand with Furman's new weather station outside of Plyler Hall on November 17, 2023. Furman University photo
Furman's new weather station offers hyper-local storm and flood data
By Kelley Bruss, Furman University News Services
Whether the question is sweater vs. coat, or how much rain fell compared to what was predicted, the answer is now on Furman's campus.
A new weather station installed this past summer is providing rich, hyper-local data for student and faculty research. Plus, it offers the convenience of up-to-the-minute campus weather information for general use.
The station is located near the Townes Science Center greenhouse. Gustavo Coelho, assistant professor of water resources, used some of his research startup funding to purchase it. The station is rated for research use.
"It's not as expensive as a National Weather Service station, but it still provides accurate and reliable data for research," said Coelho, who is in his second year at Furman.
The new station reports on rainfall, wind speed and direction, temperature, humidity, atmospheric pressure and radiation from the sun. Coelho is in the process of applying for other grants to expand its capabilities to collect data such as soil moisture and soil temperature.
Marie Cecil '24 worked with Coelho for two months this summer. She helped install the station and sensors and also conducted research for her senior thesis on precipitation and its impact on the watershed around Furman.
Cecil is studying both temporal and magnitude data – that is, how long did it rain and how much rain actually fell.
"The amount of information that I processed in those eight weeks is comparable to an entire semester course," she said.
Besides collecting data on precipitation, she learned about coding, modeling and fieldwork, skills she hopes to take into graduate work in oceanography.
Coelho's expertise is in flood modeling and forecasting. He grew up in a part of Brazil that has a long history of significant flooding. Working to help people understand and prepare for flooding feels like a mission for him. Before completing his doctoral degree, he spent nearly a decade working in industries related to water resources and hydrology in Sao Paulo, Brazil.
When he learned about the issues with coastal flooding in South Carolina, he was eager to apply his knowledge to similar problems.
"We really want to understand how floods happen and when they're going to happen," he said.
The National Weather Service might issue a regional warning for heavy storms and flooding, but it's hard to know how those forecasts will play out locally.
"The idea is that with my research I'm contributing to the development of this flood forecast system," Coelho said.
By using National Weather Service precipitation forecasts in the modeling system, Coelho and other researchers can more accurately predict flood risks from approaching storms.
Cecil is double majoring in music and earth and environmental science. The music department drew her to Furman, but environmental science is driving her future.
"I fell in love with the department and the people," she said.
She was delighted when Coelho joined the faculty her junior year, giving her the chance to explore new classes in hydrology.
Connecting with Coelho and others in the department helped her pinpoint her own interests in environmental science. Cecil is working now on her senior thesis, with Coelho serving as her research advisor.
The new weather station is part of a network of connected stations. Coelho and his students have access to data collected across the region and the country. Because weather can vary widely even within a few miles, the more stations and sensors in place, the better the precision of the research.
"Hopefully that data is going to help us to develop enough research to keep expanding that network," Coelho said.
The direct link to the weather station is https:// www.weatherlink.com/embeddablePage/show/8aaa4bd0172f414daaf7ca82d7142383/slim
Carolina Lights returns December 8 at the South Carolina State Fairgrounds
Columbia – The South Carolina State Fair proudly presents the much-anticipated return of Carolina Lights, its annual downtown drive-through holiday light show. The Lexington Medical Center Fair Park at the South Carolina State Fairgrounds will be transformed into a magical winter wonderland starting Friday, Dec. 8 through Sunday, Dec. 24 (closed on Mondays).
Now in its fifth year, the holiday drive-through light experience will feature more than 100 individual LED light displays meticulously synchronized to holiday music spanning a nearly two-mile journey inside the fairgrounds. Guests will be captivated by an array of enchanting scenes such as dinosaurs, gingerbread soccer, Santa Claus, Elf on the Shelf, tunnel of lights, the 12-days of Christmas, plus many more surprises. The S.C. State Fair's popular chocolate chip cookies, milk and Pepsi products will be available for purchase. New this year, dog treats will also be available for purchase.
"We are thrilled to herald the holiday season with the return of Carolina Lights at the fairgrounds," says S.C. State Fair General Manager Nancy Smith. "A beloved South Carolina tradition, this year's presentation will once again feature the cherished classics and include some new and dazzling displays."
While driving through the light show, guests can tune their radio to 88.9 FM to listen to music that synchronizes with the light displays.
On Wednesday, December 13, active and retired military and their dependents (with proper military identification cards) will be able to purchase a car pass for 50% off at the gate.
On Tuesday, December 19, first responders will be able to purchase a car pass for 50% off at the gate.
Patrons should enter at Gate 6 on George Rogers Boulevard. To ensure the safety of all and control the flow of traffic, visitors will not be permitted to exit their vehicles. Guests who wish to drive through a second time on the same night may request a re-entry pass at the exit gate until 15 minutes before closing each night.
Carolina Lights will run December 8 - 24 from 6 p.m. - 9 p.m. Sundays, and Tuesdays through Thursdays and 6 p.m. - 10 p.m. on Fridays and Saturdays. The light show will be closed on Mon-days. For more information and to purchase passes, visit SCStateFair.org/Carolina-Lights.
The South Carolina State Fair, a self-supporting 501(c)3 nonprofit organization, was organized in 1869 and is dedicated to preserving and promoting South Carolina's agricultural roots while supporting statewide education.