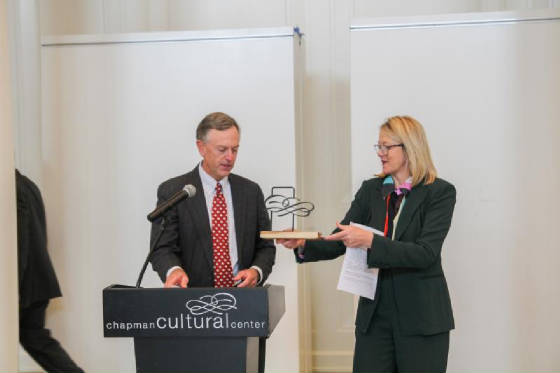 Jennifer Evins, President and CEO of Chapman Cultural Center presents the award to Norman Chapman, President of Inman Mills.
Inman Riverdale Foundation announced as 2018 Cultural Champion
Chapman Cultural Center recognized the Inman Riverdale Foundation as its 2018 Cultural Champion at their annual business luncheon on Thursday, October 25th.
Each year, Chapman Cultural Center honors its corporate donors with a business luncheon at which the Cultural Champion is announced. Over 100 companies doing business in our community and region have contributed more than $501,000 this year to support the mission of Chapman Cultural Center. Cola-cola Bottling Company won the honor last year. As part of the recognition, the recipient this year received a custom-made award by local artists, Russell Bannan and Eli Blasko.
Jennifer Evins, President and CEO of Chapman Cultural Center presented the award to Norman Chapman, President of Inman Mills. Evins recognized more than 36 members of the Chapman family and Inman Mills associates who have contributed in their own unique way for more than four generations.
Evins said "For over 119 years the Chapman family, which includes the Inman Mills family, has been making their mark on Spartanburg County. Rob Chapman served twice as President of Arts Council and Chairman of The Arts Partnership. Marshal Chapman's leadership and vision led a cultural planning process in 1992 that created the United Arts fund and a spirit of collaboration in the arts. Many Chapman family members and Inman associates have and still do contribute their creative talents, time and resources to advance the arts in Spartanburg and we are extremely grateful."
"The Chapman Family and the Inman Riverdale Foundation are the embodiment of what it looks like to be a Cultural Champion. We are honored by their long-standing partnership and are proud to recognize the enormous contributions they've made to the arts in Spartanburg with this award."
Dr. Al Jeter was also announced as the 2018 Educator of the Year award winner. Jeter, a educator for 45 years, serves as Spartanburg District Seven's Director of Testing and Accountability. He also coordinates fine arts, world languages, strategic planning, and programs for English Learners. Jeter has been an advocate for the arts and an ally of Chapman Cultural Center throughout his career.
Al said upon receiving his award, "Being chosen as the Educator of the Year is an unexpected but grand honor. Having family, friends, and the cultural community present for the occasion was a highlight and a definite "shining moment" in my life. I'll never forget the emotions of that day, and I'm delighted to live and work in a place like Spartanburg where we can all contribute and make a positive impact."
Chapman Cultural Center Board of Trustees Chairman, Bert Barre, welcomed over 100 guests to the luncheon. Music was provided by local musicians Tessa Russel and Garrett Gibson. The luncheon was sponsored by Carolina Alliance Bank.
November is Diabetes Awareness Month
By Alan Jenkins, Courtesy of Spartanburg Regional Healthcare System
Delicious food, friendly faces and information that could save lives. That's what more than 100 people got when they attended the second annual Diabetes Nutrition Expo.
The event, held Monday, Nov. 5, at First Presbyterian Church in Spartanburg, featured health experts from across Spartanburg Regional Healthcare System and beyond.
Attendees were treated to trays of pumpkin hummus and bright, colorful fruits and vegetables, provided by the nutrition staff at Spartanburg Medical Center. Chef Artina Lindsey of Morrison Healthcare answered questions about the healthy snacks, as did Spartanburg Regional wellness dietitian Joan Cope, RD, LD.
Plant-based nutrition expert Terri Edwards, a frequent speaker and presenter for Spartanburg Regional's heart center, handed out Green Monster Smoothies, made of spinach, grapes, bananas and pineapple.
Turnout at the event was great, according to diabetes education manager Erica Moore, MHS, of Medical Group of the Carolinas – Diabetes and Endocrinology.
"We always provide the community with a lot of diabetes nutrition resources," Moore said. "It's great to gather all of these resources in one room today."
Among those experts was Chantel Gant, community outreach coordinator for Gibbs Cancer Center and Research Institute.
Nutrition is an important part of cancer prevention, just as it is in diabetes education, Gant said.
"We both talk about the importance of healthy eating at both," Gant said. "Eating healthy goes hand in hand with diabetes education."
Obesity prevention and diabetes are also tied together, and Michele Maddox, MSN, of Medical Group of the Carolinas-Weight Loss Services, offered information to event-goers.
"Eating right is part of living well, and it's great to collaborate with the different Spartanburg Regional departments to give the community a broad overview of that," Maddox said.
Community members who would like to learn more about diabetes services and prevention are encourage to call Medical Group of the Carolinas-Diabetes and Endocrinology at 560-6419, ext. 5.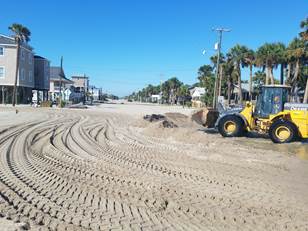 Edisto Beach sand and debris cleanup project after Tropical Storm Irma in 2017. (SCDOT file photos)
SCDOT wins 3 national transportation awards
The South Carolina Department of Transportation competed against all other DOTs and garnered three President's Transportation Awards at the 2018 annual meeting of the American Association of State Highway and Transportation Officials (AASHTO).
"The SCDOT continues to lead the nation in performance excellence and innovative practices," said Secretary of Transportation Christy Hall. "I am very proud of the dedicated group of professionals at SCDOT who are committed to their mission and are always striving to be the best. The SCDOT Team thanks AASHTO for this prestigious national recognition."
Each year, each state DOT competes nationally for the AASHTO the President's Transportation Awards in 8 categories: Planning, Performance Excellence, Intermodal Transportation, Highway Traffic Safety, Highways, Environment, Aviation and Administration. This year, SCDOT was chosen among all other DOTs by winning three of these eight categories.
SCDOT's National Awards were:
· Highway Traffic Safety – SCDOT's Rural Road Safety Program
SCDOT is tackling the "worst-of-the worst" roads in terms of highway by improving 100 miles per year with a customized plan to make these roads safer in 10-mile segments. "Our safety engineers are determined to make a difference in our state and, like I am, are very aware of our unfortunate designation as having some of the deadliest rural roads in the nation," Hall said.
· Administration – SCDOT's Development of Menu of Funding Options.
SCDOT leadership prepared menus of three different funding levels for lawmakers to review before passing the roads bill in 2017. Four priorities within each option became part of SCDOT's strategic 10-year plan to improve South Carolina's roads and bridges.
"For the first time in the history of the DOT, the agency presented in an easy to understand format, what the priorities of the agency would be for the investment of various levels of potential new funding and what results the public should expect for that investment over a 10 year period," Hall said.
· Performance Excellence – SCDOT's Masters of Disaster.
Hard work by SCDOT employees, nicknamed "Masters of Disaster," in cleaning up 12,000 cubic yards of sand left by Tropical Storm Irma on Palmetto Boulevard in Edisto Beach in just five days. "Traditionally, the DOT would have paid to truck off and dispose of the sand and then the town would have to pay to have clean sand brought back in later during recovery," Hall said. "Through this innovative approach to debris management… our team delivered phenomenal results that saved money and months of time."
Transforming the love of orthopaedic medicine and corporate health
By Jessica Pickens, Courtesy of Spartanburg Regional Healthcare System
Current occupational medicine data shows that musculoskeletal injuries are the most significant injury category for most employers.
"About 80 percent of workplace injuries are related to muscles, joints or the back," said Charles Catron, MD.
Spartanburg Regional Corporate Health is responding to this challenge by adding Dr. Catron to the team. His prior role and 20 years of experience as an orthopaedic surgeon will enhance the corporate health team's orthopaedic care, knowledge and expertise.
Dr. Catron looks forward to enhancing the patient experience as he joins the Spartanburg Regional Healthcare System Corporate Health — Westside team.
"My original choice to pursue orthopaedics seemed natural, as it dovetailed with my interest in athletics and injury treatment," Dr. Catron said. "Occupational medicine is also an extension of this same interest that grew later in my career."
The practice of occupational medicine focuses on diagnosing and treating work-related injuries and illnesses while fostering workplace health and safety. Occupational medicine also provides job-specific medical fitness certifications when necessary.
Each workplace injury involves a methodical and careful approach to ensure the patient recovers properly so he or she can return to work quickly.
"First, the injury should be properly diagnosed to provide the appropriate treatment," he said. "Second, every effort should be made to prevent other similar injuries going forward. Third, the appropriate care must be provided in the highest quality manner so recovery is prompt and complete."
Dr. Catron's initial goal of becoming a physician was his interest in biology, coupled with a family history in the field.
"My father was a physician and mother a nurse. This led me to follow their example in pursuing a career to help others," he said.
Outside of work, Dr. Catron has two teenage daughters and a wife of 21 years, who is also a nurse. Their family enjoys tennis, scuba diving, snow skiing and going to the beach.
As Dr. Catron is looking forward to joining the corporate health team and is excited about broadening his scope into other areas such as pulmonary and job fitness.