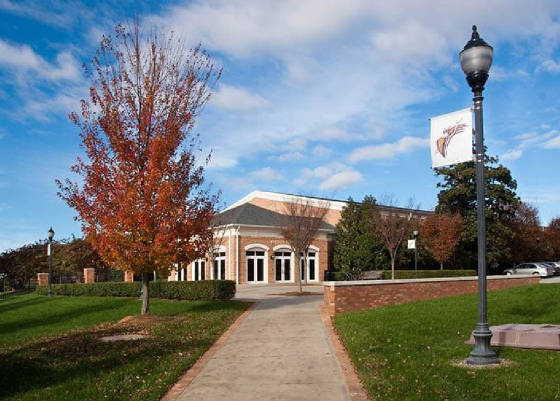 Converse College recently received a $1 million gift from Agnes Binder Weisiger '63 and her husband Edward I. Weisiger.
Converse College receives $1 million gift to support athletic programs
Converse College has received a gift of $1 million to support Converse athletics. The gift from Agnes Binder Weisiger '63 and her husband Edward I. Weisiger will fund the turfing of the College's soccer and lacrosse field and the installation of a track around the field. Once turfed, the field will also be home to the Valkyries field hockey team.
"Through the generosity of donors, we further the reach of Converse's distinctive educational experience and programming," said Krista L. Newkirk, Converse president. "The Weisigers have been champions for Converse College and our athletics programs, and their generosity has allowed Converse student-athletes to experience world-class facilities and be recognized for their outstanding academic excellence, student leadership and service, and competitive intercollegiate athletics. Such generosity allows Converse to remain focused on providing a transformative education and experience for our students as we prepare them to become engaged, adaptable, global citizens committed to progress within our society and the communities in which they live and work."
In addition to supporting the Weisiger Scholar Athletes and Weisiger Cup awards, the Weisigers were lead donors for the 29,000-square-foot Weisiger Center, which houses Converse's intercollegiate basketball and volleyball courts, physical fitness training rooms, locker rooms, and coaches' offices. Student-athletes selected for the annual Weisiger awards excel academically, are engaged in leadership and service at Converse, and exhibit the core values of the College which are excellence, integrity, diversity, respect, community, exploration and progress.
The Weisiger Outstanding Scholar-Athlete award provides scholarships for outstanding students majoring in the sciences. Recipients must excel in academics, be expressly interested in the study of science, and be dedicated to playing an NCAA Division II sport. Two new recipients are chosen from the incoming class each year, for a total of up to eight scholarship recipients across the student body annually. Since 2008, twenty-five student-athletes have been awarded the Weisiger Outstanding Scholar-Athlete scholarship.
The Weisiger Cup is presented to a Converse graduating student-athlete each year at Founder's Day. Students selected for this honor have proven records of leadership and community building skills, are valuable members of the campus community and assets to their team. The recipient's name is added to a sterling silver Weisiger Cup trophy that is permanently housed in the Weisiger Center, and the recipient receives her own smaller engraved version as a keepsake. Since 2009, thirteen student-athletes have received the Weisiger Cup.
In February 2020, Spar-tanburg's historic women's college declared that it would add a co-educational undergraduate residential program alongside the Converse College for Women and change its name to Converse Univer-sity. Converse will be launching its inaugural men's NCAA Division II teams in fall 2021, as well as a coeducational Esports program. The NCAA men's teams currently planned for the 2021-2022 academic year include basketball, cross country, soccer, tennis, and indoor and outdoor track and field. The men's teams will be in addition to the 13 NCAA Division II and IHSA women's teams currently a part of Converse's athletic team roster.
Beginning in fall 2021, the Converse equestrian team (IHSA) will also be co-educational. For more information about Converse athletics, visit www.govalkyries.com.
Justice Department grant to fund community-based crime reduction efforts in Highland neighborhood
A $1 million grant awarded by the Department of Justice late last year will soon begin fundng new efforts aimed at reducing crime in Spartanburg's Highland neighborhood.
Awarded as part of the Justice Department's Community-Based Crime Reduction Program, the Highland Byrnes Criminal Justice Institute Grant will be used to build capacity for longtime Highland community organization, The Bethlehem Center, enabling them to coordinate development and community-based crime reduction activities in the neighborhood. Using the funding, the City and its partners will also create a transparent process to streamline information sharing with the city police, residents, and stakeholders with an aim of reducing violent crime in the Highland Neighborhood, specifically gang and gun offenses.
Strategies to reduce crime in the neighborhood will focus around identifying the specific places and mechanisms that continue to encourage violent crime and gun-related activity, as well as the barriers that need to be overcome to begin to address these issues. Officials believe that utilizing a collaborative approach to crime reduction will strengthen mutual trust between community members, police officers, and City officials.
City Police Chief Alonzo Thompson said he's confident that the approach funded by the Justice Department grant will be successful in reducing both crime and the fear of crime in Highland, adding "but more importantly, it will enhance quality-of-life for the residents of and visitors to this proud, historic neighborhood. The collaborative effort of our community partners which led to obtaining the award will also lead to successful outcomes."
The grant funding comes at a time when energy and momentum around Highland's revitalization are at an all-time high, with City Council having approved the Highland Transformation Plan late last year and with a replacement for Norris Ridge Apartments — one of the city's highest concentrations of substandard housing and crime — currently under construction. City and community leaders believe that this new violent crime reduction effort will assist in the longterm goals laid out in that transformation plan of creating more safe and affordable housing and developing new economic opportunities for Highland residents.

Greenville-based Lima One Capital, Inc. was recently acquired by MFA Financial, Inc.
Greenville-based Lima One Capital, Inc. acquired by MFA Financial
New York, NY - MFA Financial, Inc. announced recently that it has entered into a definitive agreement to acquire substantially all of the remaining ownership interests it did not previously own in Lima One Holdings, LLC (together with its operating subsidiary Lima One Capital, LLC and other affiliates, "Lima One"), a leading nationwide originator and servicer of business purpose loans for residential real estate investors, from affiliates of Magnetar Capital.
The acquisition includes Lima One's operating platform and $1.1 billion servicing portfolio as well as approximately $200 million of related financial assets. The acquisition and consolidation of Lima One's platform onto MFA's balance sheet is the culmination of a multi-year partnership between MFA and Lima One that is expected to accelerate MFA's BPL investment strategy by bringing together its investment and capital markets expertise with Lima One's origination and servicing capabilities. MFA acquired a strategic minority ownership interest in Lima One in 2018 and has been an active buyer of its BPLs since 2017. MFA expects that Lima One's executive leadership team will continue to remain with the business following the completion of the transaction and Lima One's operating platform will remain in Greenville.
Founded in 2011, Lima One is a leading nationwide originator and servicer of BPLs. Lima One serves the dynamic financing needs of real estate investors through a diverse product offering, including fix-and-flip and new construction loans, single and portfolio rental property loans, and stabilized and value-add multifamily property loans. Since inception, Lima One has funded over $3 billion in loans across its product suite.
Commenting on the transaction, Craig Knut-son, Chief Executive Officer and President of MFA, stated, "We are pleased to acquire the Lima One platform and to welcome the entire Lima One team to MFA. Our partnership with Lima One has been a core element of launching and growing our BPL investment strategy and completion of this transaction will significantly enhance our combined presence and ability to deploy capital into the BPL sector."
Commenting on behalf of Lima One, Chief Executive Officer Jeff Tennyson remarked, "When I joined Lima One in 2018, identifying additional capital providers was crucial to growing our business and we were fortunate to have MFA move from a whole loan buyer to a true strategic partner that same year. Our team has built a best-in-class platform with a strong culture and brand, and we are excited to take this partnership to the next level by fully combining our respective capabilities. Demand for all of our products has never been greater and joining MFA will expand our ability to compete and be the first call for real estate investors."
Gudmundur Kristjansson, MFA's Co-Chief Investment Officer, added, "Business purpose lending is one of the most attractive investment opportunities we see within residential credit, but these high quality, high yielding credit assets are difficult to originate on a primary basis and difficult to source on a secondary basis. Through this transaction, we believe we are creating a truly differentiated partnership in which MFA will have reliable access to over $1 billion of these assets annually and Lima One will have reliable access to the capital necessary to serve its customers and grow well beyond $1 billion in annual volume."
Under the terms of the agreement, MFA will acquire all of the Sellers' ownership interests in Lima One using cash on hand. The transaction is expected to close in the third quarter of 2021, subject to the satisfaction of customary closing conditions, including the receipt of applicable governmental approvals and third-party consents. Upon closing, Lima One will become a subsidiary of MFA and its operations will be reflected in MFA's consolidated financial statements.
Piper Sandler & Co. served as exclusive financial advisor to Lima One in connection with the transaction.
DHS announces extension of REAL ID full enforcement deadline
Washington, - Recently, Secretary of Homeland Security Alejandro N. Mayorkas announced the Department of Homeland Security (DHS) is extending the REAL ID full enforcement date by 19 months, from October 1, 2021 to May 3, 2023, due to circumstances resulting from the ongoing COVID-19 pandemic. The pandemic has significantly impacted states' ability to issue REAL ID-compliant driver's licenses and identification cards, with many driver's licensing agencies still operating at limited capacity. DHS will publish an interim final rule in the coming days to effectuate this enforcement date change.
"Protecting the health, safety, and security of our communities is our top priority," said Secretary Mayorkas. "As our country continues to recover from the COVID-19 pandemic, extending the REAL ID full enforcement deadline will give states needed time to reopen their driver's licensing operations and ensure their residents can obtain a REAL ID-compliant license or identification card."
Beginning May 3, 2023, every air traveler 18 years of age and older will need a REAL ID-compliant driver's license or identification card, state-issued enhanced driver's license, or another TSA-acceptable form of identification at airport security checkpoints for domestic air travel.
All 50 U.S. states, the District of Columbia, and four of five U.S. territories covered by the REAL ID Act and related regulations are now compliant with REAL ID security standards and are issuing REAL ID-compliant driver's licenses and identification cards. However, many state licensing agencies have extended the deadline for renewing expiring licenses due to a widespread shift to appointment-only scheduling protocols during the pandemic that has significantly limited states' capacity to issue REAL ID-compliant driver's licenses and identification cards. As a result, only 43 percent of all state-issued driver's licenses and identification cards are currently REAL ID-compliant. DHS and various states also need time to implement requirements mandated by the REAL ID Modernization Act, including changes that will streamline processing by allowing the electronic submission of certain documents.
DHS continues to work closely with all U.S. states, the District of Columbia, and U.S. territories to implement REAL ID Act requirements. For more information on REAL ID, visit www.dhs.gov/real-id.