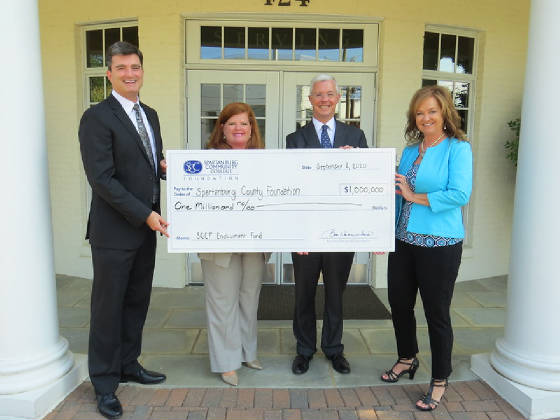 The Spartanburg Community College Foundation Endowment Fund now exceeds $1 million thanks, in part, to a sizable gift. The endowment was created in 2017 to honor SCC and its impact on Spartanburg, Union and Cherokee counties and is part of the Spartanburg County Foundation investment portfolio. Shown from left is: Dr. Michael Mikota SCC president; Bea Walters Smith, executive director, SCC Foundation; Troy Hanna, president & CEO, Spartanburg County Foundation; and Kathy Sinclair, chair, SCC Foundation Board and vice president human resources, Spartanburg Regional Healthcare System.
Spartanburg Community College Foundation Endowment Fund exceeds $1 million
The Spartanburg Community College Foundation Endowment Fund now exceeds $1 million thanks, in part, to a sizable gift. Recently announced by the SCC Foundation Board of Directors, the endowment was created in 2017 to honor SCC and its impact on Spartanburg, Union and Cherokee counties and is part of the Spartanburg County Foundation investment portfolio.
"Exceeding the million-dollar mark is a testament to meaningful partnerships and the incredible support we receive across the community," explains Bea Walters Smith, executive director of the SCC Foundation. "Growing this SCC endowment means that we can provide ongoing support to the College."
SCC Foundation Board President Kathy Sinclair says, "Gifts to the endowment provide interest income that supports the work of the organization and provides resources to the needs of SCC. The SCC Foundation seeks out private and public resources of all kinds by building and strengthening partnerships to advance the goals of the College. Gifts such as the one to the SCC Endowment reinforce that important work."
"We are profoundly grateful for the sizable gift to our SCC Foundation Endowment Fund that expressly showcases the capability of our extended steadfast partnerships to continue to invest in and grow our shared communities," said SCC President, Dr. Michael Mikota. "Together, our partners are working in concert through the mission of SCC to purposefully drive economic vitality and improve the quality of life for this region that will benefit many generations to come."
"The Spartanburg County Foundation is pleased to partner with the Spartanburg Community College Foundation to maximize our efforts in community improvement," said Troy Hanna, president and CEO of The Spartanburg County Foundation. "We appreciate the trust the SCC Foundation has shown our Foundation over the years, giving us the opportunity to steward philanthropic assets to include scholarships. The Spartanburg County Foundation also recognizes the importance of endowment building and applauds the SCC Foundation on this significant milestone in building for the future."
Founded in 1983, the SCC Foundation has built and fostered a strong partnership with the Spartanburg County Foundation. "Throughout the years, many loyal donors and friends of SCC have established several endowed accounts to support students, faculty and staff and campus facilities," Smith added.
Rotary Club of Spartanburg awards $30,000 in Youth Opportunity Grants
Youth Opportunity Grants are one of the Rotary Club of Spartanburg's signature projects; these competitive grants benefit hundreds of students every year. Among the current uses of funds are camperships, educational enrichment, leadership training, financial literacy training, pediatric dental referrals, and drowning prevention classes. In 2020, 24 requests were received totaling $96,509. Nine requests were funded for a total of $30,000.
The process begins with a Request for Proposals that is distributed through the United Way, the Spartanburg County Foundation, the Spartanburg Academic Movement, the Mary Black Foundation and club members. Applications are received, committee members read and score them. Grants are awarded based on aggregate scoring.
The Rotary Club planned to recognize each organization at a regular meeting on Giving Tuesday in May, but COVID intervened. Some of the planned programs were altered or delayed because of COVID, but participating organizations were given the latitude to adjust their plans as needed as long as they used the funds to benefit youth.
Organizations funded in 2020 include ARCH Ministries, Big Brother Big Sister, Bethlehem Center, Boys and Girls Clubs, Healthy Smiles, Middle Tyger Community Center, Spartanburg County Foundation Citizen Scholars, Woodruff Community Center, YMCA
Youth Opportunity Grants have been a line item in the Spartanburg Rotary Club budget for many years.
Part of the funding comes from the annual Spartanburg Sings event, which brings together middle school students from across the county for a one-afternoon musical performance. Spartanburg Sings has been another way the Spartanburg Rotary Club serves youth, and it has become very popular among middle school administrators, faculty and students.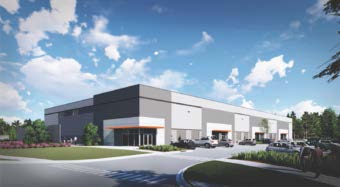 Rendering of the first building in Technology Neighborhood III.
CU-ICAR set to expand industry offerings with construction of Technology Neighborhood III
Greenville – Home to 21 global businesses, the Clemson University International Center for Automotive Research (CU-ICAR) is expanding its footprint on the 250-acre campus with a new technology neighborhood, Technology Neighborhood III. The first building in the neighborhood will be a multi-tenant 40,000-square-foot high-bay facility supported by $2 million in funding from the U.S. Economic Development Administration (EDA).
"As a contributor to the state's knowledge economy, world-class facilities like those at CU-ICAR are critical. TN3 will support our students, researchers and industry partners with an innovative environment in which to prosper," said Clemson President Jim Clements. "We are so appreciative of the continued support from our partners at the EDA for believing in our vision and providing funding to support these efforts, which will in turn allow us to support South Carolina's economy."
On Thursday, Dana Gartzke, assistant secretary of commerce for economic development, had an opportunity to tour the CU-ICAR campus and award Clemson with the $2 million EDA grant.
"Working alongside the City of Greenville, the state of South Carolina and our partners in Washington D.C. makes it possible for Clemson to provide state-of-the-art facilities that will help our strategic corporate partners grow and flourish," said Angie Leidinger, vice president for External Affairs. "CU-ICAR has continued to grow since its inception 15 years ago from an automotive focus to be inclusive of the mobility industry in response to the needs of industry. This expansion is a further testament to our ability to support our partners, our state and our students."
The building is designed to accommodate new and growing companies in the Upstate. The building aims to fill a void in the local real estate market for high-quality multi-purpose facilities that can accommodate a range of businesses, from startup companies to established firms in the automotive, transportation, manufacturing and engineering support service industries.
Technology Neighborhood III is CU-ICAR's first new neighborhood in 15 years. First announced in 2003, CU-ICAR was founded to be an advanced-technology neighborhood where academia and industry converge. CU-ICAR announced the opening of its first building in 2007 and finished its sixth building in Technology Neighborhood I in 2016.
"From OEMs to suppliers in automotive, aerospace and beyond, our global reputation is directly tied to our ability to support Clemson's partners and advance economic development in South Carolina," said Jack Ellenberg, associate vice president of Corporate Partnerships and Strategic Initiatives. "CU-ICAR is a unique research park in that it's not just a location, it's a campus with active academic programs where companies can interact with other organizations, outstanding researchers and Clemson students, making it an asset to Greenville, our development allies and the state."
The facility is planned as a multi-tenant high-bay, flexible laboratory and office building shell project intended for business tenants. Anticipated businesses located in the building may have 5,000 to 6,000 square foot high-bay spaces for laboratory, small-scale distribution, engineering/technical services, etc. with truck access at the rear. It is anticipated that some tenants may desire office spaces located in the front areas of the building.
LICAR LLC, an entity of the Clemson University Land Stewardship Foundation (CULSF), will be the developer and owner of the facility. CULSF is an independent, non-profit entity that seeks to support Clemson through the development of real property in ways that maximize the educational, research and economic development mission of the University.
U.S. News ranks Furman University a 'Most Innovative School' 4th year in a row
Greenville - U.S. News & World Report has ranked Furman University among the nation's "Most Innovative Schools" for a fourth consecutive year, in addition to recognizing Furman again as a leader among peers and other universities in undergraduate teaching and undergraduate research, according to the 2021 U.S. News "Best Colleges Rankings" published today.
Furman has made the "Most Innovative Schools" list every year since launching The Furman Advantage in 2016, and ranked 14th this year among national liberal arts and sciences universities included in the list. For this ranking, U.S. News asks presidents, provosts and admissions deans to list the colleges or universities "that are making the most innovative improvements in terms of curriculum, faculty, students, campus life, technology or facilities." Furman was ranked 5th in the list last year and 21st and 13th in the previous two years.
"Furman faculty and staff are pioneering new ways through The Furman Advantage to challenge and support our students and prepare them for meaningful and successful lives and careers," said Furman President Elizabeth Davis. "The leaders of colleges and universities around the country are taking note and confirming not only the value of a Furman education but also our innovative approach to delivering this education."
Overall, Furman tied for No. 52 in the "National Liberal Arts Colleges" ranking, placing it again in the top quarter of the 223 liberal arts and sciences colleges and universities ranked in this category. While this was a drop from a tie for 46th last year, Furman stayed even or improved in nearly all of the metrics used to determine the overall ranking, including increases in graduation rates, selectivity, first-year students in the top 10% of their high school class, and financial resources.
In other U.S. News rankings in the national liberal arts colleges category, Furman ranked No. 30 for "Best Undergraduate Teaching" and No. 3 for "Best College for Veterans." The university moved up 30 spots this year to rank No. 69 as a "Best Value College."
Among all colleges and universities in the U.S. News rankings, Furman ranked No. 33 for "Undergraduate Research" and No. 56 for "First-Year Experience," as voted on by presidents, provosts and admissions deans who were asked to list "Academic Programs to Look For."
In August, Furman was included again in The Princeton Review's "Best 386 Colleges" guide, moving up in several of the annual publication's individual rankings. The university rose two spots to No. 2 for "Most Politically Active Students," five places to No. 12 for "Most Accessible Professors," and one spot to No. 16 in the category of "Most Active Student Government." This year, Furman also ranked No. 10 for "Best Classroom Experience" and No. 12 for "Best College Theater."
Furman is among only 14% of America's 2,800 four-year colleges to be profiled in The Princeton Review guide. Institutions are chosen based on data the company collects from college administrators and from surveys of students on various aspects of their campus experiences.