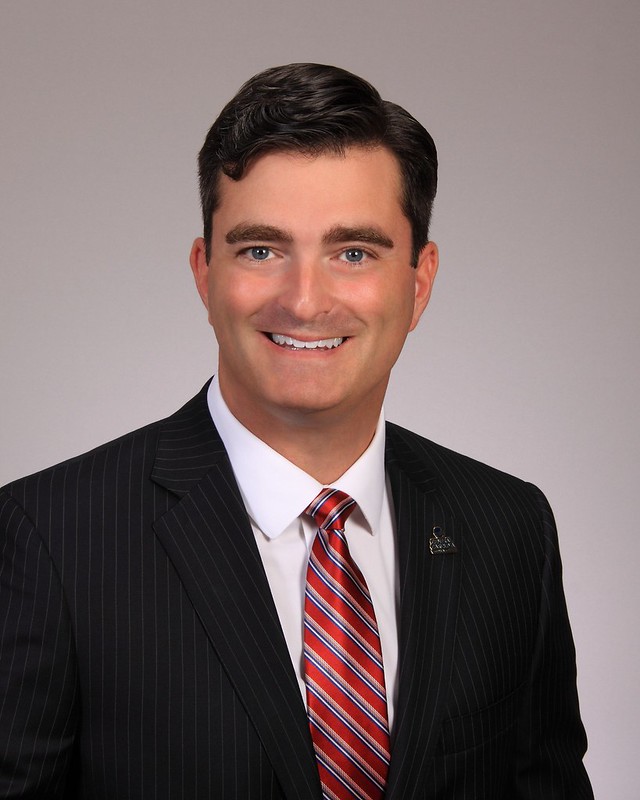 Spartanburg Community College has named Dr. Michael Mikota to the position of president, effective July 13. The Spartanburg County Commission for Technical and Community Education selected Dr. Mikota after a national search as SCC's seventh president, replacing Henry C. Giles Jr, who will retire on June 30 after serving as president since 2012.
Dr. Michael Mikota named seventh president of Spartanburg Community College
Spartanburg Community College has named Dr. Michael Mikota to the position of president, effective July 13. The Spartanburg County Commission for Technical and Community Education selected Dr. Mikota after a national search as SCC's seventh president, replacing Henry C. Giles Jr, who will retire on June 30 after serving as president since 2012.
"Dr. Mikota was the unanimous choice of the commissioners because his background and talents align perfectly with the College's goals," said Mr. Sonny Anderson, chairman of the Spartanburg County Commission for Technical and Community Education. "His experience as president at Central Carolina Technical College in Sumter as well as his work in economic and workforce development will be instrumental in moving the College forward and serving our students, business/industry and communities in Spartanburg, Union and Cherokee counties."
Dr. Mikota became Central Carolina Technical College's eighth president in July 2017 and since then has enhanced the value of CCTC to current students, future students, and approximately 20,000 alumni who predominately live and work in the midlands of South Carolina with specific concentrations in Clarendon, Kershaw, Lee and Sumter counties. CCTC has been an engine for growth and development for this region that has provided an economic impact of over $1 billion during the past decade.
Under Mikota's leadership, CCTC expanded offerings, constructed new campuses, advanced new strategic initiatives, improved graduation and retention rates, optimized academic and workforce development programs, enhanced marketing and branding, dedicated investments to faculty and staff, and launched the college's first major fundraising campaign. With the development and implementation of the new Strategic Plan for 2020-2025 the college is strategically positioned to greatly impact the future and improve the quality of life for thousands of South Carolinians for many years to come.
"Spartanburg Community College is an outstanding institution of higher education, and it is both an honor and a privilege to have been selected as president. I am excited to accept this leadership role in the location where I was born and raised, and this opportunity will enable me to work to serve this growing region of South Carolina that invested in and developed me. I appreciate the vote of confidence and trust from the dedicated members of the Spartanburg County Commission for Technical and Community Education and I look forward to working with the fine faculty and staff to further enhance the strengths that Spartanburg Community College possesses to directly improve the quality of life for the citizens of Spartanburg, Cherokee, and Union counties."
A native of Gaffney, Mikota holds a bachelor's degree from Wofford College and a Master of Business Administration from Gardner-Webb University. During the late 1990s and early 2000s, he worked for Wachovia Bank in multiple capacities, working his way up to assistant vice president of business banking.
Mikota also holds a Ph.D. from Clemson University in policy studies. As a Clemson student he served as president of the graduate student body and as a National Fellow with the U.S. Government serving as a key innovator in Water Quality Trading and Wetlands Banking. As a staff member at Clemson he served as a Watershed Policy Director, an adjunct professor in the College of Engineering and Science and as a lecturer in the Master of Public Administration program.
After his tenure at Clemson University, Mikota served as an analyst and senior analyst for the U.S. Government Accountability Office in Washington, D.C., where he conducted numerous audits and assessed programs for the Comptroller General of the United States.
Prior to serving as president of CCTC, Mikota was the executive director of the Santee-Lynches Regional Council of Governments, a regional association of county and city governments in South Carolina that include Clarendon, Kershaw, Lee and Sumter counties and the corresponding cities of Manning, Camden, Bishopville and Sumter.
With experience and expertise that range across many disciplines including political economy, economics, public policy, regulatory analysis, organizational dynamics, and environmental and natural resource policy, Mikota has been widely recognized as an author, co-author, and orator of diverse scholarly and applied topics as varied as economic impact analysis, environmental economics, financial regulation, economic development, and fiscal impact analysis. In recent years, he has focused on the nexus between higher education and the economy with a specific interest in expanding student opportunity, catalyzing academic innovation, and encouraging civic engagement and service to society.
Mikota currently serves as the chairman of the South Carolina Technical College System Council of Presidents, and he is a member of the South Carolina Workforce Development Board, the South Carolina Commission on Higher Education Council of Presidents, and the Shaw-Sumter Community Council. President Mikota has previously served on a variety of economic, community, and education development boards and committees, and he is also a graduate of the Shaw Air Force Base Honorary Commander Program, the Furman Diversity Leaders Institute, and Prisma Health's Tuomey Fellows Program.
Dr. Mikota and his wife, Camila, have two daughters, Cecilia and Penelope, and son Henry.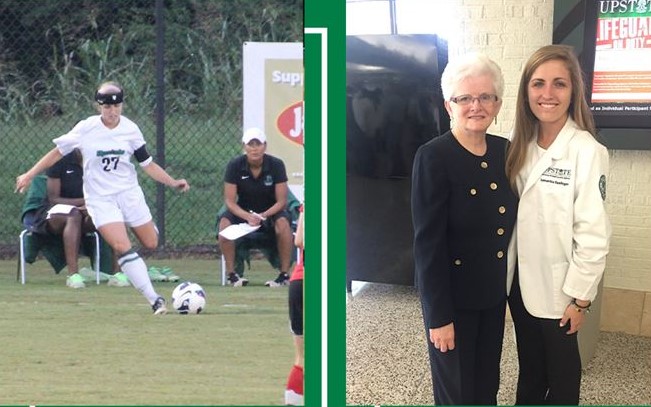 Former USC Upstate women's soccer defender Samantha Seelinger DeMartino is front and center in the fight against COVID-19 at Duke Raleigh Hospital. Photo courtesy of Upstatespartans.com
Spartan Spotlight: Samantha Seelinger DeMartino - defending against COVID-19
Growing up as an athlete, former USC Upstate women's soccer defender Samantha Seelinger DeMartino always wanted to be in the healthcare profession. Though at first she wanted to be a doctor, she says nursing ended up working out and being something she really loves. "I wanted to stick with something that was important to me, and that was health in general. I definitely think being an athlete paved that way for me," said DeMartino.
She completed nursing school at Upstate in 2015 and has been a nurse for the past five years. "Samantha is a smart, talented, young lady that excelled in the clinical setting as a great nursing student. She was very attentive to her patients and a team player with her fellow classmates. She always had a beautiful smile and positive demeanor," said senior nursing instructor Monique Jones, DNP, MSN, RN.
DeMartino began her nursing career on a medical-surge stepdown floor at Duke Raleigh Hospital in Raleigh, N.C. After being there for two years, she did a year of travel nursing in New York City, but has since returned to Duke Raleigh Hospital. She recently finished a family nurse practitioner program and after testing in a few weeks, she will eventually begin to transition into that role.
"Being on a med-surg floor working with adults, I see anything and everything from diabetes to hypertension, infection, all sorts of things. We're the mixing pot of the hospital, so we need to know a little about a lot of different diseases and management," DeMartino said.
DeMartino's unit is one of two, other than the ICU, that has been turned into a COVID-19 unit. Her team staffs two different units, so she doesn't find out if she will be working on a COVID-19 unit or not until she arrives for her shift. Though things have obviously changed a little bit, she says things are still the same in the way that she still goes to work with the same purpose every day. "At this point we've been doing this for about two months, so we're in kind of a routine and know how everything works," DeMartino said. "My hospital has been great about having PPE and I have to say I'm really grateful for where I work and the coworkers I have."
Other than being more conscious about hand washing and staying sanitized, DeMartino says her home life hasn't changed that much. "I told my husband at the beginning, 'hey this is what's going on, if you want to go stay with someone else that's fine,' but he was okay to stay home," she said. "I've had other coworkers that have gone to live with each other and leave their significant other or family out of fear. It hasn't affected me as much, but I know it has definitely affected others."
Interestingly enough, DeMartino says in a way she prefers to just be on a COVID-19 floor. "The great thing about being on the coronavirus unit is we have people watching us gown up and gown down, so it's really secure. I know I'm protected on the COVID-19 floors because we know those patients are infected," she said. "We've had instances where patients have had it on a regular unit and we didn't know, so we weren't protected."
DeMartino says the team aspect and communication skills she learned as a student-athlete have helped her in her nursing career. "Nursing is a team effort for sure," she said. "Every day, it's your patient you're going to see in the room, but you have other people to call upon. I've been really fortunate to have teammates like that and coworkers like that at the places I've worked. Also, the socialization aspect of soccer has helped me be able to better communicate with others and make connections. I definitely think being a student-athlete and being part of a team shaped me into the professional I am."
Furthermore, that team aspect during her time as a women's soccer player at Upstate is DeMartino's favorite memory of being a student-athlete. "That pregame camaraderie, getting ready to play, and that anxious, nervous feeling before going out on the field is what I miss most," she said.
An early challenge DeMartino faced in her career was transitioning into just being a professional in the working world after being a student-athlete. "You hold onto that identity of being a student-athlete for so long, not even just in college but your whole life, and it just ends out of nowhere," DeMartino explained. "In my first few years of nursing, it was hard to just identify as a nurse and not also an athlete." Another challenging part of nursing for DeMartino can be dealing with patients and their families, but she says it's just something you learn on the job.
DeMartino's biggest pieces of advice to new nurses are to just stick with it as well as to explore all areas of nursing. "Some-times in nursing you have this idea of 'I'm gonna be a pediatric nurse or this kind of nurse,' and I had that idea too that I was going to be in a certain specialty, but I ended up in med-surg, and I love it," she said. She also says that there are some days where you feel like you know a lot and days where you feel like you know nothing. "Once you finally get to put everything into practice, you have to be confident even though there will be days where you're not going feel like you're doing well. Know that everything will end up okay," said DeMartino. "Everybody can become a successful nurse, but it just takes time. Just have that confidence and go in every day with a positive mindset."
DeMartino says she owes a lot to Upstate for supporting her during her time as a nursing student-athlete. "I was really fortunate that my teachers and coaches were great about working with my schedule and moving things around, allowing me to still do nursing as a student-athlete. I know a lot of people don't get that opportunity," she said. "The staff at Upstate was great and really accommodated for me in order to help me do what I wanted to do."