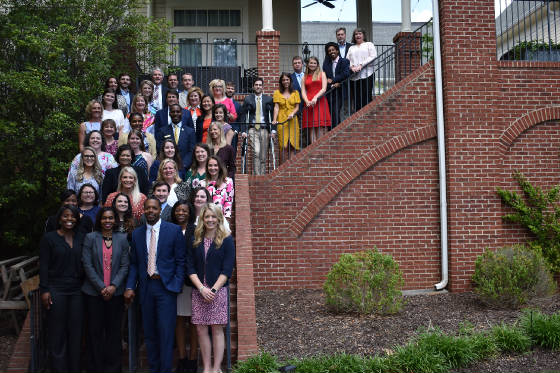 The 2018-19 class of Leadership Spartanburg was recently recognized at The Piedmont Club.
Spartanburg Chamber recognizes 49 Leadership Spartanburg graduates
The Spartanburg Area Chamber of Commerce recently recognized the 49 graduates of the 2018-2019 class of Leadership Spartanburg during a ceremony at The Piedmont Club.
Over the course of nine months, Leadership Spartanburg participants got involved in monthly activities to improve their understanding of Spartanburg's history, local and state government, education, arts and culture, community health and social issues, economic development, and Spartanburg's future.
Leadership Spartanburg is presented by Spartanburg Regional Healthcare System.
The Leadership Spartanburg class of 2019 graduates are:
* Shauna Axelrod, Spartanburg Chamber
* Rachel Baker, Spartanburg Regional Healthcare System
* Seth Blanton, Congressman William Timmons' office
* Christi Brown, First Presbyterian Church
* Leanne Burkhead, Spartanburg Community College
* Marisa Cecil, Children's Cancer Partners of the Carolinas
* Charlene Cheeks, Big Brothers Big Sisters
* Ingrid Crawford, city of Spartanburg
* Maddi Currier, Hope Center for Children
* Haley Denny, Mary Black Foundation
* Doug Dills, Spartanburg Regional Healthcare System
* Elise Echols, Century 21
* Greg Embry, Morgan Stanley
* Angela Fahey, Spartanburg Convention and Visitors Bureau
* Josh Fowler, Synterra Corp.
* Greyson Furnas, Spencer/Hines Properties
* Tashma Glymph, Palmetto Early Beginnings
* Rachel Hansen, Polydeck
* Ricaye Harris, Milliken & Company
* Hope Howard, Spartanburg Chamber
* Matthew Johnson, Fahrenheit Productions
* Stone Kelley, Merrill Lynch
* Nicole Kelljcheain, Spartanburg Marriott
* Traci Kennedy, TOTAL Ministries
* Karla Lamb, Spartanburg Regional Healthcare System
* Ohmar Land, Sherman College
* Lynell Lawson, Spartanburg Preparatory School
* Meredith Lindsey, ALINE
* Maria Maddin, United Way of the Piedmont
* John Mauney, Merrill Lynch
* Andrew McCall, McMillan Pazdan Smith
* Chip McLeod, Merrill Lynch
* Kristie Oliver, Spartanburg County Parks
* Genna-Jo Parker, Junior League of Spartanburg
* Theresa Perry, Daniel Morgan Technology Center
* Alex Powell, The Johnson Group
* Lance Radford, Spartanburg School District 2
* Farrar Richardson, Spartanburg Day School
* Beth Rutherford, Spartanburg Interfaith Hospitality Network
* Lee Shirley, Pine Street School
* Elizabeth Shuler, Wofford College
* Donnita Smith, city of Spartanburg
* Lindsey Smith, Baehr Feet
* Jenny Stevens, The Stevens Firm, P.A.
* Mark Tutterow, Spartanburg Water
* Anne Waters, Hub City Writers Project
* Kate White, Milliken & Company
* Susie Woodward, Spartanburg Regional Healthcare System
* Rhonda Young, LD Barksdale Sickle Cell Anemia Foundation
In addition to recognizing the graduating class, the Leadership Spartanburg Alumni Association named their 2019 awardees.
* Daniel Craig with Johnson, Smith, Hibbard and Wildman Law Firm was named LSAA's 2019 Emerging Leader.
* Cindy Teaster, director of leadership development at the Spartanburg Chamber, was named 2019 LSAA Champion.
* The Junior Leadership Spartanburg scholarship was awarded to Kara Thornton, Dorman High School, a graduate of the JLS class of 2018. Graduates of the program who are planning to attend college in Spartanburg County were invited to apply for a scholarship. Kara plans to attend USC Upstate this Fall to study Nursing.
* Assistant Spartanburg City Manager Mitch Kennedy was named 2019 LSAA Alumnus of the Year.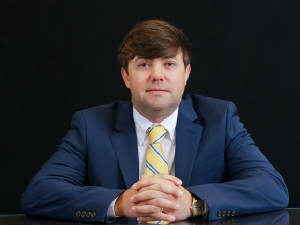 Michael Q. Gault
Attorney Michael Q. Gault joins Harrison White, P.C.
Harrison White, P.C. recently announed the addition of attorney Michael Q. Gault as an associate in its Spartanburg office. Gault will join managing partner John B. White Jr. and partner Ryan F. McCarty as the newest member of the firm's civil litigation team.
A graduate of the Charleston School of Law, Gault joins Harrison White, P.C. after serving four years as assistant solicitor for the 16th Circuit Solicitor's Office. In this role Gault was responsible for the prosecution of General Sessions-level crimes, ranging from property crime to attempted murder. As assistant solicitor he also worked closely with law enforcement during investigations.
Gault's joining the Harrison White, P.C. team is a homecoming of sorts—prior to working as assistant solicitor, Gault served as an attorney with the firm, then known as Harrison, White, Smith & Coggins, P.C.
A native of Union County, Gault received his undergraduate degree from Wofford College in Spartanburg. While in law school he worked with the Court Appointed Guardianship Program with Charleston County's Probate Court and was a member of the school's criminal law and environmental law societies.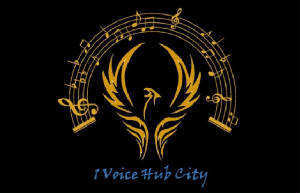 Singer-songwriter competition, 1 Voice Hub City, announces the 6 finalists; finale to be held May 23
Fans of shows like The Voice or American Idol will enjoy this competition made specifically for amateur and rising musicians in the upstate. The 3rd annual 1 Voice Hub City singer-songwriter competition invited contestants of all genres to submit an original song for judging. And now the top six contestants have been chosen as finalists.
Congratulations to Trey Duncan, Maddie Starks, Lindsay Brazell, Aaron Toler, Audrey Hailstock, and Nick Grisanti for making the cut. The panel of four judges, all local musicians, scored each of the 13 contestants that entered the competition, selecting the top six as finalists. Those six finalists will perform live during the concert finale on May 23rd at Wild Wing Café in downtown Spartanburg. Open to the public, audience members in attendance will vote to select the 2019 1 Voice Hub City champion. The winning prize package includes cash, recording of the winning song, radio airplay, and spotlight performance gigs at several upstate venues and festivals such as RJ Rockers, Stomping Grounds, Music on Main, FR8 Yard plus more. Tickets to the concert are only $10 and can be purchased online at 1VoiceHubCity.com or at the door the night of the concert. Solution Band will open the show at 7 pm.
Jamie Hughes, the Organizer of the competition, says, "This competition is meant to provide a platform for the incredible budding talent in our area by giving amateur and rising singer-songwriters the opportunity to showcase their skills."
All proceeds from the May 23rd concert go to benefit Safe Homes – Rape Crisis Coalition in Spartanburg, as they raise awareness and support for survivors of sexual violence. The agency has been serving the community for over 37 years by providing quality services to those affected and to create social change through education, training, and activism.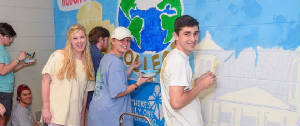 Students create new, welcoming study space in first-year residence hall.
Students make their mark on Wofford's Marsh Hall
Wilson Oswald, a sophomore from Summerville, has worked all year to upgrade Marsh Hall's image to match its newly renovated interior. During the year he renamed the fourth floor the Penthouse, held inspired community-building and educational programming for residents and just created a new, welcoming study space near the building's lobby area.
"I wanted to end the year with a beautification of Marsh project," says Oswald, a physics major who serves as a resident assistant in the residence hall. "It's a great residence hall for building community. Students can leave their doors open. That makes people friends a lot faster."
Oswald recruited Jonathan Hall, a junior English major from Mebane, N.C., to help.
"When Wilson approached me, I thought, I have stuff already that will make this easier," says Hall, referring to sketches and the concept, which draws from landmarks on campus and in Spartanburg.
Oswald then mobilized Create, an initiative of the Wofford Wellness Center that offers students a regular creative outlet and a chance to destress through art.
Eliza Taylor '19, a biology major from Greenville, Tenn., who begins dental school in the fall, has spent the year helping Lisa Lefebvre, director of employee wellness and medical services, plan and organize Create events. When the group decided the Marsh study room mural also would make a fun campus outreach program, she invited students to "leave your mark on Marsh" and made the mural the final Create project of the year.
"It was a great way to integrate more people and to take a break from studying for exams," she says. "Marsh is special. Love it or hate it, everyone has a memory here."