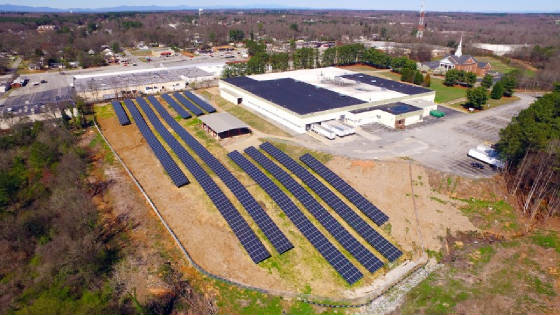 Crown Holdings will offset one-third of its annual electrical usage with a new solar panel array, covering approximately five acres.
Crown Holdings installs new solar panels, will offset one-third of its electricity usage
Philadelphia, PA – Crown Holdings, Inc.'s Spartanburg aerosol plant is set to offset one-third of its annual electrical usage by implementing a new solar panel array, covering approximately five acres. The project marks Crown's first use of solar power energy worldwide and contributes to one of the Company's 2020 sustainability goals of reducing its energy consumption by implementing renewable and alternative energy projects at the local level.
"Crown's mission is to continue identifying unique sustainability projects that align with our commitment to manage and conserve resources and bring innovations to market that support the sustainability efforts of our customers and consumers," said John Rost, Director of Sustainability and Regulatory Affairs, Crown Holdings, Inc. "Working with Keystone Power Holdings to enact a project of this scale is a prime example of this effort in action. This project also contributes to Crown's wider goal of continuing to drive down its emissions."
Keystone Power Holdings and its affiliate KPH Construction Services worked closely with Hannah Solar to construct the ground-mounted solar array system – measuring in at 924.6 kilowatts with 2,680 photovoltaic modules. The system was installed and became operational in October 2017. It is expected to produce for the plant 1,310 megawatt hours per year, which is approximately enough electricity to continuously power 500 homes.
"We are pleased to be able to partner with Crown to help make its energy purchases green while delivering significant energy savings," said William R. DePhillipo, co-founder of Keystone Power Holdings. "It was a pleasure to work together with Crown and Hannah Solar to develop and implement the largest leased solar array in South Carolina. It is a sign of great things to come in the state's solar industry."
In 2016, Crown set rigorous sustainability goals to be achieved by 2020 to support its commitment to reduce the environmental impact of its global operations and expand communication of its sustainability performance to stakeholders. Since then, the Company has already reduced energy consumption by 5.3% per billion standard units of production from 2015 levels, exceeding one of its goals.
For more information about Crown's sustainability journey, visit https://sustainability.crowncork.com/
Spartanburg Community College receives $526,225 grant
Gaffney - Spartanburg Community College recently received a $526,225 grant from the Appalachian Regional Commission (ARC), an allocation from Southern Appalachian Automotive Workforce, that will be used for curriculum expansion at the Cherokee County Campus based on Industry 4.0. The ARC grant will enable SCC students to access cutting-edge integrated systems training in Cherokee County that will prepare them to gain employment in the area's automotive sector.
Sometimes called "smart manufacturing" that involves state-of-the-art technology, Industry 4.0 is the current trend of automation and data exchange in manufacturing technologies. Intended to provide training for SCC students on new technology used by the automotive industry, grant funds will purchase an Industry 4.0 system with four modules: distributing, conveyor, joining and sorting, as well as two additional modules. The project also calls for the purchase of two Coordinate Measuring Machines and two Snap-On kits.
"This is a great opportunity for Spartanburg Community College and for Cherokee County," explains Jay Coffer, SCC's department chair of Industrial Technologies. "We estimate that this new equipment will benefit 51 students and 19 workers. That's 70 people who will earn associate degrees or certifications and 70 people with skills employers need."
All of the new equipment will be integrated in existing advanced manufacturing curriculum, as well as used in the automotive, mechatronics and machine tool technology programs offered by SCC. Additional modules, machines and Snap-On kits will allow SCC to offer two new certifications in torqueing and precision measurements. Additionally, the grant includes funding for training and certifying of seven instructors to train and teach students on the equipment.
With 20 automotive-related industries in the Appalachian region, the certifications and equipment training are in high demand by the automotive and automotive-related industries. Two automotive industries started scholarship programs enabling Cherokee students to gain experience while earning degrees. A third industry has expressed interest in hiring students who graduate from the programs this project enhances. Other area industries have also expressed interest in students trained on the new technology.
That's good news for Cherokee County, and for SCC. "We have a goal to match the skills employers need in their workforce with the training we provide our students," said Coffer. "This project accomplishes that, and that's really exciting."
In addition to the ARC funds, local sources will provide $225,525, bringing the total project funding to $751,750.

Master Gage & Tool Co. relocates Southeastern operations to Greenville County
Greenville – Master Gage and Tool Co. (MG&T), which provides high-quality tooling and gaging products, repair and calibration services to meet a diverse range of customers' precision manufacturing requirements, has relocated operations from Charlotte, N.C. to a new and expanded presence in Greenville County.
Founded in 1986, MG&T is a leading distributor of dimensional measurement and specialty tooling products used in a range of industries including automotive, aerospace, defense, healthcare, food and pharmaceuticals, among others. The new Greenville operations will allow MG&T to provide comprehensive sales, service, training, and repair capabilities to organizations across the Southeast. The company's new operations will be located at 30-A Cessna Court in Greenville.
Headquartered in Danville, Virginia, MG&T is a Woman-Owned Business with long standing participation in the American Measuring Tool Manufacturers Association, and primarily serves manufacturers across the Mid-Atlantic and Southeastern states. Their offices and metrology centers provide specialty gage design and build resources, and their long standing relationships with gage and inspection equipment manufacturers provide competitive pricing and optimal delivery times. MG&T is committed to providing customers with the highest quality products and service, and to do so in accordance with all applicable ISO/IEC 17025 standards, regulations and acceptable guidelines recognized by A2LA.
MG&T's extensive accreditations include all mechanical and dimensional calibration and inspection services in lab and on-site at customer facilities. On-site services include optical comparators, hardness testers, surface plates, vision measurement systems, coordinate measuring systems and hand measuring tools.
"This relocation and expansion of our Southeastern operations to Greenville County represents an important step forward in the growth of our business," said Marnie Lands, Greenville Office Director for MG&T.
"We have found Greenville County and South Carolina to be an ideal location for our rapidly growing enterprise, and a welcoming and pro-business location to engage with and serve customers as we focus efforts on meeting growing demand from customers across the entire region," Ms. Lands added. "We appreciate the support of the Greenville Area Development Corporation, Greenville County, and all who helped make this announcement a reality."
While investment and employment plans for the new Greenville operations were not disclosed, MG&T expects to have a "significant and growing presence and investment in our operations here, and to create a meaningful number of additional skilled and professional positions in Greenville county over the next several years," said Ms. Lands.
"County Council is pleased to welcome Master Gage & Tool to Greenville County with its renowned precision tooling and gaging capabilities," said H.G. "Butch" Kirven, Chairman of Greenville County Council. "We are pleased that such an outstanding family-owned organization chose to do business in our community and we appreciate the additional capital investment and employment opportunities their relocation here means for our citizens. The company's selection of Greenville county reflects the high caliber of our workforce, our diverse advanced manufacturing base, and the unparalleled quality of life unique to our area."
"With its rich environment of advanced manufacturing, Greenville is the perfect setting for MG&T to grow and enhance their business as they join a distinguished list of companies that have chosen to invest and reinvest in our community," said Greenville Mayor Knox White. "In addition to being uniquely positioned for continued success in their industry, they are committed to making a meaningful contribution to the economic vitality of the city and county and to finding opportunities to make a positive impact on our community."
Hiring details for the additional positions to be filled will be announced in the near future, according to Ms. Lands. For more information about Master Gage & Tool, visit them at www.mastergt.com.
SCDMV launches new guidebook for teen drivers
Charlotte, N.C. – AAA Carolinas applauds the South Carolina Department of Motor Vehicles for providing a new guide for parents and guardians who are teaching their teens how to drive.
Recognizing the evergreen need for more practice and experience behind the wheel for novice drivers, the SCDMV unveiled The Parent's Supervised Driving Program, or PSDP. PSDP introduces new drivers to weekly lessons behind the wheel as they prepare for their driving test after holding a driver's permit for 180 days.
"The SCDMV has just armed parents of teen drivers with a wonderful resource," said Tiffany Wright, AAA Carolinas Foundation for Traffic Safety President. "This guide and its accompanying app will give teens a boost of confidence in getting behind the wheel and will allow their parents and guardians to follow along and play a role in the process."
The booklet is available online at PSDPonline.com. The free app can be downloaded in the app store by searching RoadReady. The app logs and manages hours spent behind the wheel so families can easily keep track before testing for their conditional driver's licenses. The booklet itself is divided into lessons that make it easy to focus on specific skills that become more advanced as time goes on.
"South Carolina law requires that teenagers spend at least 40 hours on the road with an authorized adult while they learn to drive," said SCDMV Executive Director Kevin Shwedo. "My question to parents or guardians is, "Why wouldn't you spend double, triple, or four times that if it means your child is more comfortable behind the wheel and he or she has a better chance of coming home alive?"
The Parent's Supervised Driving Program, now in use in more than 20 states nationwide, features a 52-page magazine-style printed instruction guidebook. The RoadReady mobile app is a fun and useful supplement to the guidebook, which can track the required 40 hours of behind-the-wheel driving experience.
The guidebook is now available at driver's education schools across South Carolina.
AAA Carolinas, an affiliate of the American Automobile Association, is a not-for-profit organization that serves more than 2.1 million member and the public with travel, automobile and insurance services while being an advocate for the safety and security of all travelers.