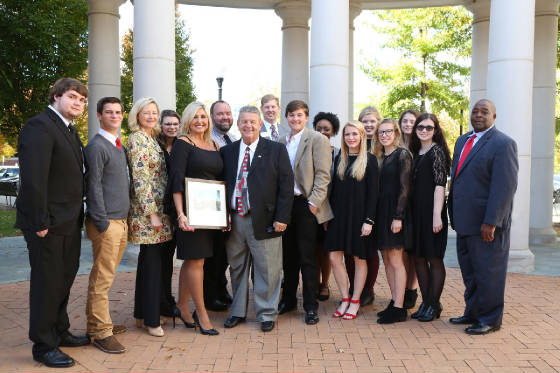 Kimberly K. Jones (above, holding award), was recognized as the 2017 Educator of the Year by Chapman Cultural Center, while Coca-Cola Bottling Company was named as the 2017 Cultural Champion (below).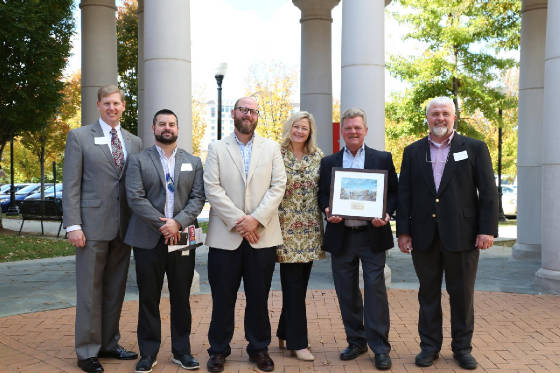 There's a new champion in town!
Last Wednesday, November 3rd, Chapman Cultural Center recognized Coca-Cola Bottling Company as the 2017 Cultural Champion and Kimberly K. Jones as the 2017 Educator of the Year.
Each year, the Center honors its corporate donors with a business luncheon at which the Cultural Champion is announced. Coca-Cola was selected as this year's recipient due to their continued support of the Arts. Lisa Hemond, VP of Resource Development at Chapman Cultural Center, says: "Coca-Cola has been a loyal presence in Spartanburg for over 100 years, and an invaluable supporter of the arts in Spartanburg for over 40 years. As an early and considerable contributor to the Center's capital campaign, having the support of a company like Coca-Cola in our community is vital to our work of creating a vibrant and thriving place to live, work and play."
Previous Cultural Champions include Duke Energy, Southeastern Printing, JM Smith Corporation, and Spartanburg Herald-Journal.
Upon receiving the award Jarrid Lemieux, Business Development Manager at Coca-Cola Bottling Company said: "Coca-Cola has been proud to partner with Chapman Cultural Center since 1974 to expand the arts in our community. We look forward to continuing that partnership for many years."
Kimberly K. Jones a teacher for 37 years, serves as Boiling Springs High School's Fine Arts Department Head and as the Muse Machine Advisor. Thanks to CCC's Muse Machine STEAM Summer Institute, she is currently directing her 53rd theatrical production. "Some kids don't have a sense of place. The wonderful thing about the theater is that there is a place for everybody. I can't thank Chapman Cultural Center enough for investing in teachers and honoring me today", said Jones.
Spartanburg Christmas Parade information released by Jaycees
The Spartanburg Jaycees, also known as the Spartanburg Junior Chamber of Commerce, recently announed that the 2017 Spartanburg Christmas Parade will be held Tuesday, December 12th in downtown Spartanburg, starting at 6:30 p.m.
Full street closure of the parade route will be at 2:30 p.m. the day of the parade. Please visit the Jaycee's website to see a full map of the parade route at www.spartanburgjaycees.net/christmas-parade/route/
The Spartanburg Jaycees have organized the Spartanburg Christmas Parade since 1985, drawing estimated crowds of up to 20,000 spectators. Proceeds from the parade will benefit less fortunate local children through a Jaycee Christmas Shopping Spree, sponsored by Target, as well as Jaycee Camp Hope, a fun and educational place for special needs children and adults. Jaycee Camp Hope has been financially supported by the SC Junior Chamber of Commerce since 1969. To date, the Jaycees have subsidized more than 10,000 individuals to the camps at a cost in excess of $950,000.
The Spartanburg Jaycees are currently accepting applications for entry into the parade. Registration will be open until November 30th. They have a range of entry options, including float rentals, starting at just $125. Registration can be completed online on the Spartanburg Jaycees website and this year online payments will be accepted. Donations are also appreciated! Additional inquiries can be made by contacting the Christmas Parade Hotline at (864) 381-8838 or email parade@spartanburgjaycees.net.
Sponsors for the 2017 Spartanburg Christmas Parade include Felicia Page with Coldwell Banker Caine, who is sponsoring the Spartanburg Jaycees float. Festival level sponsors are QS/1 and Pamela Harrison with Keller Williams, Tinsel Level sponsors are Spartanburg Regional Healthcare System and Founders Federal Credit Union. Candy Cane Level Sponsors are Marriott and Adidas Group. There are currently only 5 professional floats left so hurry to grab yours before they are gone!
Spartanburg Jaycee President, Felicia Page, says "We are so proud to have each one of these sponsors this year, their involvement means a lot to our organization and will have a great impact on the community." There are currently about 50 participants registered in the parade and the count is continuing to grow.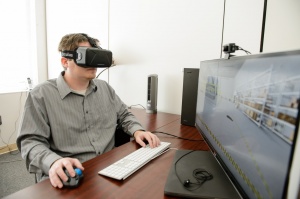 Virtual reality is incorporated into some of the EducateWorkforce courses that some see as the future of education in the state.
Program in Greer schools could be future of education across state
By Paul Alongi, College of Engineering, Computing and Applied Sciences
Greer - About 300 students in two Greer schools are beginning to use cutting-edge educational materials to learn the skills they need to land a job in advanced manufacturing, as industry leaders seek a larger pool of highly skilled workers.
The online courses developed at Clemson University are aimed at teaching "soft skills" and showing how science, technology, engineering and math can be fun and used in local industry. The skills are in high demand across the nation but especially in the Greer area, home to BMW, the inland port and several auto suppliers.
The courses could be the future of education not only in Greer but across the state, said Katie Witherspoon, director of communications at the Greater Greer Chamber of Commerce.
"This is a pilot program with Clemson to test it out in schools, but the ultimate goal is to take this much broader than just 300 students," she said. "Our ultimate goal would be to prove this is a great concept that could be used statewide."
The courses come from a program packaged as EducateWorkforce. They include video lectures and electronic books, alongside virtual reality simulations that borrow from the world of video games to add realism that would be lacking in a textbook alone.
One lesson, for example, has students moving through a manufacturing facility from a first-person viewpoint, except they are looking for safety violations instead of blasting zombies.
The Clemson University Center for Workforce Development created EducateWorkforce and is collaborating with the Greater Greer Chamber of Commerce to offer the courses at Greer High School and the J. Harley Bonds Career Center.
CBL State Savings Bank provided a $10,000 grant to make the program possible.
EducateWorkforce courses have been used by more than 1,000 students in 22 states, mostly in high schools and technical colleges. The program is broken up into several courses that can be taken separately or together. Courses offered varies from school to school.
Justin Ludley, principal of Greer High, said that students are using EducateWorkforce to learn about soft skills and manufacturing and that some have already received certificates for completing the soft skills course.
"That's so important to start emphasizing those skills right now– those social and emotional skills," he said. "You can teach people the technical skills if they're willing. Those soft skills are sometimes the hardest ones to teach."
Students access the courses through the chamber's GREERMADE website. For each course completed, students will receive a certificate of completion that helps highlight their new skills to employers.
They are aligned with standards set by Manufacturing Skills Standards Council. It's the nation's leading certification agency for workers in front-line manufacturing production and supply chain logistics.
Michael Parris, director at the J. Harley Bonds Career Center, said he likes that when students complete a unit, they can print out a document for their portfolios. While some courses are specific to industry, the one on soft skills could apply to all to students, he said.
"I would like to use it for all of our classes," Parris said.
Six courses are included as part of the collaboration: soft skills; exploring advanced manufacturing and workforce fundamentals; manufacturing safety; quality practices and measurement; manufacturing processes and production; and manufacturing maintenance.
Rebecca Hartley, director of operations for the Clemson University Center for Workforce Development, said that EducateWorkforce helps the educational system keep up with automated technologies that are transforming jobs.
"We have worked closely with stakeholders in industry and education to develop EducateWorkforce," she said. "Students in high schools and technical colleges around the country are using this innovative approach to learn about advanced manufacturing, and now it is available in Greer."
The virtual reality simulations were designed by Kapil Chalil Madathil, the director of technology operations at the Clemson University Center for Workforce Development.
"They allow students to practice tasks over and over in a safe environment," he said. "Students are then better prepared to use physical equipment in the lab or workplace. Our goal was to make the curriculum unique."
Two interconnected Clemson organizations worked together to create EducateWorkforce, primarily as a means of disseminating educational content to a large number of students.
Those organizations are the National Science Foundation Advanced Technological Education Center for Aviation and Automotive Technological Education Using Virtual E-Schools, also known as CA2VES, and the Clemson University Center for Workforce Development.
Anand Gramopadhye, dean of the College of Engineering, Computing and Applied Sciences at Clemson, is the principal investigator of CA2VES.
"EducateWorkforce is a new national model to deliver workforce education tools," he said. "Collaboration with the Greater Greer Chamber of Commerce brings these tools to the Greer area and helps accelerate the transformation of the economy for our state and region."