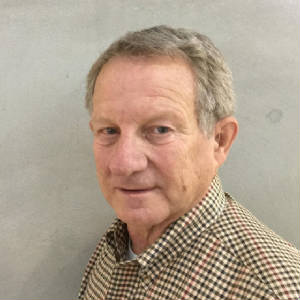 Dr. John Simmons is conducting meditation and mindfulness sessions at Central United Methodist Church - Spartanburg's Central Park, Tuesdays and Sundays at 5:30 p.m.
Take a walk on the calm side
Spartanburg church, local physician offer meditation mindfulness to reduce stress
Prepared and submitted courtesy of Steve Wong
In addition to physical illness, the novel coronavirus COVID-19 is stressing out the world. To help reduce the amount of stress in Spartanburg, John Simmons, M.D., will conduct meditation and mindfulness sessions at Central United Methodist Church-Spartanburg's Central Park Tuesdays and Sundays at 5:30 p.m., starting Sunday, March 28.
Dr. Simmons, the Church's lay leader, is certified as a Mind Body Skills Trainer by the Center for Mind Body Medicine in Washington, DC. In the past 12 years, he has led dozens of workshops using mindfulness to help patients with cancer, chronic pain, and post traumatic stress, in addition to people who suffer from anxiety and mild to moderate depression.
The sessions will be held outdoors at the Church's Central Park where there is a walkable meditative labyrinth and spacious seating. Because of the large two-acre outdoor space - conducive to social distancing - the Church received governmental clearance to conduct these sessions.
These sessions will be free and open to the public. However, if attendance is deemed too high for safe social distancing, people will have to wait in their cars or at a safe distance until they can be admitted to Central Park.
"Dr. Simmons is to be commended for his willingness to offer this service to the community," The Rev. Tom Norrell said. "He has taught this sort of stress-reduction program many times at places like Wofford College. Now, in this time of great need, he's offering it to the public in the Church's Central Park, which we built about two years ago. It is the perfect location. It is wide open so people can space themselves out. There's plenty of parking, especially in the city's adjacent parking garage. I'm especially gratified that he'll be using the labyrinth we built. For centuries, labyrinths have been used by people seeking answers, peace, and the love of God. It can be simply beautiful to walk the labyrinth alone and find inner peace."
Central United Methodist Church - Spartanburg, Spartanburg's first and oldest church, is located at 233 N. Church St., Spartanburg. Central Park, located behind the Church, is best accessed via N. Liberty St. by way of E. Saint John St. or E. Daniel Morgan Ave.
For more information, please call the Church at (864) 582-7263.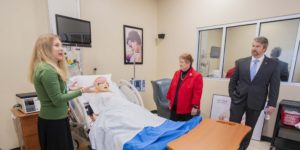 The new dual-degree program will enable students to earn two degrees in five years, a Bachelor of Science in Nursing from USC Upstate and a biology degree from the College of Charleston.
USC Upstate and College of Charleston announce dual-degree nursing partnership
The University of South Carolina Upstate and the College of Charleston recently announced they will partner to offer an innovative, dual-degree program that will enable students at the College to earn two degrees in five years, one in biology and a Bachelor of Science in Nursing (BSN) from USC Upstate's Mary Black School of Nursing. Third-year biology students who have completed a set of required prerequisite courses with a minimum cumulative and pre-requisite science GPA of 3.0, will be invited to apply for the fast-track program beginning in Fall 2020.
"We've developed a pathway for College of Charleston biology students to transition into USC Upstate while identifying high-caliber students who are interested in graduating from the Mary Black School of Nursing," said Dr. Shirleatha Lee, dean. "A lot of the students who go to the College of Charleston for their biology degree are from the Upstate area, so this is an opportunity for some of them to return home to finish their degrees and work in the medical centers that serve their communities."
Approximately 70 percent of the nurses employed by Spartanburg Medical Center, for example, are graduates of the Mary Black School of Nursing. The school touts a very high placement rate for graduates, with nearly 90 percent of students passing the rigorous National Council Licensure Examination (NCLEX) on their first attempt.
Students who take part in the program will be assigned a faculty advisor in the College of Charleston's biology department who will monitor their progress until they make the transition to USC Upstate. Staff advisors on both campuses will also assist students to ensure they are meeting the requirements of the program.
According to a recent study by the U.S. Health Resources and Services Administration, South Carolina is one of four states in the nation facing a nursing shortage expected to exceed 10,000 positions by 2030.
"I've spoken to nearly a dozen chief nursing officers at hospitals across the region," said Lee. "The message they share is the same: The nursing shortage is real, it is pervasive, and if left unaddressed, it will negatively impact the health of the state in the next decade."
"We welcome this collaboration with the College of Charleston, which will enhance the educational experiences for students at both campuses and equip them with career-ready skills that are in high demand in our state," said USC Upstate Provost Clif Flynn.

Premier Laboratory Services recently became the first commercial laboratory in South Carolina to be validated for COVID-19 testing.
Greenville-based Premier Medical Laboratory Services first commercial lab validated for COVID-19 testing
Greenville – Premier Medical Laboratory Services (PMLS), an industry leading diagnostic laboratory, headquartered in Greenville, recently announced that they are now validated for COVID-19 testing. The laboratory is currently increasing its testing capacity of 1,000 tests per day with plans to reach 28,000 per week in the coming weeks. Now available to hospitals and physicians offices throughout the United States, the test is developed under CDC guidelines for patient testing under the FDA's Emergency Use Authorization (EUA).
Developed at PMLS's 40,000 sqft COLA and CLIA regulated laboratory, results of this molecular diagnostic test are anticipated to be provided within 24 – 48 hours upon lab receipt of the testing sample. Lead times may extend due to volume. Assisting with PMLS's testing capacity and quick turn around of results is their use of OnGen, a cloud-based Laboratory Information System (LIS) which allows testing orders to be entered and communicated directly to laboratory instruments. Expedited detection of the virus will enable further efficiency in response time to employ the appropriate courses of action for containment of the virus.
"We are proud of our team for working diligently around the clock so that we could attain validation status and increase access to testing, which is urgent at this time," Kevin Murdock, Founder of Premier Medical Laboratory Services said. "Our lab is at the forefront of the most advanced technology and science available, providing cutting edge diagnostics to help flatten the curve of this global pandemic."
According to recent statements by the FDA, rapid detection of COVID-19 cases in the United States requires wide availability of diagnostic testing to control the emergence of this rapidly spreading, severe illness. The World Health Organization has urged all countries to test every suspected case. "We have not seen an urgent enough escalation in testing, isolation and contact tracing, which is the backbone of the response," WHO Director-General Tedros Adhanom Ghebreyesus said.
Premier Medical Laboratory Services' COVID-19 test is a part of their comprehensive respiratory pathogen test. It is developed to determine the causation for symptoms that a patient may be experiencing, as COVID-19 can exist as a co-infection with other viruses and bacteria. These results deliver vital knowledge – ruling out and dectecting multiple causative pathogens and allowing a physician to provide the most suitable care for their patients during this critical time.
Hospitals and physicians offices can provide COVID-19 testing by clicking on the following link for easy account activation with PMLS: www. premedinc.com/covid-19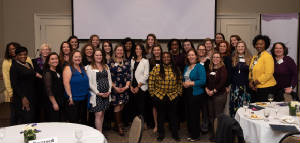 The Class of 2020 includes 36 graduates from a diverse array of organizations.
Furman recognizes graduates of Women's Leadership Institute
By Tina Underwood, Contributor
The Women's Leadership Institute (WLI) of Furman University recently recognized the following Class of 2020 graduates:
* Nenna Akpaete-Culliver, Michelin North America
* Rafaela Baranzano, Fitesa
* Emily Baulig, Goodwill Industries of Upstate/Midlands, SC
* Amie Blankenship, LS3P
* Lauren Briles, Primrose School of Greenville and Midtown Greenville
* Caitlin Buckingham, Furman University
* Katy Davenport, CommunityWorks
* Tara Eaker, City of Greenville
* Jade Fountain, United Ministries
* Chelsea Fulton, The Write Way
* Anita Garrett, Re-Connect
* Janice Garrett, Phenix Engineered Textiles
* Melissa Halliburton, BringFido
* Merianna Harrelson, Garden of Grace United Church of Christ
* Lucy Henry, First Sun EAP Alliance Inc
* Leigh Holcomb, Learn2Learn Cognitive Coaching
* Sarah Huet de Guerville, Gordian
* Qena Jennings, Public Education Partners
* Julia Jeter, Michelin
* Tamiko Jiles, Fitesa, Inc.
* Brenda Laasko, NEXT
* Angelica Lozano-Alonso, Furman University
* Laura Macpherson, Ideally
* Jessica McCoy, Brasfield & Gorrie, LLC
* Charlotte McDavid, Greenville County Schools
* Bibianna Michalska, Fluor Enterprises, Inc
* Alison C. Miller, Ogletree, Deakins, Nash, Smoak & Stewart, P.C.
* Amy Mirabelli, Michelin
* Halle Price, BMW Manufacturing Co., LLC
* Tricia Sellers, Job Impulse
* Jenna Spencer, Assist-Pro, LLC
* Katie Thompson, Table 201 Restaurant Group
* Shelly Waite, Waite SLTS
* Catherine Watt, Edu-Forum
* Andrea White, Greenwood District #50
* Sheila Zirlin, Fitesa
The WLI aims to enhance leadership skills and form a collaborative, lasting network of relationships among executives and senior managers from diverse disciplines and backgrounds in corporations, law, government agencies, educational institutions and nonprofit organizations.
"An understanding of the complex dynamics involved in achieving true success as a leader requires insight into one's personal leadership style and keen business acumen," said Sam Tisdale, director of Furman's Center for Corporate and Professional Development. "The seminars offered during each session include a comprehensive view of concepts and strategies that have immediate and practical application in real-world work environments."
The WLI explores topics such as negotiation and conflict resolution, communication skills, the psychology behind success, leadership styles, best practices for shared success, public speaking, life balance and time management.
***
Furman Libraries acquires unique music collection
Greenville - Two new collections of microtonal music – music played with tones that exist in the spaces between notes like C and C sharp or E and F – have a new home at Furman University. Com-poser Johnny Reinhard, founder of the American Festival of Microtonal Music (AFMM), has donated his personal microtonal archive and the archive of the AFMM.
Known for its sometimes unusual sound, microtonal music uses tuning structures different from the 12-note octave most people are familiar with. Furman came to acquire the collection through Michael "aTonal" Vick, an instructional technologist for the fine arts at Furman, who has performed and worked with Reinhard's AFMM for more than 10 years. Reinhard has also spoken to Vick's class, "Tuning Systems and the Aural Experience."
Reinhard approached Furman with the possibility of housing what may be the largest microtonal music collection in the world.
The collections are currently being processed at Furman and will be available for research and consultation later this spring in the Department of Special Collections and Archives, with a major exhibition of the collection slated for 2021.