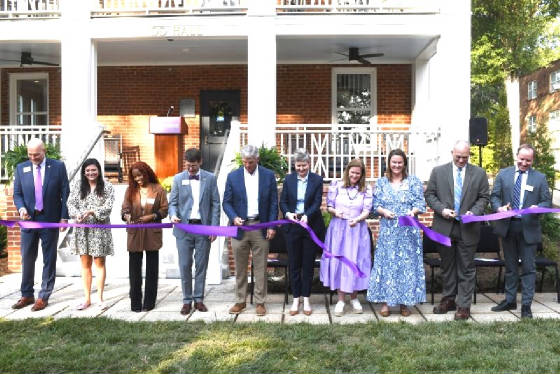 Converse University recently unveiled the transformed Cudd Hall on Thursday, September 21, 2023. Converse University photo
Historic Converse University residential hall transformed
Converse University officials proudly unveiled the transformation of historic Cudd Hall on Thursday afternoon, September 21, 2023. Members of the campus and local communities, as well as alumni and friends, attended a ribbon-cutting ceremony to celebrate this treasured residence hall. Nestled in the heart of the Converse campus, this beloved home-away-from-home has undergone a one-year, $4.8 million transformation to become a dynamic learning and living community for students.
McMillan Pazdan Smith Architecture, lead architects on the project, fashioned the renovations to harmonize with the historic character of the three-story building, to include the distinctively Southern porches that were once home to Converse's annual senior class photo.
"We are so thankful to our alumni and friends who recognized the value and character of our beloved Cudd Hall and chose to support this important revitalization," shared Converse University President Boone Hopkins, Ph.D. "Their investment in Converse and its students supports our vision of empowering students to become transformative leaders who see clearly, decide wisely, and act justly. By focusing on the student experience, this renovation creates a living-learning environment that supports student success for generations to come."
Harper General Contractors, who oversaw the construction, led project enhancements including:
• Renovation to 46 residential rooms and two Community Advisor rooms;
• Expansion of ADA-accessible rooms and entry access;
• Addition of an elevator;
• Redesigned flow to support community, accessibility and safety;
• Addition of a coffee market on the first floor, open to the campus community;
• Expansion of community areas including kitchen, laundry, study rooms and open spaces;
• Replacement of the roof, electrical, mechanical, and sprinkler systems,
• Rebuilding of the iconic three-level porch; and
• Renovation to all exterior and interior finishes.
Cudd Hall opened at the start of the fall semester in August and is home to many students of the University's Nisbet Honors Program. This invitation-only program offers academically gifted students the opportunity to explore new avenues of thinking, conduct independent research, and discuss intellectually challenging topics in a community of like-minded individuals.
Cudd Hall's revitalization is a key accomplishment in line with Converse Univer-sity's 2023 Strategic Vision Plan, which focuses on enriching programs, enhancing places, and empowering people. Through proactive planning, engaging fundraising efforts and thoughtful stewardship of assets, Converse is restoring and expanding campus infrastructure to support tomorrow's growth in a way that is accessible, adaptable and sustainable, so that the institution may fulfill its promise to open doors of opportunity to students and alumni.
Formerly the Gwyn School, a preparatory school for girls, Converse purchased the building in the early 1900s and transformed it into a residence hall. It was named Cudd Hall in memory of Allene Cudd Cantrell, Class of 1912, who was the daughter of Converse Trustee John Cudd
Rockefeller Group developing distribution center in Spartanburg
Rockefeller Group, the U.S. real estate developer, owner, and operator, is developing a 1.02 million-square-foot distribution center on 87.7 acres it acquired in 2022 in Spartanburg.
Spartanburg 221 is a modern, Class A speculative industrial building located off Highway 221, approximately one mile northwest of the I-85 Exit 78 interchange. The development began earlier this year and is expected to deliver in the fourth quarter of 2024.
"Spartanburg 221 lies in the heart of the I-85 Corridor in the Greenville-Spartanburg industrial market, which has been recognized as one of the nation's fastest growing industrial markets due to population expansion, business friendly environment, ample transportation infrastructure, broad regional accessibility, and a skilled work force," said Steven McGee, vice president, Southeast Development for Rockefeller Group.
"While the automotive industry has chosen to make significant investments in the community, with BMW and Volvo, there is an increase in demand for quality distribution and manufacturing space from companies that supply to the auto industry, like Boysen USA and Winar Connection, who have already chosen to locate and invest in Spartanburg."
Spartanburg 221 will include 40-foot clear ceiling heights, 56-foot-by-53-foot column spacing, up to 530 parking spaces and up to 237 trailer stalls.
Campbell Lewis, SIOR and Marcus Cornelius of CBRE are the exclusive leasing agents for Spartan-burg 221. The team is also marketing Rockefeller Group's Duncan Logistics Center, which includes three industrial warehouses totaling 827,000 square feet and is nearing completion in nearby Duncan.
"We are seeing significant interest in our Duncan project from ecommerce, manufacturers and third-party logistics suppliers who want to be located along the I-85 Corridor and are confident that both projects will lease quickly," said McGee.
The architect on the Spartanburg project is Atlas Collaborative and the general contractor is Pattillo Construction.
Wofford climbs in U.S. News and WSJ rankings
Wofford College climbed 11 spots on the U.S. News & World Report's 2024 list of national liberal arts colleges. Now at No. 59, Wofford also gained seven spots to No. 51 on the list of best value schools and is No. 71 as a top performer in social mobility among national liberal arts colleges.
In addition, the college topped the Wall Street Journal's list of private liberal arts colleges in South Carolina and ranked in the top 25 among national liberal arts colleges. The Wall Street Journal/College Pulse 2024 ranking focused on student outcomes versus similar colleges (salary impact, resolution of debt and graduation rate), learning environment (opportunities, facilities, career preparation and student recommendations) and diversity (opportunities to interact with students from different backgrounds, including ethnic, socioeconomic, geographic and differences in abilities).
"Rankings are a measure of success. They validate what we know: The work of faculty and staff and the support of the Wofford alumni community are changing lives through our commitment to academic rigor, faculty-student mentoring and experiential learning," says Wofford President Nayef Samhat.
In addition to scoring well in the graduation rate and retention categories, both of which influenced the social mobility distinction, Wofford also fared well in graduate earnings and financial resources per student, factors that also impacted the best value ranking. At Wofford College, 99% of students receive some form of financial assistance with the average financial aid package exceeding $35,000.
In addition to recent Wall Street Journal and U.S. News rankings, other publications place Wofford among the top liberal arts institutions in the nation.
* Princeton places Wofford among its 389 top colleges and in the top 209 "Best Value Colleges" for 2023. Wofford ranks No. 15 for "Best Alumni Network" and No. 1 for "Lots of Greek Life."
* Forbes' "America's Top Colleges" ranks Wofford at No. 54 among the nation's top liberal arts colleges. Wofford is in the top 100 for "America's Best Small Employers 2023" and ranks as a best value as well.
* DegreeChoices lists Wofford as the No. 1 liberal arts college in the state and No. 10 in the country, based on graduate earnings.
Wofford also received high rankings from College Raptor, Money magazine and The New York Times, with earnings, graduation rate and retention continuing to point to Wofford moving the needle in social mobility and positive student outcomes following graduation.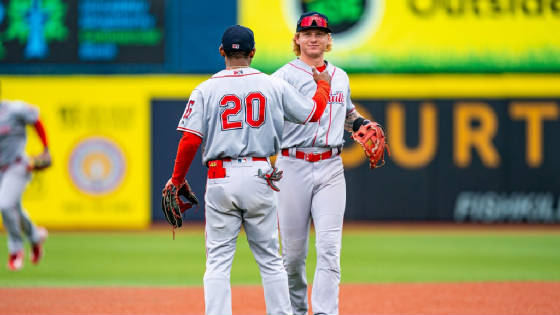 The Greenville Drive won their first South Atlantic League Championship since 2017. Greenville Drive photo
Greenville Drive win South Atlantic League championship
The Greenville Drive claimed the South Atlantic League Championship for the first time since 2017 and for the second time in franchise history, sweeping the Hudson Valley Renegades in the Champ-ionship Series, completing the sweep with a 7-3 victory in game two on Tuesday, September 19.
Deadlocked at 2-2 in the fourth, Ronald Rosario blasted a home run to break the tie, and Kristian Campbell put the game out of reach in the seventh with a three-run homer to put the Drive ahead for good.
After a low-scoring, low-hitting affair in game one on Sunday in Hudson Valley, the Drive and Renegades fought a back-and-forth contest at Fluor Field Tuesday night as the teams traded runs in the third and fourth.
Hudson Valley drew first blood in the third inning as Jesus Rodriguez slapped a two-out RBI-single, scoring Cole Gabrielson from second to give the Renegades the 1-0 lead. But the Drive quickly answered as Gilberto Jimenez led off with double which Nick Decker followed up with a bloop-single to left and advanced to second on the throw to try and get Jimenez at third. A batter later, Eddinson Paulino ripped a double passed the Renegades' first baseman, scoring both runners to give the Drive the lead.
But the Drive lead lasted for just five pitches into the start of the fourth, however, as Rafael Flores smacked a 430-foot home run over the left field wall knotting the game at 2-2. The Drive nearly took the lead again in the bottom of the fourth, getting the first two batters aboard. The ducks would sit on the pond however as reliever Yorlin Calderon recovered, fanning two and getting a line out to end the inning.
Greenville kept pounding away at Calderon, however, though he stifled their bats until the sixth inning. Rosario waited just two pitches before unleashing a 424-foot home run to deep left field, breaking the tie and putting the Drive up 3-2.
The Drive poured it on from there, plating four runs in the seventh thanks to Campbell's moonshot over the centerfield wall to make it 7-2. Drive reliever Zach Penrod continued to dominate over his five innings, being pulled in the ninth after putting two aboard. Felix Cepeda came in for the final three outs, ending the game with a strikeout officially crowning the Drive South Atlantic League Champions.
The Greenville Drive (Boston Red Sox) return to action as the defending South Atlantic League Champions in April 2024.
Prisma Health Children's Hospital - Upstate kicks off $6 million capital campaign with $1 million pledge from Hogs for the Cause
Greenville - The Prisma Health Children's Hospital-Upstate in Greenville launched a fundraising campaign on September 14 to raise $6 million for a new pediatric cancer and blood disorders unit that will combine "whole family care" with exceptional clinical expertise and provide more treatment space in the Upstate.
The unit will provide care for children and adolescents with cancer, bleeding disorders and sickle cell disease. Patient family suggestions were incorporated into the innovative design to help families feel more at home during what can be lengthy and repeated hospitalizations.
Hogs for the Cause, a non-profit barbecue competition and festival based in New Orleans but with significant ties to S.C., kicked off the capital campaign by gifting $1 million to give the campaign a great start. The announcement for the "Inspire Courage" capital campaign comes during September's Childhood Cancer Awareness Month.
Children's Hospital medical director Dr. Robin LaCroix said, "Hogs for the Cause's visionary $1 million gift serves as an inspiring example of how private philanthropy can transform healthcare and bring hope to countless families in need. This gift is a testament to the remarkable generosity and dedication of the Hogs for Cause organization and its CEO Becker Hall. We are grateful to them and our community for the incredible support and belief in our mission."
"Today, we fulfill a dream that continues to grow greater than we could have imagined," said Hall. "This state-of-the-art pediatric oncology and hematology unit will have a massive impact for families here and in neighboring states. We are extremely proud to partner with Prisma Health and with the barbecue restaurants here helping support this phenomenal project."
Construction on the 7,580 square-foot unit – which will be named the Prisma Health Children's Hospital—Upstate Hogs for the Cause Pediatric Hematology-Oncology Unit in honor of the lead gift – is slated to begin in early 2024 and will take approximately two years to complete.
"I'm thrilled that we can take this next leap forward by creating a space that is literally custom built for and by families," said Dr. Aniket Saha, the unit's medical director. "This specially-designed space will better blend family care with clinical care, helping reduce stress and offer a positive healing environment that nourishes the mind, body and soul."
South Carolina restaurants participating in the festival include Home Team BBQ – which has restaurants in Charleston, Greenville and Columbia – and Swig & Swine restaurants in the Lowcountry. The restaurants are known for their collaboration on Charleston community events Holy Smokes BBQ Festival and Rock the Block. Over the last two years alone, the two festivals have donated over $250,000 to Hogs for the Cause.