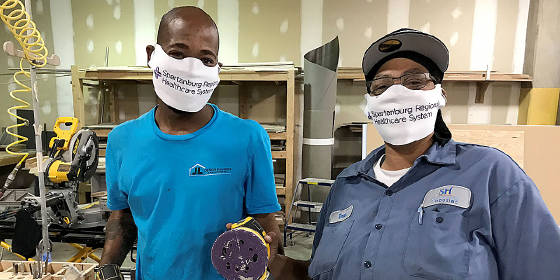 A special program at Spartanburg Regional Healthcare System allows people from across Spartanburg County learn construction skills like carpentry, plumbing, electrical and more.
Construction program provides job skills, improves lives
By Baker Maultsby, for Spartanburg Regional Healthcare Center
Daryl Miller had a steady job in a manufacturing plant, but he didn't find it fulfilling. He had a longtime interest in getting into the construction industry.
So, Miller joined a special program at Spartan-burg Regional Healthcare System, where people from across Spartanburg County learn construction skills like carpentry, plumbing, electrical and more from construction manager Jason Head and facilities director Doug Dills.
Local construction firms have been eager to hire program graduates, according to Head.
Miller gained employment with subcontractors doing work with Spartanburg Regional. Among the electrical projects he has worked on, Miller helped connect wiring for the Spartanburg Regional Outpatient Center parking lot when it recently underwent extensive renovations.
He's proud of his contribution.
"After it was finished, I would ride by and see it and think to myself, 'Wow, I really did that,'" said Miller, who hopes to eventually run his own construction company.
Developed to provide training
The construction program started in 2017 as a partnership between the healthcare system and the Northside Development Group. As construction projects were beginning to take off in the area, leaders wanted residents of the Northside to have opportunities to work on job sites.
"The challenge was that most of the people who were interested didn't have the necessary skills. And there really wasn't anywhere to get the training they needed," Head said.
The program was a success and has since expanded to take students from all over Spartanburg County.
Scholarships for the students are funded by the City of Spartanburg, the Northside Development Group, SC Works, Spartanburg Chamber of Commerce and Spartanburg County government. Spartanburg Regional Foundation manages these funds in coordination with the Spartanburg Regional Community Health program.
"The construction program is so valuable because it gives participants marketable skills for long-range employment. This benefits them and their families, as well as the local economy," said Erica Rhodes, community health project coordinator.
The Spartanburg Regional construction department is housed in a large workshop on the Spartanburg Medical Center — Church Street campus. Students participate in classroom discussions and textbook readings as well as hands-on activities, which include working with drywall and wooden framing. They also tackle projects with plumbing and electrical equipment.
"Learn as much as I can"
It's a diverse group of students. Some are just out of high school and looking to get a start on a career. Others are looking for a chance to start over.
One student is a retired man who said he wanted to gain skills and ideas to share with young men he mentors at his church. One is Dawn Jenkins, who said the class helped her get a job as a maintenance technician for the Spartanburg Housing Authority. She hopes to eventually become a general contractor.
"I try to be like a sponge and learn as much as I can," she said.
Each year, two students work as official apprentices, assisting with projects around the hospital system.
The program is accredited by the National Center for Construction Educa-tion and Research.
Head and his colleagues are proud of the skills the students learn – and the employment opportunities that come their way. He's most proud of the way the program has helped to change lives for the better.
"By far, the best thing is just the difference we've made," he said. "We've had people who were homeless when they started, and they got a job and a place to live and their health has improved. But regardless of their situation, every person in the class is there because they want to get better at something. It's a really good feeling."
Learn more about programs supported by Spartanburg Regional Foundation at their website:
www.regionalfoundation.com
Wofford College climbs in latest U.S. News rankings
Wofford College continues to be recognized as one of the nation's top liberal arts colleges, a best value and as a top performer in social mobility, according to U.S. News & World Report's 2022 edition of "America's Best Colleges."
Rankings were announced on September 13, and Wofford is ranked No. 67 on the report's list of national liberal arts colleges, No. 52 in best values and No. 73 in social mobility among national liberal arts colleges.
The college's Class of 2025 has 461 students who were selected from the largest applicant pool in Wofford's 167-year history. The class is the most selective ever and has the highest GPA of any entering class. This year's class is also the most diverse, with 24% from populations underrepresented in higher education.
Compared to the report's 2021 edition, Wofford moved up two places on the list of national liberal arts colleges and climbed 26 spots on the social mobility ranking, which measures how well colleges graduate students receiving Pell Grants. The grants are typically given to students from households with annual incomes of less than $50,000. Since 2019, the college has moved up 45 spots in social mobility.
This is the 37th year of the U.S. News' rankings. The United States has more than 4,000 institutions of higher education, including about 500 liberal arts colleges.
In August, Wofford was named to The Princeton Review's list of "Best 387 Colleges and Best Regional Colleges." In April, the college was among 200 institutions making The Princeton Review's Best Value Colleges for 2021 list.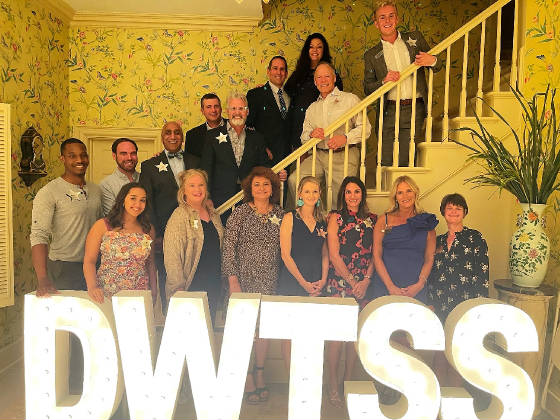 Dancing with the Spartanburg Stars will return on March 25, 2022.
Dancing with the Spartanburg Stars to be held on March 25, 2022
The Cancer Association of Spartanburg & Cherokee Counties, Inc. is pleased to announce the return of the popular Dancing with the Spartanburg Stars sponsored by Contec, Inc. The fundraiser will be held at the Spartanburg Memorial Auditorium on Friday, March 25, 2022, from 6:00pm until Midnight. Guests will enjoy an open bar and seated dinner. Show time will begin at 7:30 p.m.
Once again, ten local celebrities: Ali Beeson, Mary Breeden, Harry Clayton, Dr. Blair Clementson, Loreta Dylgjeri, Kevin Hudson, Christy Parris, Dr. Aqil Surka, Cal Wicker, and Dave Zabriskie will be paired with 10 professional dancers: Markis Allen, Sara Brehmer, Kim Butler, Natalie Foreverland, Brandon Graham, Jason Kimble, Blake Kirsch, Ari Surka, Seany Urick, and William Wilkins, to compete to see who receives the most votes and raises the most money for this terrific organization. The guest judges are Laura Ringo, Garrett Scott, and Chris Steed. Our emcees will be Catherine Baehr and Kim Keith.
Online voting at www. dancingwiththespartanburgstars.org is now open. Vote for your favorite dancers and vote as often and as much as you would like. Voting will commence the night of the event. The winner will be the couple who raises the most money.
While all sponsorship tables are sold out, there are underwriting opportunities available. Call for more information.
The Cancer Association provides free services to currently diagnosed cancer patients in Spartanburg and Cherokee counties, such as: nutritional supplements, wigs, bras and breast prostheses, medical equipment supplies, counseling, and personal care products. For more information please check out the website at
www.cancerassociation.org
For further information, please contact Cancer Association of Spartanburg & Cherokee Counties, Inc. 295 East Main Street, Suite 100, Spartanburg, SC 29302 – Glaydeane S. Lee, Executive Director 864-582-0771, or email at glee@cancerassociation.org
SCC's Arboretum Adventures 2021 celebrates the Horticulture program's 50th anniversary
Spartanburg Community College's School of Horticulture and the SCC Foundation will host the 2021 Arboretum Adven-tures event and celebrate the 50th anniversary of the college's Horticulture program on Thursday, September 23, in the Tracey Gaines Auditorium on SCC's Giles Campus in Spartanburg. Nationally-known horticulturist, Patrick Cullina, is the featured speaker and Philanthropists Dr. Lawrence Roël and wife, Kathryn Hicks, will be recognized for a special gift to the School of Horticulture. In addition, the 50th anniversary of the horticulture program will be recognized.
Now in its 13th year, Arboretum Adventures is a much anticipated Upstate event featuring nationally renowned experts in horticulture, landscape design, public gardens and more. The event highlights SCC's contribution to the horticulture industry across the Southeast and raises funds for the Jimmy Painter Horticulture Scholarship.
Event speaker, Patrick Cullina, is an award-winning horticulturist, landscape designer, photographer and lecturer best known for his work on the New York High Line, a 1.45-mile elevated linear park, greenway and rail trail that was created on a former New York Central Railroad spur on the west side of Manhattan in New York City.
"Patrick Cullina is a fitting guest presenter for our 13th Annual Arboretum Adventures during the 50th year of our program because his presentation, Lessons from the Garden, Roles for Collections in the Creation of Dynamic Landscapes, perfectly describes the synergy between our curriculum, our students, and the campus arboretum we operate within," explains Dr. Kevin Parris, SCC's Arboretum director. "Cullina's experiences on the Rutgers University campus, interactions with the great plant breeder Dr. Elwin Orton, and his integral role in the development of the New York High Line will give us all a new dose of inspiration so we can better tackle new garden challenges, and adventures."
Cullina is also an organizational consultant with more than 25 years of experience in the landscape field. He runs a design and consulting business dedicated to the innovative and sensitive integration of plants and materials into a diverse range of compelling designs, drawing inspiration from the both the natural world and constructed environments alike. Previously, he was the founding vice president of Horticulture and Park Operations for New York City's High Line; the vice president of Horticulture, Operations & Science Research at Brooklyn Botanic Garden; and associate director of The Rutgers University Gardens in affiliation with the school's Department of Landscape Architecture.
Parris adds, "We have hosted Arboretum Adventures each year since 2009 to raise awareness about the SCC Arboretum and the ways it facilitates learning in all courses within our program. Our plant collections give our program an identity and demonstrate a commitment to place and desire to continually build a better future. The funds raised at the event help us build and renovate gardens, take field trips, fund scholarships, and keep the wheels of inspiration turning."
SCC's horticulture program was established in 1971 by Jimmy Painter as a program focused primarily on peach production, but today, the program is a diverse program for the study of horticulture and agriculture.
"We have grown over the years from teaching primarily peach production to ornamental landscape and greenhouse operations to now having the Center for Sustainable Agriculture," said Jason Bagwell, horticulture department chair. "Throughout our 50 years of teaching and learning, we have strived to teach with and expose students to new and current industry equipment and production techniques. Our Giles Campus Arboretum has grown to include numerous display gardens that provide the largest diversity of plants on a college campus in the Upstate and is an outdoor classroom for our students."
Bagwell adds, "Through our program, we have helped to grow and sustain the horticulture industry, one of the largest industries in SC which has in turn has allowed us the opportunity to place our program graduates in a variety of horticulture positions all across the U.S. Our ability to grow and maintain a thriving hands-on program for 50 years has been a tremendous accomplishment thanks to so many people."
SCC offers the only Associate Degree in Horticulture in the Upstate and provides a hands-on teaching, learning environment at one of five recognized arboretums in Spartanburg County. The program boasts four greenhouses, a nursery production area, several unique ornamental gardens such as the Plant Zoo Garden and International Peace Garden, an outdoor lab complex, and SCC's Center for Sustainable Agriculture. For more information on the SCC School of Horticulture, visit www.sccsc.edu-Horticulture.
Arboretum Adventures begins with a reception and special presentation recognizing the Roël's gift to the School of Horticul-ture at 5:30 p.m., followed by Cullina's address. Tickets are $50 per person or $75 per couple. Spon-sorships are available on the SCC Arboretum website www.sccsc.edu-Arboretum-Adventures or call the SCC Foundation at (864) 592-4448.