Eleven organizations received grants recently, as the Mary Black Foundation awarded $850,000 of the $8 million MacKenzie Scott gift.
Mary Black Foundation awards $850,000 of MacKenzie Scott gift
Information provided by the Mary Black Foundation
In November 2022, philanthropist MacKenzie Scott donated $8 million to the Mary Black Foundation to support the organization's mission to increase opportunities for health and wellbeing in Spartanburg County.
Based on a needs assessment and input from community members and organizational partners, the Foundation will use the money to positively impact behavioral health outcomes.
In the United States, more than one in five individuals live with a mental illness and one in ten meet the criteria for drug use disorder at some point in their lives. The scope of the problem is evident in Spartanburg County where rates of suicide, depression, drug overdose death, and emergency department visits for self-harm are higher than state averages.
"Most Spartanburg County residents have been touched by this issue," said the Foundation's Vice President of Strategy and Programs Rochelle Williams.
"And while we have many high performing organizations and experts providing important behavioral health services in Spartanburg, throughout the county there are communities and demographic groups with high needs for care who are less likely to access available resources because of logistical and systemic barriers," she said.
In response, the Foundation is granting a small first cycle of funding to eleven organizations that are effectively integrating behavioral health care into their missions in ways that make it accessible, affordable, and culturally relevant."
The following organizations will receive funding in this first phase of grants:
• Angel's Charge Ministry
• Birth Matters
• Bloom Upstate
• Children's Advocacy Center
• EMERGE
• FAVOR Upstate
• GoForth Recovery
• Hope Center for Children
• JUMPSTART
• PASOs
• Uplift Outreach Center
The Foundation's President and CEO Molly Talbot-Metz reiterated that this is the first investment of a larger commitment to impact behavioral health outcomes.
"We are committed to continued collaboration with community members and organizational partners to positively impact behavioral health access as we work to create a Spartanburg County where all residents can achieve health and wellbeing."
*******************
New organization serving Pacolet hires inaugural executive director
Dating all the way back to 2020, Spartanburg County District Three Schools began community conversations in Pacolet around what to do with one of their school buildings that was planned for closure. Many years of planning resulted in the incorporation of a new non-profit organization, the Benjamin E. Mays Family Center, charged with serving Pacolet and surrounding communities.
"We are thrilled to welcome Jerry Rice to lead this new organization," says Reed Brown, Chair of the Board of Directors and a resident of the Goucher community which will also benefit from the center. "We believe Mr. Rice has the perfect blend of experience and skills to make this a success," he stated.
"The Board of Directors has worked hard to get the organization this far, and much of that work has included determining what services will be most beneficial for the people of Pacolet, and planning toward making those services a reality," shared Leverne McBeth, Vice Chair of the Board of Directors. Ms. McBeth has worked tirelessly over the last several months to communicate with potential partner organizations and assess with the board and community what might be possible.
"I look forward to getting to know the people of this community, and to providing such needed services out of a building with such an important history," Mr. Rice said. Originally, the school was built as the consolidated school prior to desegregation, serving African American students in Pacolet. The school's pupils voted to name the school after civil rights leader, Dr. Benjamin E. Mays, who was born in Greenwood. It was the first building to be named in his honor. In 1970, after integration and the school closing, it was reopened as the Middle School of Pacolet.
According to the Early Development Instrument, over a quarter of children in Pacolet entering school each year are vulnerable or at-risk in all five domains of school readiness (physical health and well-being, social competence, emotional maturity, language and cognitive development and communication and general knowledge). Further, census data shows that the low infant birth rate in Pacolet is nearly three times the Spartanburg County average.
The Benjamin E. Mays Consolidated School Alumni initiated conversations with the Spartanburg County Foundation early in this process, wanting the building to be a resource for all individuals in the surrounding areas, and wanting the legacy of Dr. Mays to live on in that building. "It has been a joy to partner with this community, helping to mobilize resources to meet the needs. That is the work that a community foundation is charged to do," said Ashley Whitt, Vice Presi-dent of Grants and Community Impact at the Spartanburg County Foun-dation.
Mr. Rice shared that he hopes to see the center support the youth and families of Pacolet and create community there. He shared this is in line with one of his favorite quotes from the late Dr. Mays: "A child must learn early to believe that she is somebody worthwhile, and that she can do many praiseworthy things."
Mr. Rice has experience in a wide range of community serving organizations from pastor to program director to executive director. He is passionate about grassroots efforts, about engaging with communities, and seeing youth reach their full potential. Mr. Rice has relocated to the area with his wife of 36 years, allowing them to be closer to two of their three children (and grandchildren), and to enjoy rural life in the Upstate.
More about the center may be found on the website (www.benmaysfamilycenter.org).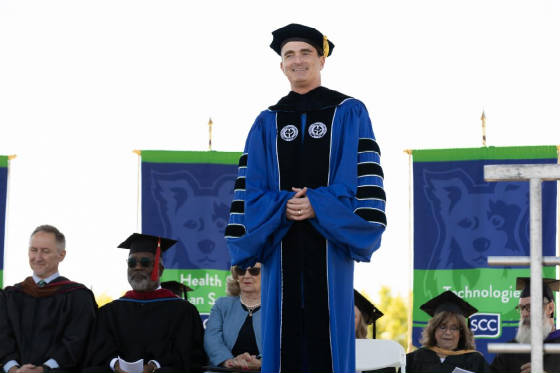 SCC held 2023 graduation ceremonies on May 4th.
Spartanburg Community College holds graduation ceremony on campus green
On Thursday, May 4th, thousands of individuals gathered to celebrate at Spartanburg Community College's graduation ceremony on the Campus Green of the College's Giles Campus. A total of 717 degrees and certificates were conferred upon SCC's Class of 2023, which consists of 616 graduates.
In recognition of her years of service to education and unparalleled support for the College, SCC welcomed former member of the South Carolina House of Representatives, Mrs. Rita Allison to deliver the commencement address.
"Education is mankind's most enduring asset, we need to treasure it, nurture it, share it. And invest it in a better future and quality of life for oneself and all the lives they touch," said Rep. Allison. "SCC gives that quality education and that pathway for success."
As part of a return to tradition, the College relaunched the Faculty of the Year recognition as part of the 2023 Com-mencement Ceremony, recognizing the work of outstanding faculty members who go above and beyond in support of the College's mission and vision. The award is presented in two categories, with the recipient of one being nominated by students and the other being nominated by their peers.
Jay Moore is a highly experienced Horticulture Instructor who has taught a wide variety of courses in his field at SCC for over 14 years and has twice been the recipient of the Faculty of the Year – Student Award. He can add an additional award to his collection thanks to his recognition as the 2023 Faculty of the Year – Student Award.
Magaly Littlejohn has served as a Sociology Instructor at SCC for more than 20 years and has served as the Social Sciences Department Chair for the past 13 years. Through her years of service, Magaly has been instrumental in the development and implementation of several new programs that have benefited the college and the community.
The Class of 2023 has 59 graduates with a 4.0 GPA and 320 graduates with a GPA of 3.5-3.99.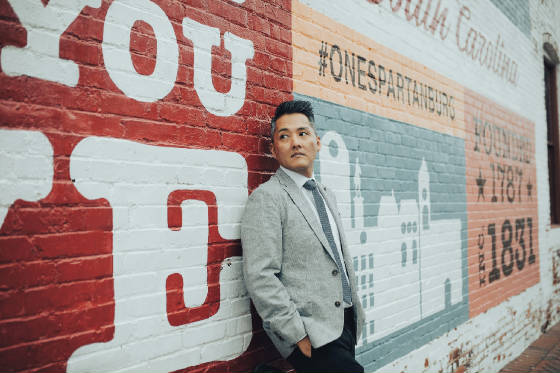 John Young Shik Concklin was recently named the 10th Music Director in the 95 year history of the Spartanburg Philharmonic. Photo provided by the Spartanburg Philharmonic
The Spartanburg Philharmonic announces John Young Shik Concklin as 10th Music Director in the organization's ninty-fifth year
The long awaited moment has arrived. After a search spanning two years, nine candidates and many, many concerts, the Spartanburg Philharmonic, in its 95th Year, recently announced John Young Shik Concklin as their next Music Director. "From the very beginning, the search committee committed to finding the perfect fit for our organization and for our musicians - we believe John Young Shik Concklin is that person," says Karen Parrott, Board President of the Philharmonic and Chair of the Search Committee. "John gets us - Spartanburg, our community, our musicians - and we are thrilled that he is our 10th Music Director." John will join the Philharmonic on a three year initial contract, yet he is already hard at work with the staff to finalize programming for the upcoming season which is set to launch Saturday, September 16th with an original piece from resident composer Peter B. Kay and Antonin Dvořák's triumphant masterpiece, Symphony no. 9: "From the New World."
Concklin, a native of Atlanta, has been praised by musicians and audiences alike for his acute attention to detail, strong sense of rhythm, inviting gravitas and unique innovation. Concurrently John serves as Music Director for Hendersonville Symphony Orchestra and Conductor with the Atlanta Music Project and Piedmont Chamber Orchestra. He is also no stranger to Spartanburg or the Philharmonic as he started out as a violist for the long standing orchestra. John then made his conducting debut in 2018 when he led the Philharmonic's two John Williams concerts to huge acclaim.
The nationwide search began in August of 2021 as an extensive and experienced search committee began reviewing applications. The committee consisted of board members, musicians, Philharmonic staff and the expert advice from Henry Fogel, a leading arts executive and consultant for orchestras around the country. Out of approximately 160 applicants, the committee narrowed it down to just nine finalists, each bringing their own style and techniques to the table. Between 2021 and 2023, all nine candidates helped program and conduct a concert for the Philharmonic's Zimmerli Concert Series held at Twichell Auditorium on the campus of Converse University.
John was the guest conductor for his initial Music Director Finalist concert, Epic, in the spring of 2022. The concert consisted of a suite by Samuel Coleridge-Taylor and Gustav Mahler's first symphony nicknamed "Titan." This was Concklin's first concert to really show off his conducting gravitas as well as build a relationship with the musicians he previously played with, only this time from the conductor's platform. John also became a last minute hero for the first concert of the 2022-23 season, Scheherezade & Other Tales, when the guest conductor and fellow Music Director Finalist was unable to make the September performance due to unforeseen circumstances.
Kathryn Boucher, Executive Director of the Philharmonic, declares, "With John Concklin, the Philharmonic is poised for what I believe will be one of the most exciting chapters in its storied history. His connection to the musicians and the audience is unparalleled and we could not be more thrilled to welcome him home to Spartan-burg."
John has certainly won the hearts of many, and he is excited to push the program to new heights. In a welcoming message to the City of Spartanburg he writes "I am deeply honored to be selected as the tenth music director of the Spartanburg Philharmonic. My musical and personal life are deeply intertwined with this community, and I always dreamt of what it would be like to lead this storied ensemble. After years of anticipation, here we are! The chapter ahead will be filled with meaningful collaboration and music making. I cannot wait to carry Spartanburg's rich musical legacy forward; alongside you, the passionate Spartanburg community, the talented musicians and devoted patrons who have kept it vibrant for so long."
As Music Director, John is responsible for developing imaginative, varied, and compelling programs for the Philharmonic, selecting soloists, developing and maintaining a strong working relationship with the musicians, establishing and communicating the artistic path of SP, and setting, in conjunction with the Board and staff, the short and long-term plans of the orchestra. John will be tasked with helping shape the overall vision, identity and direction of the Philharmonic as he will be the new face of the organization.
AAA: Summer travel is surging
Charlotte, N.C. – If you haven't booked your summer travel plans yet, AAA says you better do it soon. The Auto Club Group is seeing very strong bookings for cruises, tours, hotels and flights.
"Travel demand has come roaring back this summer and we're already seeing large crowds at popular domestic and international travel destinations," said Debbie Haas, Vice President of Travel for AAA – The Auto Club Group. "The recent decision to lift all international travel restrictions will only add to demand. So, we encourage travelers to do their research and work with a travel expert. They can help you find the best value on a relaxing vacation."
More than Half of South Carolinians Plan to Take a Summer Vacation
According to a new AAA travel survey, 81% of South Carolinians will travel this year. More than half (56%) of them will take a summer vacation. However, just over a quarter (26%) of summer travelers have finalized their plans. The most popular vacations they're planning are:
57% - Beach Destinations
29% - City/Major Metro Destination
27% - National/State Park
19% - International Travel
18% - Ocean/Large Cruise
Whether it's mapping out gas stations or electric vehicle charging stations along your route and at your destination, or planning which attractions and activities you want to visit when you arrive, AAA offers TripTik and Trip Canvas, two free travel tools to keep you organized and prepared.