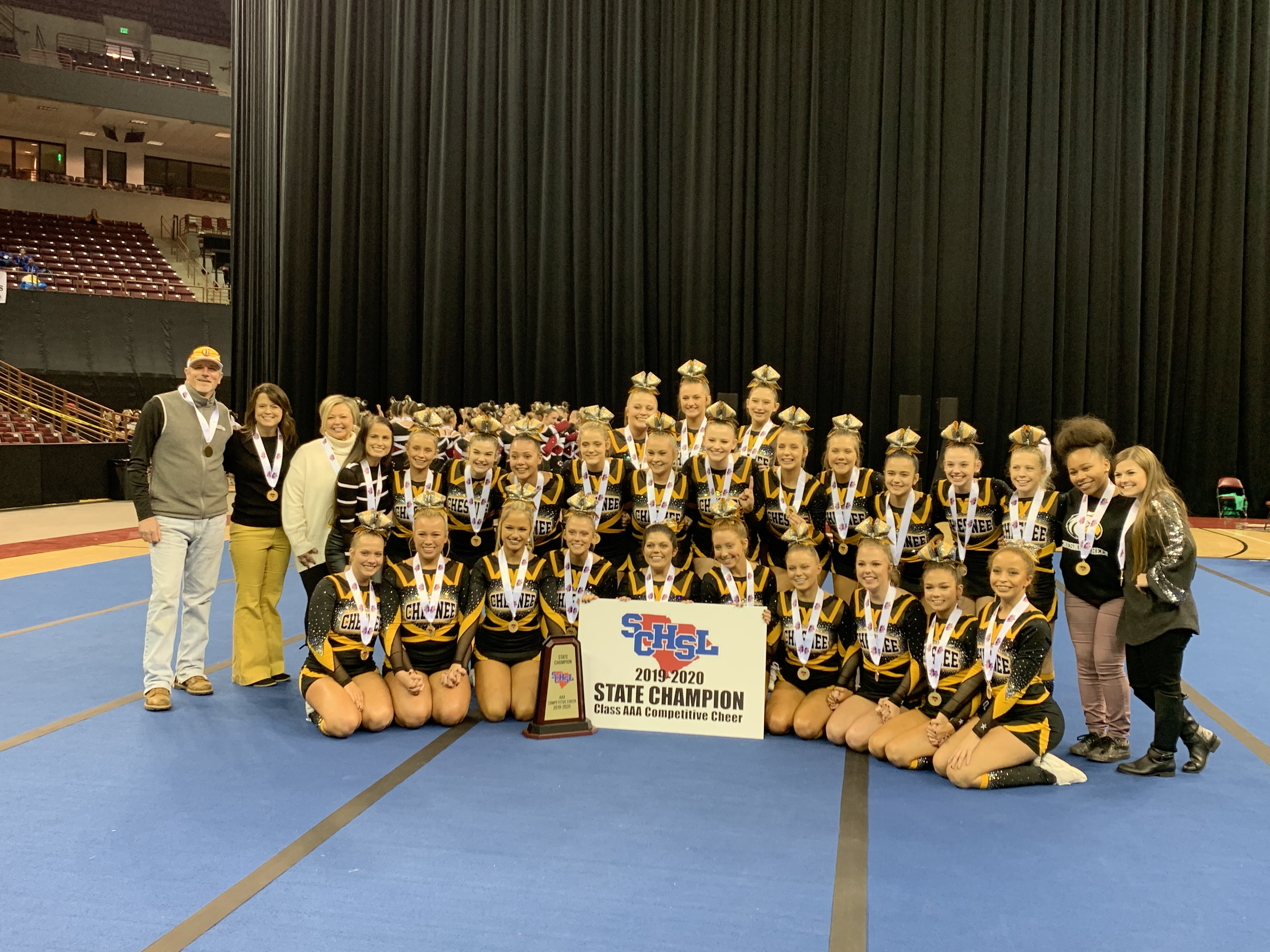 State champions!
The Chesnee High School Lady Eagles have won the 3A State Cheerleading Championship! This is the school's fourth state championship and first since 2015. They also won in 2013, 14 and 15.
The team is coached by Allie Tyner, and assisted by Ashlyn Campbell. The members of the Chesnee cheerleading team are Nichole Allen, Aubrey Aparis, Brianna Barnett, Kylee Briles,Tori Cash, Jada Churchill, Anna Kate Cooley, Bethanie Dalton, Melayna Davis, Michaela Davis, Destiny Dawkins, Emma Fogle, Callie Gray, Maci Hollifield, Abigail Johnson, Alexis Kincaid, Trinity Rhymer, Mckenzie Scruggs, Mallory Smith, Katie Faith Watson, Laikyn Westmoreland, Reagan Westmoreland, Savannah Wilkie, and Avery Wilson.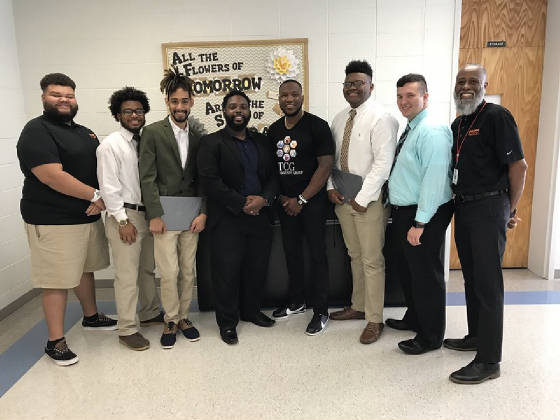 Shown from left are, MiSTERS Chayton Fuller, Shaekwon Heard and Khyree Miller (laptop recipient); Terrance Hawes, talent and economic inclusion coordinator, Spartanburg Chamber of Commerce; Victor Durrah, Jr., executive director, Brothers Restoring Urban Hope; MiSTERS Nicholas Smith (laptop recipient) and Taylor Ayers; and Frederick Keenan, SCC instructor and coordinator of Call Me MiSTER program.
Spartanburg Community College's Call Me MiSTER students receive laptop donation
Spartanburg Community College's Call Me MiSTER program, which educates and inspires young men to become South Carolina teachers, recently received donated laptops from a local organization hoping to impact the lives of young men in the Spartanburg community. SCC MiSTERS Khyree Miller and Nicholas Smith received laptops from Victor Durrah, Jr., and Terrance Hawes with Brothers Restoring Urban Hope.
"I am with a community group here in Spartanburg - Brothers Restoring Urban Hope - a group of African American young professionals, about 100 members throughout the community. We just had our Black Excellence Community Gala that highlighted black excellence in the community, and with the money we raised we want to provide laptops every semester to students who are in need," explained Victor Durrah, Jr., executive director of the organization. "I work in higher ed and I meet a lot of students everyday who want to work on resumes and do work, and they don't have laptops. Too much happens in education that requires a laptop - studying, writing - and we want to make sure that our guys, especially educators, have the best chance and opportunity to do well. If there's a need we want to make sure we provide and meet that need."
Joining Durrah for the presentation was Terrance Hawes, also a member of Brothers Restoring Urban Hope. "I am involved because young black men need to see an example of a successful person who looks like them and be motivated, inspired to keep pursuing their goals. A lot of times it's hard to engage and inspire others if you can't relate to their demographics, so we take time to give back. I came from the Northside of Spartanburg, impoverished, but I had mentors who held me accountable," said Hawes, talent and economic inclusion coordinator, Spartanburg Area Chamber of Commerce. "The position I'm in today as an entrepreneur and in diversity, inclusion work at the Chamber is because I had people who looked like me and saw potential in me. It's important for me to continue to do the same thing for other young men."
For the two SCC MiSTER students who received the laptops - Khyree Miller and Nicholas Smith - they say it's a game-changer. "Receiving the laptop means everything. It's an honor to have people invested in us, believing in what we do, believing that they're not wasting their money giving us these things," said Miller.
Smith adds, "Instead of relying on library (computers) to do work, I can now be at home and get work done with this laptop since most of our work is online."
Both Miller and Smith sing praises about SCC's MiSTER program and their decision to study education at SCC with the goal of becoming a SC teacher. "I'm part of MISTER because I truly believe what we do here. We need to increase the number of African American role models for children who want to be something one day," explained Miller.
"I joined the MiSTER program because I believe we can make a difference in this world by putting African American educators in our classrooms because we definitely need more," added Smith.
The mission of SCC's Call Me MiSTER program is to increase the pool of available teachers from a broader, more diverse background particularly among SC's lowest performing elementary schools. MiSTER, an acronym for Mentors Instructing Students Toward Effective Role Models, offers minority students the hope of aspiring to be a teacher and leaders in their community.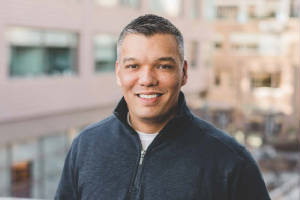 Scott Moore, president of 98 Ventures.
Executive management firm 98 Ventures adding 150 positions in Greenville County, relocating to Poe West development
Greenville – 98 Ventures, an executive management services company, recently announced plans to expand operations in Greenville County, South Carolina, creating 150 new jobs.
To accommodate this expansion and be positioned for future growth, 98 Ventures will relocate to the Poe West development in the Village of West Greenville in January of 2020, allowing the company and its affiliates to continue to provide clients with a high level of service. The company's expansion includes a more than $600,000 building renovation investment.
"This is an incredibly exciting time for the entire 98 Ventures family, and we look forward to our continued growth as well as providing the very best for our partners, clients and team members," stated 98 Ventures President Scott Moore. "I am confident that our relocation to Poe West will propel our team to new heights, as well as set us up for great success moving forward. We are honored to play a critical role in the revitalization of the West Village and are ecstatic to begin work in our new space."
98 Ventures specializes in human resources, accounting, risk management, communications, application development, information technology, recruiting, legal, data analysis, operations support, and training and development. As a result of recent strategic company growth, 98 Ventures actively supports three Greenville-based affiliate logistics organizations: UST, UST Select and Equip Fulfillment.
"It's always a great day in South Carolina when an existing company has great success in our state and chooses to expand," said South Carolina Governor Henry McMaster. "We're excited for the 150 new jobs 98 ventures is creating with this expansion and we're eager to see this company continue to grow in Greenville County."
"This announcement is a terrific win for Greenville County. When a company like 98 Ventures thrives within our borders and decides to expand, it's a testament to the business-friendly environment South Carolina offers," added S.C. Secretary of Commerce Bobby Hitt.
Those interested in joining the 98 Ventures team should visit http://98ventures.bamboohr.com/jobs/for additional information on available positions.
"We are thrilled about the 150 new positions that 98 Ventures is adding in Greenville County and the city of Greenville," said Greenville County Council Chairman and Board Member of the Greenville Area Development Corporation H.G. "Butch" Kirven. "98 Ventures has found the right formula for success, including its location in our dynamic community and offering expert professionally-tailored services across a broad spectrum of client needs, helping other companies to grow and prosper. County Council could not be more pleased."
"In 2016, when 98 Ventures (then UST Logistical Systems) announced their move to Greenville, it was a great day for our city. Now, just a few short years later, 98 Ventures is announcing a new round of expansion, and we couldn't be prouder of their growth, success and commitment to making Greenville a better place to live and work. 98 Ventures' ability to bring new products and services to the logistics industry highlights the quality workforce and team environment that companies can build when they locate in Greenville. We are very proud of the work they do and glad they continue to call Greenville home," added City of Greenville Mayor Knox White.
The Coordinating Council for Economic Development has approved job development credits related to the project.
The Price is Right Live coming to Greenville on April 25, 2020
Greenville – Bon Secours Wellness Arena will play host to The Price is Right Live™ stage show on April 25 at 8:00 p.m.
Tickets can be purchased online at Ticketmaster.com and in person at the GSP International Airport Box Office at Bon Secours Wellness Arena.
The Price Is Right Live™ is the hit interactive stage show that gives eligible individuals the chance to "Come On Down" and play classic games from television's most popular game show. Contestants can win cash, appliances, vacations and possibly even a new car by playing favorites like Plinko™, Cliffhangers™, The Big Wheel™, and the fabulous Showcase!
Showing to near sold out audiences for more than ten years, The Price Is Right Live™ has given away over 12 million dollars in cash and prizes to lucky audience members all across North America.
The Price is Right™ is the longest running game show in television history and loved by generations of viewers. This on-stage traveling version gives fans the chance to experience the same thrilling excitement of winning big, up close and in-person.
The Price Is Right is produced by Fremantle and licensed by Fremantle.