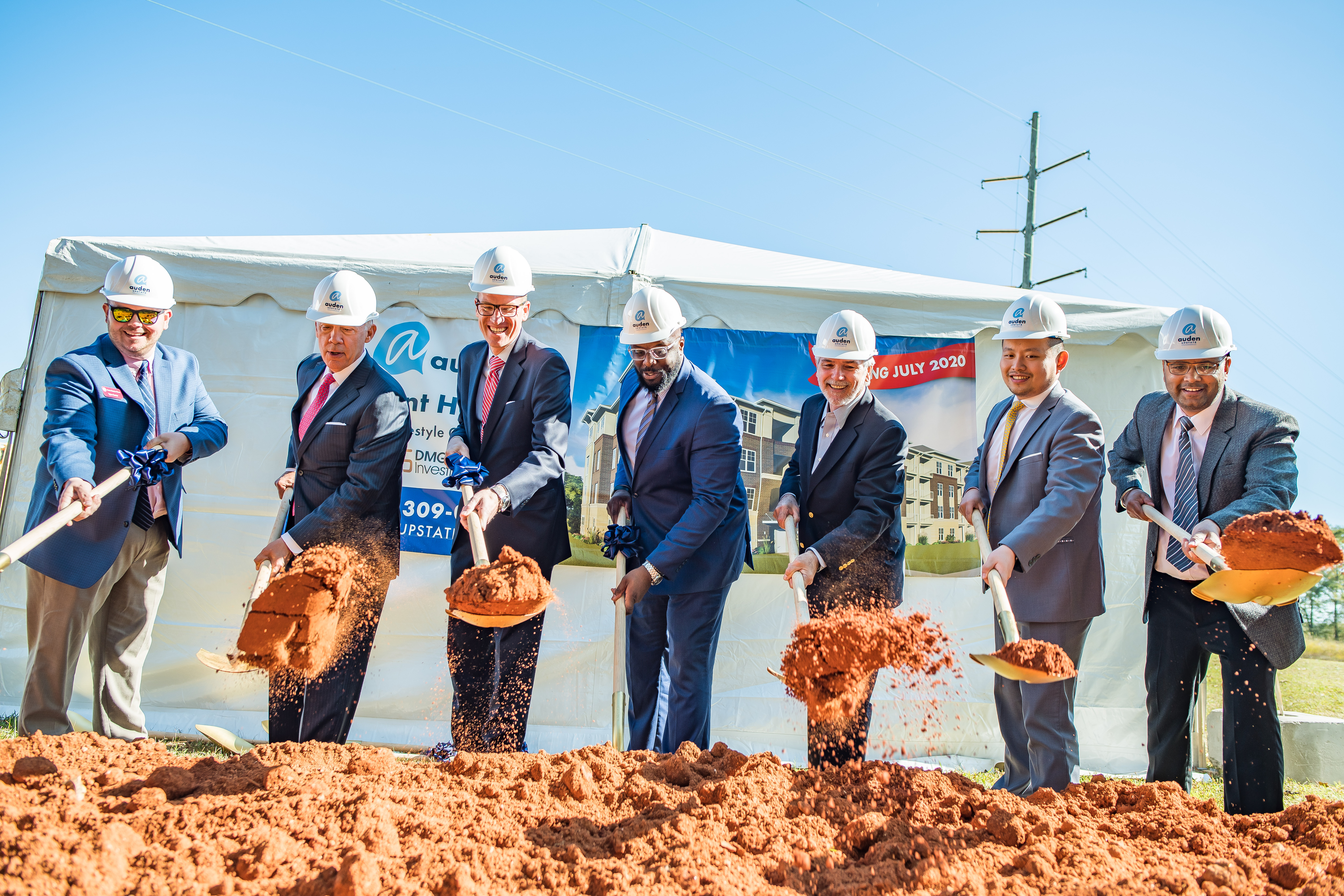 A groundbreaking ceremony was held on November 6th, marking the beginning of construction on Auden Upstate, located at 602 Laconia Circle in Spartanburg.
Construction underway on 480-bed community near USC Upstate
A groundbreaking ceremony on Wednesday, November 6th marked the beginning of construction of a 94,000 sq. ft. private student dorm facility located at 602 Laconia Circle in Spartanburg. Developed by the New York City based developer DMG Investments, this $28 million project, 176-unit or 480-bed student housing facility, will create nearly 100 construction jobs, boost revenue to local taxing jurisdictions, and assist in attracting top talent to USC Upstate.
"We are very happy for everyone who has joined us." said Jacky He, CEO & President of DMG investments LLC. "We could not have made this project happen without everyone's support. I'd also like to thank the DMG team for putting together such a great groundbreaking event."
Developed by DMG Investments, Auden Upstate will be composed of 7 four-story tall buildings and will provide residents with more than 500 parking spaces. The buildings will supply fully furnished two, four and five unit bedrooms and will be equipped with individual bathrooms. The residents will enjoy a well curated amenity package including a fitness center, study rooms, residents lounge, gaming room, swimming pool, Basketball court, Volleyball court, in-unit laundry, etc. Auden's proximity to USC Upstate University makes it an ideal residence for students, staff and faculty. Further details of the building to be announced.
Vice Chancellor of USC Upstate Dr. Brendan Kelly remarked that the development of Auden Upstate "helps create great opportunities for students and represents a great step forward for the university". Co-Developer Mike Hartnett also noted that "Partnerships between private developers like DMG Investments with universities to create housing options right off campus is the future of this industry." The development will not only benefit the university and its students but will also be an asset to the Spartanburg community as was noted by Hon. Michael Brown, Spartanburg County District 1 Representative.
BMW Plant Spartanburg announced as 2019 Cultural Champion
Chapman Cultural Center announced that BMW Plant Spartanburg was awarded the "2019 Cultural Champion" at the annual Champions luncheon on Thursday, November 7th.
Each year, Chapman Cultural Center honors its corporate donors with a celebration luncheon at which the Cultural Champion is announced. Over 110 companies doing business in our community and region have contributed more than $514,000 this year to support the mission of Chapman Cultural Center. As part of the recognition, the corporation received an original award designed by artist Eli Blasko.
Jennifer Evins, President and CEO of Chapman Cultural Center, presented the award to Oliver Haase, Senior Vice President Purchasing, Quality, Supplier Networks America for BMW Manufacturing. Evins recognized the 25-year celebration of the opening of BMW Manufacturing and during that time the more than $1.5 million investment to the Chapman Cultural Center. Evins remembers BMW making one of the very first lead corporate donations to United Arts Campaign in 1994. BMW's commitment to the arts in Spartanburg has never wavered. Contributions have been made to the annual United Arts Campaign to strengthen the cultural sector and provide critical arts education programs throughout Spartanburg County schools. BMW Manufacturing has sponsored the Spartanburg Philharmonic at Barnet Park and the Spartanburg Science Center, provided board leadership, and a $1 million capital gift to help build Chapman Cultural Center.
"BMW Manufacturing is committed to being a responsible corporate citizen, a catalyst for innovation in education and cultural activities. The arts are also a fundamental component of a healthy community —strengthening it socially, educationally, and economically. The Chapman Cultural Center fits perfectly within BMW's philosophy," said Oliver Haase, Senior Vice President Purchasing, Quality, Supplier Networks America for BMW Manufacturing.
Additionally, Cindy Riddle was presented with the 2019 Educator of the Year award. In addition to being an active artist, Riddle fights for arts education through a number of mediums. Locally, Riddle is the Assistant Superintendent of Visual and Performing Arts, Gifted and Talented Services for Spartanburg County School District One, where she improves the growth of arts programs through community partnerships, advocacy for the arts, and curriculum development. Riddle also represents Spartanburg County on a state and national level. As the president-elect for the South Carolina Art Education Association (SCAEA), Cindy helps connect art educators across South Carolina so that they can collaborate and inspire creativity in the classroom. Cindy is also on the board of directors for Palmetto State Arts Education (PSAE), which strives to expand art education as a vital part of every child's education. Cindy also serves on the Advisory Committee for the Kennedy Center Partners in Education Program as a member of the South Carolina 1996 Team.
Cindy said, "I am both proud and humbled to be receiving the Chapman Cultural Center Art Educator of the Year Award. Beginning with my first art class, my art teacher, Liz Smith, was such a positive influence on me. I immediately knew that I too wanted to teach art someday."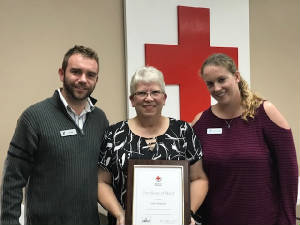 Julie Simpson (center) recently received the American Red Cross Certificate of Merit, for her life-saving efforts to save a co-worker.
Simpsonville woman receives highest honor given by the American Red Cross
Greenville - The Upstate South Carolina Chapter of the American Red Cross awarded its highest honor in a ceremony this week to Julie Simpson of Simpsonville. The award recognizes her for saving the life of a co-worker who lost consciousness earlier this year at the YMCA of Greenville in Simpsonville. Ms. Simpson, trained through the Red Cross Lifeguarding/First Aid/ CPR/AED course, received the Certificate of Merit, the highest award given by the Red Cross to individuals who save or sustain a life using skills learned in a Red Cross Training Services class.
"Julie Simpson's remarkable and life-saving actions epitomize the mission of the Red Cross to help people prevent, prepare for and respond to emergencies. It also highlights the importance of our training programs in South Carolina," said Lisa Colby, Executive Director of the Upstate SC Chapter. "Thanks to her quick thinking and skills, Julie is an inspiring example of just how valuable training can be in an emergency."
On June 17, Ms. Simpson, an employee of the YMCA facility, was enjoying a swim during the early hours of the day. The pool was guarded by a co-worker as Ms. Simpson was off duty at the time. Ms. Simpson continued to swim her laps when she noticed the on-duty lifeguard beginning to sway back and forth. Realizing something was wrong, Ms. Simpson quickly exited the water and initiated the Emergency Action Plan, alerting staff to the incident. The pool was cleared of patrons and 9-1-1 services were contacted. Ms. Simpson was able to reach the woman prior to her falling. Ms. Simpson moved the woman to rest against the bleachers and continued to provide initial care until Emergency Medical Services arrived. The woman went in and out of consciousness multiple times. EMS continued to provide care and transported the woman to a local hospital, where she was treated and later released. Without a doubt, the skills learned in the American Red Cross Training Services course helped to save the life of this woman.
Red Cross training gives people the knowledge and skills to act in an emergency and save a life. A variety of online, blended (online and in-person skills sessions) and classroom courses are available at redcross.org/takeaclass.
Rep. Gary Simrill and Nella Barkley to receive Wilkins Leadership Awards
State Rep. Gary Simrill (R-York) and Nella Barkley, community leader and president of Crystal-Barkley Corporation, will receive The Riley Institute at Furman University's 2019 David H. Wilkins Leadership Awards recognizing outstanding legislative and civic leadership in the state.
The awards will be presented on the first night of the legislative session, Jan. 14, 2020, at the Columbia Metropolitan Convention Center. The fifteenth annual event begins with a reception for all registered attendees at 6 p.m. The dinner and awards presentation follows at 7 p.m. Tickets are $125 each.
Simrill, the legislative award recipient, is currently the House majority leader and vice-chair of the Ways and Means Committee. He is described by his colleagues as hard-working, knowledgeable and personable — a leader who consistently embraces ideas that move the state forward regardless of which side of the aisle they originate from.
Barkley, the civic award recipient, has spent much of her life in leadership roles at organizations devoted to improving the lives of South Carolinians by elevating education, sustaining and improving the arts and creating opportunities for marginalized populations.
"The Riley Institute is proud to recognize leaders with the ability to put aside their differences and work together for the good of South Carolinians. We all benefit from the pragmatic, principled leadership of Rep. Simrill and Nella Barkley," said Don Gordon, executive director of The Riley Institute at Furman.
The annual awards are named for David H. Wilkins, who served as speaker of the S.C. House of Representatives and as U.S. Ambassador to Canada. Wilkins will co-host the event with former U.S. Secretary of Education and former two-term Governor of South Carolina Dick Riley and Furman President Elizabeth Davis.
Tickets may be purchased by calling 864-235-8330, or by visiting Furman.edu/WilkinsDinner