The Southern Legends' fourteenth Spartanburg Regional Hospice Ride will take place on Aug. 24.
Going 'the extra mile'
By Baker Maultsby
Content provided courtesy of Spartanburg Regional Healthcare System
It's an event the Southern Legends motorcycle club looks forward to all year – their Spartanburg Regional Hospice Ride.
"I enjoy watching so many people come out to the event," said club treasurer Sandy Bass.
Along with the Southern Legends, local motorcycle enthusiasts and other clubs from around the Upstate support the annual ride.
The Southern Legends' fourteenth Spartanburg Regional Hospice Ride will take place on Aug. 24. Registration starts at 8:30 a.m., and the ride begins at 10 a.m.
The ride, which is escorted by police, will start at the Spartanburg Shrine Club on Fernwood Glendale Road and take participants through eastern Spartanburg County and portions of Cherokee and Union counties.
Tickets are $25. Participants will receive a T-shirt and lunch and auction follow the ride.
"The Southern Legends are a phenomenal group – kind-hearted, compassionate and hardworking – and for the fourteenth year in a row, they are going above and beyond to support Spartanburg Regional Hospice by raising money and awareness," said Gina De La Cruz Turcotte, director of philanthropy and hospice division liaison with Spartanburg Regional Foundation.
Proceeds from the ride will support the Foundation's Hospice Special Needs Fund. This fund benefits Spartanburg Regional Hospice patients and their families in numerous ways.
It helps patients who qualify financially with medications, as well as basic household supplies. The fund also supports the purchase of pre-prepared meals for patients and their families at Thanksgiving and Easter so they can enjoy a special time together without the stress and cost of planning and cooking a large meal.
Hospice staff members use the fund to help families celebrate special occasions such as birthdays, anniversaries and graduations.
"The support means so much to the patients and families we serve. In all areas of our work, it enables us to go the extra mile, and we are truly grateful to all those who give," said Kim Ross, director of Spartanburg Regional Hospice and Palliative Care.
The Southern Legends are friends of the hospice program, Ross said. Several members have had loved ones in the hospice program's care. As a group, the Southern Legends have embraced the mission of hospice.
The club has been largest donor to the Hospice Special Needs Fund among civic organizations.
"Their total contributions exceed $155,000," Turcotte said. "What an honor it has been to get to know the club members and work with them on this terrific event!"
For more information, contact Spartanburg Regional Foundation director of philanthropy Gina Turcotte at 864-560-6725.
Preparing for a medical emergency
People are often not prepared for an emergency — especially when it involves medical and end-of-life planning.
"Even with young, healthy people, they need to begin discussing their end-of-life care and designate someone who can make decisions on their behalf," said Garrett Snipes, MD, hospice and palliative care physician for Spartanburg Regional Healthcare System.
To help prepare the community, Spartanburg Regional Hospice has received a $412,500 advanced care planning grant from The Duke Endowment.
The two-year grant funds will be used to promote end-of-life planning through community awareness with events and education.
Advance care planning includes designating your power of attorney and completing a living will. A medical power of attorney (health care proxy/agent) allows someone the patient trusts to make decisions about medical care in a matter that has been previously discussed. It is not uncommon for a patient to lose the capacity to make decisions during a chronic illness or while in the hospital.
"The worst time to have these kinds of conversations is in the midst of a health crisis, and we see that all the time. The best remedy is to have discussions before an illness or injury occurs," Dr. Snipes said.
A person never knows when a tragedy or illness can strike. Spartanburg Regional Hospice has set its eyes on preparing the community to communicate their healthcare wishes.
"Advance care planning can help people make informed decisions early on, and then receive the type of treatment that matches their needs, circumstances and preferences," said Lin Hollowell, director of The Duke Endowment's Health Care program area. "The Endowment supported this community-wide initiative to increase awareness of the important role advance directives can play in making health care choices."
Based in Charlotte and established in 1924 by industrialist and philanthropist James B. Duke, The Duke Endowment is a private foundation that strengthens communities in North Carolina and South Carolina by nurturing children, promoting health, educating minds and enriching spirits. Since its founding, it has distributed more than $3.7 billion in grants. The Endowment shares a name with Duke University and Duke Energy, but all are separate organizations.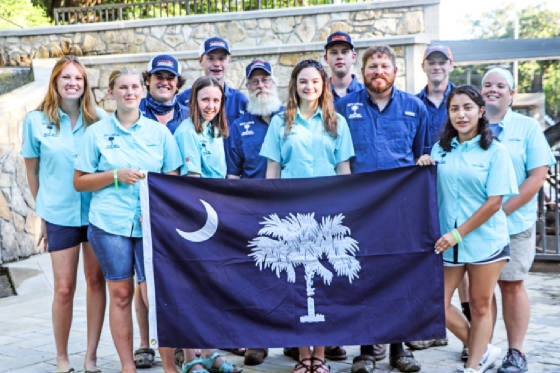 The South Carolina 4-H Team and South Carolina FFA Team and their coaches/advisers pose together during the National WHEP Contest at the Rock Springs 4-H Center in Junction City, Kansas, July 14-17. Pictured are, from left: Mallory Dailey, Sarah Ebenhack, Chance Parker, Sophie Cox, Chase Greene, Stephen Schutt, Sydney Gambrell, Chase Land, Blake Berry, Shawn Underwood, Julianna Hernandez and Gina Spear. Image Credit: Clemson University
South Carolina youth put wildlife habitat knowledge to test at national competition
Steven Bradley, Media Relations, Clemson University
Junction City, Kansas - As one of two states in the nation with both a 4-H and Future Farmers of America (FFA) team in the National Wildlife Habitat Education Program Contest (WHEP) and with both teams posting stellar scores, South Carolina's young people made their mark on the national stage after an extended absence.
For the first time in more than 20 years, South Carolina had two teams compete in the National Wildlife Habitat Education Program Contest at the Rock Springs 4-H Center in Junction City July 14-17. Its FFA squad finished in first place in the FFA division with a score of 277.36 while South Carolina 4-H finished third place in the 4-H division with a score of 301.56.
"The future of wildlife conservation is in good hands," said Oconee County 4-H agent Mallory Dailey. "Where else can you find over 70 youth from across the country representing their states at the highest level and putting their wildlife knowledge to the test?"
The Wildlife Habitat Education Program is a natural resources program aimed to teaching wildlife and fisheries habitat management to youth ages 9-18 and providing them the opportunity to make real-life wildlife management decisions and exposing them to potential careers in wildlife management.
All told, 17 teams of three to four youth from 15 states tested their wildlife knowledge in a friendly competition.
Sydney Gambrell of the South Carolina FFA team said traveling to Kansas was an eye-opening experience because of the opportunity to see a different ecoregion outside of her home state.
"I became involved because I enjoy being able to take knowledge learned in the classroom, such as South Carolina wildlife and biology, and apply it to real life scenarios," she said. "Some of my favorite moments were simply exploring the tallgrass prairie found in Junction City, Kansas, with my teammates. I would encourage any curious student to participate in the Wildlife Habitat Education Program for the opportunity to not only become more knowledgeable on their state's wildlife, but also to work as a team with fellow students."
South Carolina had eight youth from Anderson, Oconee and Pickens counties representing the state, along with their four coaches and advisers. The South Carolina 4-H team was comprised of members from Oconee County 4-H: Sophie Cox, Sarah Ebenhack, Chase Land and Shawn Underwood. The South Carolina FFA team was comprised of Pendleton High School FFA members Gambrell, Chase Greene, Julianna Hernandez and Chance Parker.
"I chose to become involved with the program because I've always been very interested in wildlife, and particularly birds and other animals," said Cox, the highest scoring individual for South Carolina 4-H. "I enjoyed it immensely; it was a really valuable experience from the perspective of being able to learn about not just the biology of the animals, which was my favorite part, but also how to manage them. The trip was also very fun. There were so many different activities we could do there, the competition was also very interesting and then just seeing the other people who were there doing it was a valuable experience."
Along with Dailey, Oconee County Parks and Recreation Superintendent Stephen Schutt, Oconee County Parks and Recreation park ranger Gina Spear and Pendleton FFA adviser Blake Berry helped prepare and train the kids to compete at the national contest.
Both teams earned the right to compete at nationals with their performance at the South Carolina State Wildlife Habitat Education Program Contest in April at the National Wild Turkey Federation in Edgefield. The contest was held in conjunction with Clemson Extension, Clemson University department of forestry and environmental conservation and private industries.
But, according to Dailey, the trip wasn't all about fierce competition.
"While out in Kansas, youth had the opportunity to explore one of the last remaining areas of tallgrass prairie in the entire world," she said. "The tallgrass prairie once covered over 170 million acres and now less than 4 percent of its historical range remains."
The contest took place in the Flint Hills region of Kansas, which is home to the first land-grant university in the United States: Kansas State. The primary land-grant institution in South Carolina, Clemson is charged with improving the quality of life of South Carolinians by providing unbiased, research-based information through an array of public outreach programs, such as the 4-H program for youth development.
Dailey said not only did the team members learn from some of the top extension wildlife specialists in the country, but they also saw many new wildlife species and plant species that are not found in South Carolina.
"Preparing for a wildlife contest that features species like greater prairie chickens and ring-necked pheasants was not the easiest," she said. "Not surprisingly, there are not many prairies left in South Carolina and we had to use our imagination a bit to picture the vast rolling hills of grasslands from 'Little House on the Prairie' or the old computer game 'Oregon Trail.' Thankfully, we were able to utilize the Piedmont Prairie Garden of the South Carolina Botanical Gardens for practice before we headed out to Kansas."
And while the South Carolina group visited the nation's first land-grant university, they also had the chance to experience many other firsts — most of the team had never been to Kansas prior to the trip and many had never even been on a plane before. Along the way, they experienced some adventures along the way, such as eating Kansas City barbecue and visiting the Tallgrass Prairie National Preserve.
"Most importantly, by participating in a program like WHEP, the kids are exposed to a new career path and gain an appreciation for wildlife and their habitat," Dailey said. "They also learn a little more about the Cooperative Extension Service and the opportunities that are out there for youth who are interested in the outdoors and wildlife. It certainly will not be 20 years until the next time that South Carolina has a team participate in the National Wildlife Habitat Education Program Contest and we hope to leave our mark next year."