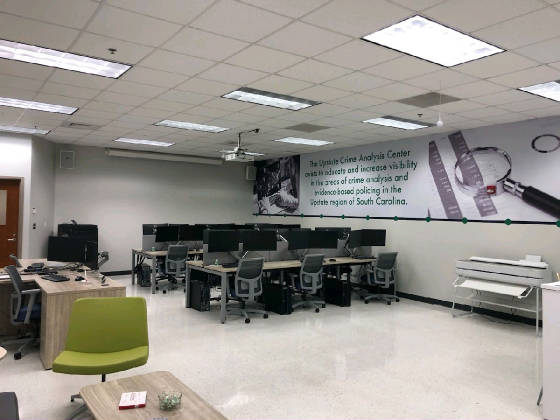 USC Upstate recently opened its University Crime Analysis Center (UCAC) at University Center of Greenville. USC Upstate photo
USC Upstate opens Upstate Crime Analysis Center
Prepared by USC Upstate
The University of South Carolina Upstate has a powerful new resource that will help law enforcement agencies across the region use data to develop more effective policing strategies. USC Upstate has opened its University Crime Analysis Center (UCAC) at University Center of Greenville.
UCAC, a first-of-its-kind center in South Carolina, will serve as the hub for USC Upstate's Crime Analysis program. It will provide students and professionals with state-of-theart technology and space to train, collaborate, collect and analyze crime data, problem solve, and develop evidence-based crime intervention techniques.
"I am thrilled to see this project reach fruition," said Michele Covington, Ph.D., executive director of USC Upstate's Greenville programs and an associate professor of criminal justice. "We have recognized the need for a center like this in our region for quite some time. The analysts that are employed in Upstate agencies are an amazing, highly talented group, and I am so grateful to work with them and others in the criminal justice field to advance just, fair, data-driven policing and corrections in our region."
"UCAC will extend our coursework on crime analysis and criminal justice by allowing our students to learn hands-on skills, make connections in the field, work through actual crime data, and be involved in internships and servicelearning projects with a direct effect on local law enforcement and our community," Covington added.
USC Upstate currently offers students two paths to pursue a career in crime analysis:
* Earn a Bachelor of Science degree in Criminal Justice with a concentration in Crime Analysis.
* Complete the Professional Crime Analysis Certificate for Working Law Enforcement Officers and Other Community Leaders.
"A public university serves its community," said USC Upstate Chancellor, Bennie L. Harris, Ph.D. "Lives are transformed when we leverage our institutional assets and relationships to connect classroom learning with innovative, meaningful experiences that have real-world impact. I am so proud of Dr. Covington and her team, and our partners for breathing life into this vision."
UCAC will be closely aligned with The Carolinas Crime Analysis Association, a regional association of crime analysis professionals from North and South Carolina formed in 2020 with the intent to promote professionalism, training, and interagency cooperation within the field of crime analysis, and to advocate for and raise awareness of crime analysis as a valuable part of effective policing strategy.
"Crime analysis continues to play an important role in law enforcement operations," said USC Upstate Police Chief Klay Peterson. "Data enables agencies to develop plans and apply their resources precisely when and where they are needed."
USC Upstate hosted a grand opening for the center on Friday, Sept. 8. UCAC is located in room 118 of the University Center of Greenville at 227 S. Pleasantburg Dr., Suite A-7. For additional information about UCAC, please visit: https://www.upstatecrime analysiscenter.org.
Spartanburg Soaring! returns October 8
A free festival in downtown Spartanburg, the Spartanburg Soaring! International Kite Festival presented by Spartanburg Regional Healthcare System will feature live music by local musicians, performing acts/artists, tasty food trucks, local arts and crafters at a makers market, an interactive kids zone with activities for all ages, and so much more.
Attendees are welcome to bring their own kites but a limited number of kites will be available for purchase at the festival. Proceeds help support the mission of Chapman Cultural Center.
The Spartanburg Kite Club will be in attendance with their members and friends including international kite flyers who visit from Europe, Asia, Canada, and across the United States to join in on the kite flying fun!
In spring 2014, Chapman Cultural Center launched a community-wide initiative called Spartanburg Soaring! to encourage creativity, promote healthy outdoor activity, and to build civic pride. Using kites as a common theme, Spartanburg Soaring! engaged cultural curiosity and promoted active play through activities and events all across the city. The kite festival takes place in and around the Chapman Cultural Center each year when hundreds of colorful kites fill the skies above Spartanburg.
There's fun for the whole family during the Kite Festival - including the kids activity area. In past years we've had Spartanburg's Play Mobile truck, face painters, drum circles, and more.
This year's Kids Zone will feature activities and programming hosted by YMCA Spartanburg.
One of Spartanburg's great assets is its artists. The Makers Market will be set up where regional artisans will sell their wares – keeping 100% of their profits – so you can keep a piece of local culture even after you fly away. Everything will be affordable and locally handcrafted. For more infromation visit https://www.chapmanculturalcenter.org/spartanburg-soaring/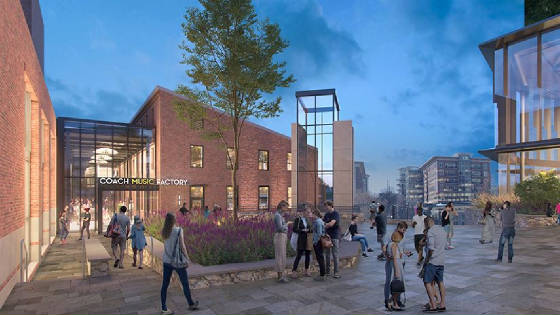 The Coach Music Factory will have a club vibe to satisfy serious live music lovers, and the size, acoustics, lighting, and other technical aspects that today's professional touring musicians demand. Rendering courtesy of Craig Gaulden Davis Architects.
Peace Center project diversifies Greenville's live music scene
Courtesy of www.greenvillesc.gov
The Peace Center recently announced plans to expand its musical venues, which will achieve their longstanding goal of having a fully-functioning, 10-venue arts-and-entertainment campus. Mayor Knox White joined Peace Center CEO Megan Riegel in celebrating the $36 million project, which will transform three buildings on its campus to become unique music venues. Construction will begin in February 2023 on "A Music Project" (AMP), with estimated completion in late 2024.
"We've listened carefully to what our community says it wants regarding live entertainment," said Riegel. "These new venues will complete the circle of our live music scene and attract a whole new range of artists and visitors to Greenville. People have been waiting for this for a long time."
Central to the project will be the repurposing of the historic Coach Factory (currently the location of Larkins restaurant) to create a three-tiered, standing room live music club for national and local acts. Additionally, the historic Gullick and Markley buildings next to the Gunter Theatre will become a listening room for intimate lounge-like performances.
Capping off the project will be a professional podcast and recording studio. Managed and operated by the Peace Center, the studio will be available for booking by artists in need of high quality, professional recording, mixing, editing and related audio services.
Above the recording studio, a modern three-suite apartment will accommodate performers who want a bit of privacy from their public life on the road or simply a convenient place to stay before or after their gig. This fully furnished, 3-bed/3.5-bath suite will feature comfortable bedding, modern baths, a living area, and kitchen with views of Main Street and the Reedy River.
Capping off the project will be extensive landscaping work on the outdoor event space. Using natural foliage and re-routing pathways leading to and from the open-air structure, the Wyche will take new root in a garden-like setting. Designed as an extension of beautiful Falls Park just a stone's throw away, a river terrace running the length of the Wyche will provide pedestrians an attractive walkway overlooking the banks of the Reedy River.
To support the project, City Council approved the certification of the textile mill sites and abandoned buildings, allowing the Peace Center Foundation to seek state income tax credits.
State Museum debuts new 4D show, Dark History Tours return & more this October
Columbia - Halloween fun returns to the South Carolina State Museum this October with an exciting lineup of shows and events. Guests are invited to enjoy a full month of activities, including a new 4D film, Dark History Tours, a special themed "Fright" Night Laser Lights event and more.
"Our Halloween activities are always popular with guests ­– and staff," says Doug Beermann, Chief Operating Officer at the State Museum. "We look forward to bringing back our popular Dark History Tours and lighting the Jack O' Planetarium again, plus debuting a new show featuring Scooby Doo."
Showing daily this October only, SCOOB! 4D Experience, is an exciting new immersive film featuring Scooby-Doo, Shaggy, Fred, Velma and Daphne in an all-new action-packed story. The lifelong friends face their biggest, most challenging mystery ever when they learn of a plot to unleash a wild beast from a prehistoric underworld. Including 3D animation, sensational effects such as seat movement, air blasts and more, this may be the Mystery Machine's wildest adventure yet!
The museum is also offering "Dark History Tours" all month long that explore a variety of infamous and legendary tales throughout South Caro-lina's history. During this tour guests will discover the true story of Colum-bia's catacombs, hear stories from Gullah Geechee folklore and more. Educator-led tours are available each Saturday in October at 10:30 a.m. and 2:30 p.m. A self-guided experience is also available every day with descriptive panels and QR codes at each 'stop.'
More October Shows and Events
Tickets for the museum's October shows and events are available at scmuseum.org.
HalloScream Laser Lights Planetarium Experience
Showing Weekends in October
See your favorite Halloween tunes, including "Thriller", "Monster Mash" and "Ghostbusters" set to a brilliant display of dynamic laser lights inside the museum's digital dome planetarium.
Spooky Saturdays
Sat., October 22 and 29, 10 a.m. – 5 p.m.
Join in the family fun at the State Museum on these special days featuring the new show SCOOB! 4D Experience, Dark History Tours and more. Plus, kids are invited to get creative and wear their favorite costume on their museum visit! Kids (aged 3 - 12) in costume will receive free general admission on both Saturdays.
"Fright" Night Laser Lights: Laser Stranger Things
Fri., October 28, 6 – 10 p.m.
"Fright" Night Laser Lights returns with the debut of a NEW, special Halloween show that is sure to turn your world Upside Down. Experience the '80s tunes and soundscapes from the iconic Netflix series set to a stunning display of lasers inside the museum's 55-foot digital dome planetarium. This special evening event also includes Dark History Tours, delicious food for purchase from a featured local food truck and a cash bar. Tickets are on sale now at scmuseum.org
General admission to the South Carolina State Museum is $8.95 for adults; $7.95 for Seniors; $6.95 for children; infants 2 and under are free. Planetarium experiences, 4d theater shows and tickets to Fright Night Laser Lights are an additional charge. The museum is open Tues. - Sat. from 10 a.m. to 5 p.m. and Sun. from Noon – 5 p.m.
SCOOB! and all related characters and elements © & ™ Hanna-Barbera and Warner Bros. Entertainment Inc.