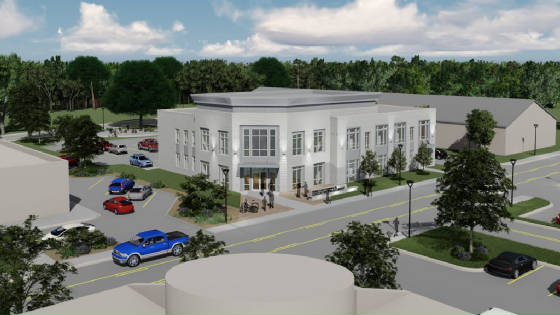 The Spartanburg County Foundation recently announced an $8 million Center for Philanthropy, which will be located in downtown Spartanburg.
Spartanburg County Foundation announces $8 million Center for Philanthropy downtown
Throughout the year, The Spartanburg County Foundation has recognized its 75th anniversary by focusing on community impact. At the onset of 2018, the Foundation set a target goal to increase its community outreach and to grant a total of $750,000 to nonprofit organizations serving Spartanburg County. The Foundation has brought regional and national thought leaders to Spartanburg this year to share knowledge about topics such as economic mobility, STEM education, mentoring, and parenting. The Foundation and its donors have also spent the year investing into the greater Spartanburg County community, granting $75,000 to The Franklin School, awarding $75,000 to 23 nonprofits during a special Just Because ambush philanthropy event, and offering unique grantmaking opportunities.
In its culminating event, the Foundation held a birthday celebration at the former site of Hardee's No. 1 to recognize the past 75 years and to announce plans for its future. The Foundation revealed its established statement of values and expanded vision, the grant recipients of the Endowment Challenge, and plans for the parcel of land at 431 E. Kennedy Street.
In this milestone year, the Foundation's Board of Trustees has spent time reflecting on the history, vision, and mission of the organization, researched critical data, and established an expanded vision statement and a set of core values in response to the County's most critical indicators. As a result, the values established by the Foundation are Stewardship, Community, Innovation, Impact, and Equity. The expanded vision statement, derived from thoughtful consideration of data, states: All Spartanburg County residents achieve their human potential through continuous improvement in quality of life, educational achievement, and economic mobility. The values and vision are critical to the Foundation's role in the community and will allow the organization to address its mission and direct its future.
The mission of The Spartanburg County Foundation is to improve the lives of Spartanburg County residents by promoting philanthropy, encouraging community engagement, and responding to community needs. In alignment with its mission and in recognition of 75 years of impact, the Foundation's Trustees and staff offered a special, competitive Endowment Challenge for nonprofits that seek to build their capacity and sustain their mission for the future. The Foundation is providing seven challenge grants that are dollar for dollar matching awards of either $25,000, $50,000, or $75,000 to establish an endowment fund or build an existing fund at The Spartanburg County Foundation.
"The Foundation views endowments as a critical building block in developing the capacity and future sustainability of nonprofit organizations," said Mary Thomas, chief operating officer. "Endowment income provides stable financial support for operations, programs, and facilities. An endowment signifies an organization's thoughtful consideration of its future, affording the nonprofit the opportunity to diversify its revenue sources and to assist the organization in fulfilling its mission in perpetuity."
The recipients of the Foundation's Endowment Challenge are:
• The Children's Museum of the Upstate, Spartanburg – $25,000
• Converse College – $25,000
• Children's Cancer Partners of the Carolinas – $25,000
• YMCA of Greater Spartanburg – $25,000
• Chapman Cultural Center – $50,000
• The Charles Lea Center Foundation – $75,000
• Upstate Warrior Solution – $75,000
The Foundation was also pleased to announce that it will build the state's first center for philanthropy at the celebration location, 431 E. Kennedy Street. In 2017, Susu and George Dean Johnson gifted the parcel of land to the Foundation with the condition that any structure to be built should bear the name of the late Rob Chapman.
The Robert Hett Chapman III Center for Philanthropy will complement the expanded vision of the Foundation and will be a collaborative, shared space that will allow the Foundation to further its role as a community convener and thought leader.
The Foundation was also pleased to report that it has raised $5 million of the $8 million capital campaign, including a generous gift from an anonymous donor who has committed a dollar for dollar matching gift of $4 million to establish a permanent endowment fund to support the operations and maintenance of the Center for Philanthropy.
Additionally, the Foundation announced a second naming opportunity with The John T. Wardlaw Nonprofit Partner in Residence, a space that will house a nonprofit organization whose mission aligns with the Foundation's. Mr. Wardlaw was a community champion who was dedicated to data-driven decisions and to improving educational attainment in Spartanburg County.
"With much research and consideration, we are pleased to announce the plans for The Robert Hett Chapman III Center for Philanthropy," said Troy Hanna, President and CEO of The Spartanburg County Foundation. "We envision the Center for Philanthropy to be a place to where all voices are heard, which will strengthen our partnerships and efforts to make Spartan-burg a better place. We invite our community to get involved in building the future of philanthropy in Spartanburg County."
The Foundation publicly launched its capital campaign today to raise funds for The Robert Hett Chapman III Center for Philanthropy. Gifts can be made by contacting The Spartanburg County Foundation.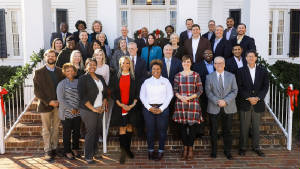 Thirty-six leaders from the Upstate and surrounding area have completed the Riley Institute at Furman's Diversity Leaders Initiative (DLI).
Upstate leaders become Riley Diversity Fellows
Greenville - Thirty-six leaders from the Upstate and surrounding area have completed the Riley Institute at Furman's Diversity Leaders Initiative (DLI).
DLI class members are identified through a rigorous process including a nomination, application and interview. Individuals are selected to join the class based on their capacity to impact their organizations and communities.
Over the past five months, participants have examined sensitive issues related to diversity and inclusion, explored "blind spots," and discussed how to suspend assumptions. Each class is expertly facilitated by Juan Johnson, an independent consultant and former Coca-Cola vice president.
As part of the program, participants have worked in small, cross-sector groups to respond to real issues and opportunities in their communities through service projects.
The projects from this class focus on topics such as fostering interaction between individuals with disabilities and employees of local companies; increasing access to food for students when school meals are not available; enhancing services at a local youth soccer center to encompass the family unit as a whole; assisting female Upstate veterans with connections and resources as they transition from the military to the private sector; and providing program support to a new day center for homeless youth.
"We are extremely proud of this class, their work to improve their organizations and communities, and the relationships they have formed from their honest conversations this semester," said Don Gordon, executive director of the Riley Institute.
DLI graduates become Riley Fellows, members of a powerful, cross-sector, statewide leadership network that includes CEOs of corporations, mayors, city and county council members, legislators, school superintendents, pastors and rabbis, nonprofit heads, chamber of commerce directors, and community leaders.
In addition to the Upstate, DLI classes are selected annually in the Midlands and Lowcountry.
Each class is crafted to reflect the diverse demographics in South Carolina.
The full roster of Riley Fellows is available online at riley.furman.edu. The Riley Fellows of the 26th Upstate DLI class are:
Brandy Amidon, CFO, Brains on Fire, Inc., Greenville
Crystal Ball O'Connor, Board Chairwoman, Greenville County Schools, Simpsonville
Stacey Bechtold, Human Resources Manager, Greenville County Parks, Recreation, & Tourism, Taylors
Osa Benson, Attorney; Director, Legal Department, SYNNEX Corporation, Greenville
Rich Cannon, VP, Human Resources, Snider Fleet Solutions, Newton
Miriam Dicks, CEO, 180 Management Group, Greenville
Don Doggett, Educational Consultant, Columbia
Amanda Dow, Stakeholder Philanthropy Manager, Duke Energy, Greenville
Cortney Easterling, Deputy Chief of Staff, President's Office, Greenville Health System, Greenville
John Emerson, Director of Operations for North America R&D, Michelin North America, Greenville
Brann Fowler, Assistant Solicitor, Greenville County Solicitor's Office, Greenville
Shauna Galloway-Williams, Executive Director, Julie Valentine Center, Greenville
Jon Hammond, General Counsel and Executive Vice President of Operations, ChartSpan Medical Technologies, Inc., Greenville
Marty Herndon, President/COO, Snider Fleet Solutions, Newton
Traci Hogan, Assistant Superintendent for Special Education, Greenville County Schools, Greenville
Liz Horton, Senior Vice President, Greenville Chamber, Greenville
Kimbrelly Kegler, Global Brand Strategy Leader, Michelin North America, Greenville
Toni Land, Director of Patient Experience, Greenville Health System, Greenville
Tanaya Latigue, Section Manager Associate Relations, BMW Manufacturing Co., LLC, Greenville
Jada Magiera, HR Business Partner, Propel HR, Greenville
Rimes McElveen, Executive Director, Mere Christianity Forum, Travelers Rest
Danny Merck, Superintendent, School District of Pickens County, Easley
Neetu Patel, Owner, Sycamore Investment Group, Greenville
Marshall Pickens, III, Business Development Manager, Anderson Federal Credit Union, Anderson
Joe Pinilla, Deputy Director of Prevention and Community Engagement, The Forrester Center for Behavioral Health, Spartanburg
Brad Pochard, Associate Vice President of Enrollment and Dean of Admission, Furman University, Greenville
Rachel Putman, VP of Human Resources, Goodwill Industries of Upstate/Midlands SC, Greenville
Barry Richardson, Section Manager – Equipment Services, Safety – Paint Shop, BMW Manufacturing Co., LLC, Greer
Beth Rusch, Director of West End Events at Fluor Field, Greenville Drive, Greenville
Katy Sides, Associate, Strategic Initiatives, Hollingsworth Funds, Greenville
Tony Taylor, Chief of Police, Town of Williamston, Williamston
Mike Teachey, Executive Director, Barbara Stone Foundation/Greenville CAN, Greenville
Danny Varat, Chief of Staff, Office of the Lieutenant Governor of South Carolina, Columbia
Cherod Webber, President and CEO, Innovative Global Supply, LLC, Greenville
Jermaine Whirl, Vice President of Learning and Workforce Development, Greenville Technical College, Greenville
Will Whitley, Chief of Staff/Director of Events - Corporate Communications, Michelin North America, Greenville