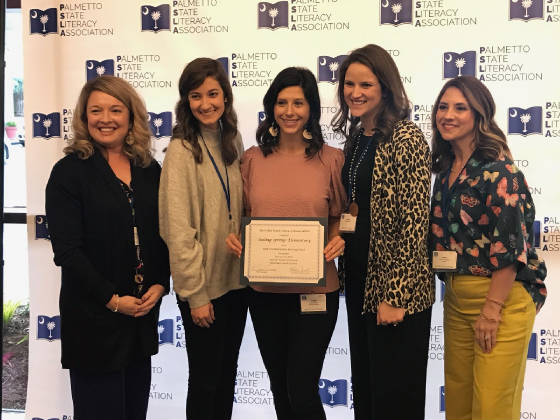 Boiling Springs Elementary named Exemplary Reading School
Boiling Springs Elementary School has been named a South Carolina Exemplary Reading School!
Several Members of the BSES Team, including Principal Michelle Kimbrell, were presented the award at the Palmetto Sate Reading Association Conference in Hilton Head, held on February 15.
"We are honored to be recognized as an Exemplary Reading School," Kimbrell said. "Creating reader leaders is a priority for our school. The efforts of our faculty and staff can be seen day in and day out in our classrooms. We are excited that the work of our faculty and staff was recognized with this honor, but these efforts in creating reader leaders are not just going at Boiling Springs Elementary. These efforts can been seen in all of our Spartanburg District Two schools."
The Exemplary Reading Program Award is sponsored by the International Literacy Association to recognize outstanding reading and language arts programs at all grade levels (elementary, middle, and high school). Its purpose is to call the public's attention to outstanding programs in schools throughout North America. Each participating state and province can choose one winning school.
Spartanburg School District Two Literacy Specialist Felicia Oliver said earning this award is a difficult task.
"In order to receive this award, a school must submit a written application as well as a school visit from the SCIRA Exemplary Reading Program Committee. This committee does a very thorough review of the school's Literacy Program," Oliver said. "We are very proud of BSES and the work they have done to receive this award."
Michelin donates $30,000 to United Way of the Piedmont's Cliff Effects Fund
United Way of the Piedmont received a recent donation from Michelin of $30,000 to the Cliff Effects Fund. This fund, created by the Financial Stability Task Force, aids single mothers in Spartanburg County who are at risk of losing assistance for food, housing, childcare, and other benefits due to an increase in their wages.
In Spartanburg County, 42% of households headed by single mothers are living at less than 125% of the Federal Poverty Level, with a median income of $24,069. The Financial Stability Task Force hopes to decrease these statistics. Although public assistance is intended to be temporary, families often find themselves relying on these resources just to make ends meet. The Cliff Effect describes the precarious situation these families find themselves in when an increase in wages does not make up for the subsequent loss of benefits, thereby disincentivizing individuals to take higher paying jobs. United Way's Director of Financial Stability Strategy, Hannah Jarrett, says, "the goal of the Cliff Effects Fund is to make the 'cliff' feel more like a 'gentle slope,' so that taking a promotion or a higher paying job doesn't create a hardship."
Through this program, families are given assistance and guidance via Community Resource Coordinators at United Way. Community Resource Coordinators help clients meet critical needs while creating a path toward financial stability. To do this, a client's strengths and needs are assessed through intensive case management. The Community Resource Coordinator then provides services such as budget planning and developing self-motivated goals upon working with the client on a regular basis.
"At Michelin, one of our core values is to live in harmony with our communities where we live and work," says Luc Debaty, plant manager at Michelin's Spartanburg facility. "Our team is proud to partner with United Way of the Piedmont to support a better way forward for our neighbors in need. We look forward to seeing the lasting impact the Cliff Effects Fund will have on the lives of single mothers here in our local community."
As a result of Michelin's support, families in the local community will have a buffer to prevent them from falling off the cliff. An increase in wages should not decrease a family's standard of living. Through the Cliff Effect Fund, United Way is walking alongside families to support them and help break the cycle in order to make self-sufficiency a reality for those living on the edge.
United Way of the Piedmont is a local nonprofit that fights for the education, financial stability, and health of every member of the community. Their mission is to connect, engage, and inspire people to transform the community. They are more than fundraisers. They forge unique partnerships, find new solutions to old problems, and mobilize the best resources by inspiring others to join the fight. They believe that everyone deserves the opportunity to not just survive, but to thrive.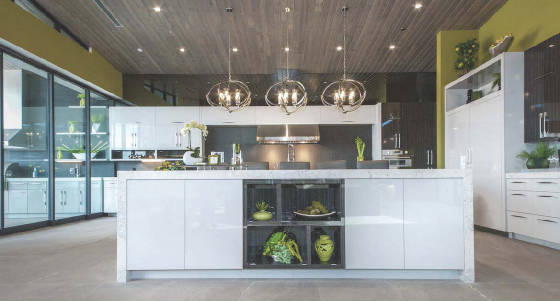 Prodigy Cabinetry is establishing new operations in Greenville County, creating 80 new jobs in the process.
Prodigy Cabinetry investing $2.5 million, creating 80 new jobs in Greenville
Greenville – Prodigy Cabinetry, a manufacturer of European-styled cabinetry, recently announced establishment of new operations in Greenville County. The company's $2.5 million investment will create 80 new jobs.
Prodigy Cabinetry is a new cabinet manufacturer that utilizes online tools and state-of-the-art woodworking equipment to provide seamless solutions to cabinetry retailers that design kitchens and bathrooms.
"Prodigy Cabinetry is excited to be opening a state-of-the-art integrated cabinetry manufacturing plant in Greenville. Greenville's commitment to supporting manufacturers, its talented labor pool and historical role in woodworking convinced us this is the right place for our company," said Prodigy Cabinetry CEO Tod Shuttleworth. "We are honored to join the many successful manufacturers in Greenville County, and look forward to being a positive economic addition to the community."
Located at 2723 White Horse Road, Suite C in Greenville, Prodigy Cabinetry's new office will also serve as the company's headquarters in South Carolina.
"We're proud to celebrate Prodigy Cabinetry's new investment in South Carolina and our people. Our state's growing economy continues to show the world that South Carolina is 'Just right' for business," added South Carolina Gov. Henry McMaster.
Prodigy Cabinetry offers both domestic distribution and international shipping, and the company is recognized for its use of quality materials, artisan finishing and hands-on craftsmanship. Utilizing only the best grades of wood to produce its products, Prodigy Cabinetry products are shipped a kitchen at a time, by truckload, and via container, to its dealers.
"Today's announcement that Prodigy Cabinetry, a brand-new company, has selected South Carolina as the location for its headquarters is a big win for us," noted South Carolina Secretary of Commerce Bobby Hitt. "We look forward to a long and strong partnership with Prodigy Cabinetry for years to come."
Prodigy is already operational online, and hiring is underway. Individuals interested in joining the Prodigy Cabinetry team should visit the company positions listed on the readySC™ job site at http://www.sctechjobs.com/.
"Prodigy Cabinetry is a very impressive company utilizing state-of-the-art manufacturing processes to deliver custom cabinetry in minimal time. The company recognizes that Greenville County offers everything they need to grow and prosper," stated Greenville County Council Chairman and Greenville Area Development Corporation Board Member H.G. "Butch" Kirven. "We are very proud to have Prodigy Cabinetry as a new addition to the Greenville County business community."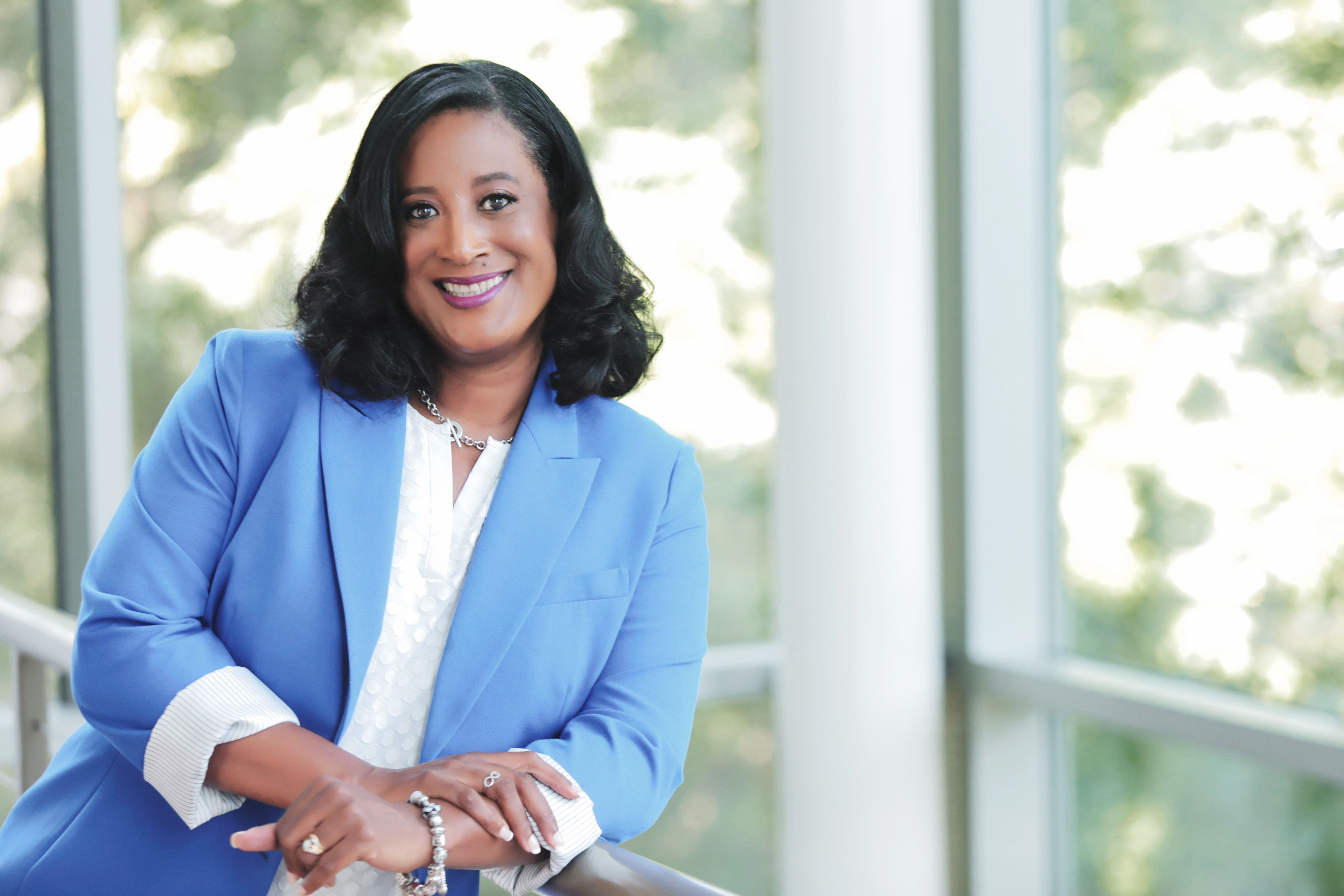 Celeste Purdie
Upstate real estate agent Celeste Purdie awarded with Quilt of Honor
Greenville - Marchant Real Estate Agent, Celeste Purdie, will be among ten Women Veterans to be awarded with a Quilt of Valor from the Upstate SC Quilt of Valor Foundation on February 28. The mission of the foundation is to cover service members and veterans touched by war with comforting and healing Quilts of Valor.
A Quilt of Valor is the highest award a Veteran or Active Duty member of the Military can receive from a civilian foundation. The Quilt of Valor is uniquely made for each Veteran, so no two quilts are alike. Each quilt takes about 60 to 70 hours to complete and are made with love to provide comfort and healing to the courageous men and women who have bravely and selflessly served our country.
Celeste was selected to receive the quilt by Tamika Rowe, one of Marchant Real Estate's veteran clients who Celeste assisted in purchasing her very first home. Tamika volunteers for the Quilt of Valor Foundation and will be presenting Celeste with her quilt at the ceremony. "Tamika works selflessly for veterans in our area in several volunteer roles and inspired me to get more involved in organizations that support women veterans," says Celeste. The first ever all-female Veteran Quilt of Valor Ceremony in the Upstate will be held at World Piece Restaurant, located at 109 W Stone Avenue, Greenville from 6 to 8 pm on February 28.
Celeste was a Defensive C3CM Specialist and a SGT in The United States Air Force. Sergeant Purdie was in the Electronic Security Command, stationed in Okinawa, Japan and Sembach, Germany. She received 7 Air Force awards, as well as the Combat Readiness Medal. Over the course of her service, Celeste traveled to over 20 countries. As an agent with Top Secret security clearance, Celeste worked behind the huge elephant cage radar monitoring sites during the Cold War era and witnessed the fall of the Berlin Wall in 1989. Seabrook Marchant, owner of Marchant Real Estate, remarks "We are so proud to have Celeste on our team and appreciate the work she does to assist our veterans."