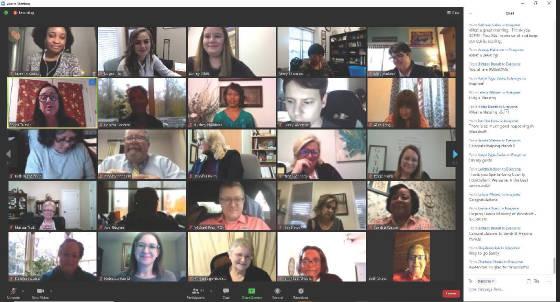 'Just Because' grants totaling $21,500 were given to 13 Spartanburg area nonprofits at the Virtual Nonprofit Thankful for You Celebration held November 10.
'Just Because' grants given to 13 Spartanburg nonprofits
Unrestricted giving is a critical element to philanthropy. Now, more than ever, nonprofits need opportunities to propel their missions and reach those who have the greatest needs. At the Virtual Nonprofit Thankful for You Celebration on Tuesday, November 10, "Just Because" grants that totaled $21,500 were given through a random drawing to 13 Spartanburg area nonprofits.
"We are so grateful to have had our name drawn for the $2,500 Just Because grant," said Sandi Turner, Director of Helping Hands Ministries of Woodruff Area, Inc. "We will use this grant to purchase some needed food items to complete our Thanksgiving meal food boxes so that our clients have plenty of food to celebrate this Thanksgiving Season."
Unrestricted funds can be used to pay overhead costs or provide the organization flexibility to take advantage of opportunities as they arise during the year. These funds can also be kept aside to provide incentives or meet any critical emergency needs that come along, like those we have seen during this COVID-19 pandemic.
"The Just Because Grant will allow us to provide fuel cards to our clients who are traveling for radiation or chemotherapy," said Glaydeane Lee, Executive Director of the Cancer Association of Spartanburg & Cherokee Counties, Inc. "We continue to serve all cancer patients (all ages and cancer diagnoses) with quality of life services in our community."
The Just Because Program at The Spartanburg County Foundation is an opportunity for donors to give unrestricted dollars and help build and sustain the work of Spartanburg area nonprofits.
"The Spartanburg County Foundation leverages unrestricted giving through the Community Fund and Just Because in order to surprise nonprofits with unrestricted, unsolicited and unbudgeted grants, bringing awareness to their missions countywide," said Troy Hanna, President and CEO of The Spartanburg County Foundation.
The following organizations received surprise, unrestricted grants through a random drawing or a total of $21,500:
1. Brothers Restoring Urban Hope (BRUH Mentor), Inc.
2. Hospice and Palliative Care Foundation
3. A Light Unto My Path | Sober Living Homes for Women
4. First Tee of the Upstate
5. Stone Soup Storytelling Institute
6. Spartanburg Interfaith Hospitality Network (SPHIN)
7. Children's Cancer Partners of the Carolinas
8. Woodruff Area Soup Kitchen
9. Hope Remains Youth Ranch
10. Louvenia D. Barksdale Sickle Cell Anemia Foundation, Inc
11. American Red Cross of the Upstate
12. Helping Hands Ministries of Woodruff Area, Inc.
13. Cancer Association of Spartanburg & Cherokee Counties, Inc.
"Because of COVID-19 limitations and our concern for each other's safety, funding for the life of storytelling and Stone Soup's ability to gather together and tell our stories has grinded to a halt," said Karyn Page-Davies with Stone Soup Storytelling Institute. "In our immediate future, we do not see Stone Soup hosting group gatherings safely in-person, so we have been planning monthly online storytelling events. Stone Soup will be able to put the grant to work in our community to tell, share, and listen to build a better world and to connect with each other."
Although this year has brought challenges and uncertainty, it has also given us new insights. During this time of thankfulness and reflection at the Virtual Nonprofit Thankful for You Celebration, the Foundation took the opportunity to honor the nonprofit community's resilience through "Just Because" grants and by featuring the nationally renowned comedian Akintunde as the event's uplifting and inspirational special guest.
To learn more about The Spartanburg County Foundation's Nonprofit Connect Program, visit https://spcf.org/community-leadership/nonprofit-connect/.
To learn more about The Spartanburg County Foundation Community Fund and Just Because, visit https://spcf.org/give/the-community-fund/.
OneSpartanburg, Inc. is honored with ConventionSouth's Annual Reader's Choice Award
Gulf Shores, AL - The publishers and editors of ConventionSouth, the national multimedia resource for planning events in the South, present OneSpartanburg,Inc with a 2020 Readers' Choice Award.
OneSpartanburg,Inc is among 380 convention and visitor bureaus (CVBs), meeting facilities and hotels located across the South to receive this year's Readers' Choice Award. Throughout the year, meeting professionals nominated the meeting sites they believe provide exemplary service for group events. The nominated sites are then compiled onto an online ballot where meeting professionals and fans are asked to vote for the best of the best.
Since creation in 2001, this is the third time that OneSpartanburg,Inc has received the award, making it an even greater honor to present it with a 2020 Readers' Choice Award. OneSpartanburg, Inc. will be featured as an award recipient in the December 2020 Awards Issue of ConventionSouth magazine.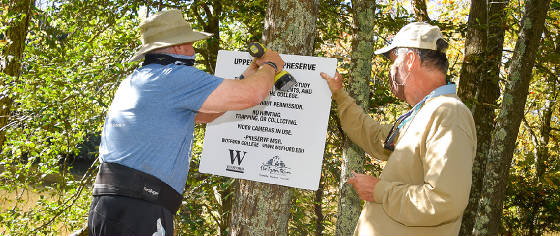 Hall of Fame football coach Mike Ayers and Professor Emeritus John Lane continue to serve Wofford in a volunteer capacity.
Distinguished volunteers: Mike Ayers and John Lane continue to serve Wofford
Glendale - Like many retirees, Mike Ayers and John Lane '77 often spend their time mowing grass. Plenty of that grass is associated with Wofford College, too.
Ayers, who coached the Terrier football team for 30 years before retiring in 2017, and Lane, who taught English and environmental studies for 32 years, have spent the past 18 months volunteering at the Wofford Preserve. The preserve is 200 acres in Glendale that includes the Goodall Environmental Studies Center. They volunteer weekly and spend anywhere between an hour and four hours per visit at the preserve.
They clear trails, build bog bridges, remove litter, mow grass and cut trees. In fact, Lane has named Ayers the vice president of chain saw art.
"There's always a tree to cut," says Ayers of the three to four miles of trails on the property.
Ayers and Lane often enjoyed lunch together over the years. They sometimes talked football, touched base about student-athletes, politics and all the other things friends talk about.
"I've always appreciated Mike's mind and how he could work problems out," says Lane. "He would look at the football field and determine what we could get and how we could compete, and I knew he would have the same approach out here."
Lane was the first director for the Goodall Center, which opened in 2009 when the environmental studies program began. He served in that role until his retirement last spring. Three years ago, the preserve started to take shape with the college's lease of 100 acres from the Tyger River Foundation and property owned by a family. It's a place for students, faculty and staff to conduct research and study the environment, but it also provided additional land that would need regular maintenance.
Lane secured grant money to pay student workers to clear trails and build bridges during the summers. Dr. George Tyson '72, a passionate supporter of the college's environmental studies program, suggested that he reach out to Ayers for assistance. The former coach has always enjoyed the outdoors. Together Lane and Ayers have supervised student workers and just for fun taken on many of the jobs themselves.
They don't start the morning sitting on a tailgate of a pickup truck sipping coffee. They get straight to work. Lane often sends a text at the beginning of the week to gauge Ayers' availability. They determine what projects to take on and what tools they'll bring.
There's also a list of future projects, including the building of a bird blind so people can observe the preserve's wetlands.
"I don't know what we would do without them," says Dr. Kaye Savage, professor of environmental studies and director of the Goodall Environmental Studies Center. "The maintenance they're doing is so important to ensure we have good access."
Ayers has enjoyed exposure to another aspect of the college.
"When I was coaching, I was coaching," says Ayers. "That's a 24/7 job even during the offseason. You get into a mindset of there's a certain amount of time to get the job done and we did our best not to have any distractions and wanted to be sure we got it done."
When Ayers isn't volunteering in Glendale, he's tending to his yard and painting. He started painting as an assistant coach, but it was hard to do as a Division I head football coach. He's currently working with Prismacolor colored pencils for a piece showing the angel Gabriel visiting the Virgin Mary.
Lane, who lives near the preserve, enjoys daily walks through it, which leads to him identifying tasks that he and Ayers can tackle. When Lane's not at the preserve, he and his wife, Betsy Teeter, are often working around their cabin in the Western North Carolina mountains. His days consist of a lot of reading and writing. He recently celebrated having a new novel published, and more books are in the works. A one-act play that he wrote 30 years ago will be performed virtually by the Spartanburg Little Theater in November.
Although Ayers and Lane enjoy retirement, they can't imagine not being actively involved with the college.
"I'll always be connected to Wofford," says Ayers. "You spend that long at one place, and it becomes part of you. My wife was a teacher who taught in Spartanburg for 30 years. We were able to raise our family in Spartanburg and at Wofford. There was so much that I was given, and there's a need to give back."
"I couldn't imagine ever not being connected (to Wofford) in some form," says Lane. "Some people say find a need and fill it. I think it's find a need and be filled by it."
They're also having fun.
"When I've gone out, they're clearly having a good time," says Savage.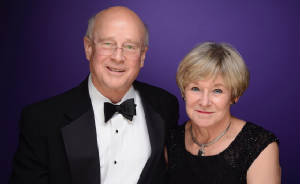 Gordon Herring '65 and Sarah Herring '66
Alumni Gordon and Sarah Herring donate $6.1 million to Furman music department
Greenville - Gordon Herring and Sarah Herring, Furman Class of 1965 and 1966, respectively, have pledged a gift of $6.1 million to the Furman Department of Music.
Through the donation, the Herrings have established the Herring Music Chair Endowment and the Herring Music Fellowship Fund. The couple's gift continues a decades-long tradition of generosity to the department in terms of time, guidance and financial support.
"We hope our gift will attract exceptional students who can be magnets to draw other talented musicians to Furman's music programs," Sarah Herring says.
Both Sarah, a German major, and Gordon, a history major, were members of the Furman Singers when they were students, an experience that fostered a special bond with Furman's music department.
"Furman is exceptional for providing students with a rigorous liberal arts education," Gordon Herring says. "We believe the other liberal arts are enhanced by music. Because we weren't music majors, our experience with Furman Singers served to complete our liberal arts education."
Gordon was a telecommunications executive who helped launch The Weather Channel in 1982, while Sarah's career was in senior management for Telephone Company Operations.
The Herrings' legacy of generosity to Furman includes a $1.8 million gift that led to the construction of the Herring Center for Lifelong Learning, and a $1.25 million donation that served as the lead investment for the Nan Trammell Herring Music Pavilion. Since the mid-1990s, the Herrings have provided Partner Scholarships, which support multiple music students each year.
Gordon, an emeritus trustee, believes music speaks to the soul of the individual and thereby enriches the soul of the university, especially in these challenging times.
Bingham Vick Jr., professor of music emeritus and director of the Furman Singers from 1970 to 2010, emphasizes the importance of the Herrings' gift to the university in attracting gifted music students.
"In recent years, rising costs of Furman, increased competition for musical talent with other quality collegiate music programs, and knowing the value and the importance of the cultural experience that a strong music department could offer to students and to the community, the Herrings have taken a bold and important step and investment in the Furman musical program," Vick says.
"I can attest to the importance and benefit Furman's strong music program has had on the lives thousands of students. The Herring Fellowships now lead the way toward an even brighter future for the enrichment of the Furman experience."