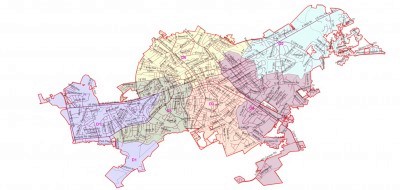 Proposed new City Council districts map
Spartanburg City Council approves first reading of new districts map
Prepared by the City of Spartanburg
At their meeting on Monday, March 13, Spartanburg City Council unanimously approved first reading of a new City Council districts map that will solidify new boundaries for the next decade. Mandated every 10 years to reflect new Federal Census data, the City's redistricting process determines which neighborhoods and communities are grouped together into a district for purposes of electing members to Spartanburg City Council.
The vote comes after months of feedback heard by Council members and City staff from city residents and local organizations in community meetings held throughout the city, with the district boundaries ultimately approved by City Council originating from that public input process. In presenting the proposed map to Council, City Manager Chris Story laid out the following principles guiding staff in creating the proposed redistricting plan:
• Districts will be drawn contiguously - all parts of the district are connected to each other
• Minimize the division of voting precincts.
• Geographically compact. Proposed districts should not sprawl.
• Respect existing districts and communities of interests
• Protect minority representation and the number of majority-minority districts
• Target 5 percent deviation range
• Public input and public review
Story said that the proposed map met all those criteria, with each district falling well below the target deviation range limit and the number of majority-minority districts preserved.
Major changes the new districts map would bring include:
1. Currently portions of Beaumont are in Districts 6 and 4. The proposed would have all of Beaumont as well as Riverwind apartments in District 6.
2. Currently most of Converse Heights is in District 4, but a rectangle bounded by Pine, Main, Mills and Palmetto is in District 3. The proposed would have all of Converse Heights, including these blocks, within District 4.
3. Currently District 5 extends east to Pine Street by including the blocks between Main and Henry. The proposed would have this area in District 3.
4. Currently portions of Hampton Heights are in Districts 5 and 3. The proposed would have all of Hampton Heights in District 3.
5. Currently downtown blocks bounded by St. John, Daniel Morgan, Henry, Church and Broad are in District 5. The proposed would have this are in District 6.
6. Currently several areas between W. Main and Wofford Street (including Summerplace Townhomes, Summerhill neighborhood, and Pineview Hills) are in District 6. The proposed would have those in District 5.
City Council will take up a second and final reading of the new district boundaries at their next meeting on Wednesday, March 29.
In other business, Council unanimously approved a framework for potential improvements to Duncan Park. At the previous City Council meeting on February 27, PAL: Play Advocate Live Well Executive Director Laura Ringo and City Parks and Recreation Director Kim Moultrie walked Council through a series of proposed improvements to City's largest park, with plans including: better connectivity to the Mary Black Foundation Rail Trail, upgraded and new trails throughout the park, new restrooms and improvements to the park's amphitheater area, a proposed traffic circle at South Converse St. and Duncan Park Dr., new activities areas and playgrounds, and numerous improvements designed to allow residents and visitors a to better enjoy Duncan Park Lake.
Begun last year with the help of a grant from the National Park Service, the proposed improvements were developed through a combination of public survey data and community stakeholder meetings and guided by a steering committee of area residents, and while a final planning and implementation strategy for the improvements hasn't yet been undertaken, Ringo and Moultrie proposed a pilot program to allow limited non-motorized boat use of the lake, one of the most requested new options among those who provided feedback.
The City and PAL intend to seek grant funding for the pilot program, which would open Duncan Park Lake to use by canoes and kayaks on weekends beginning this fall. According to Ringo, this will allow time for the lake to be prepared for use by finding ways to increase water flow and reduce stagnant water and to construct a dock from which to launch the boats. Results from the pilot program will be used to shape a more permanent plan for activating the lake for residents and visitors.
GSP recognized as best small airport in North America
Airports Council Inter-national (ACI), the world's most prominent industry association for airports, announced the recipients of the 2022 Airport Service Quality awards highlighting the world's best airports as judged by their customers.
Greenville-Spartanburg International Airport (GSP) was recognized with five awards.
* Best Airport of 2-5 Million Passengers in North America
* Airport with the Most Dedicated Staff in North America
* Easiest Airport Journey in North America
* Most Enjoyable Airport in North America
* Cleanest Airport in North America
The Airport Service Quality program is the world's leading airport customer experience measurement and benchmarking program. The ASQ Departures program measures passenger satisfaction from arrival to the airport campus to preparing to board their departing flight. It takes the whole airport community to ensure the passenger experience is safe, secure, efficient, and convenient.
Avelo Airlines announces new nonstop service from GSP to New Haven and Orlando
Avelo Airlines recently announced nonstop service from Greenville-Spartanburg International Airport (GSP) to Tweed-New Haven Airport (HVN) and Orlando International Airport (MCO). Avelo's new service at GSP ushers in a new era of affordable, convenient, and reliable air service for the region.
When service begins in June, Avelo will be the only airline offering nonstop service to Connecticut and the only airline offering nonstop jet service to MCO. Introductory one-way fares from GSP to Orlando and Southern Connecticut start at $49*. Customers can make reservations at AveloAir.com.
Avelo Airlines Chairman and CEO Andrew Levy said, "Upstate SC – it's time to say hello to Avelo! We look forward to introducing the Upstate of South Carolina to Avelo's low fares, industry-leading reliability, and caring service. With hometown airport access to Southern Connecticut and Orlando, travel from GSP is now easier than ever."
Avelo will begin service to Orlando on June 7 with twice weekly flights on Wednesdays and Saturdays, then transitioning to Mondays and Fridays on June 23. Service to Southern Connecticut's Tweed-New Haven Airport (HVN) will begin on June 22 with twice weekly flights on Thursdays and Sundays. Both routes will operate on Boeing Next-Generation 737 aircraft.
"Greenville-Spartanburg International Airport is pleased to welcome Avelo Airlines," said GSP Presi-dent and CEO Dave Edwards. "With their low fares and new nonstop service, Avelo will provide a new level of travel options to the Upstate South Carolina region. This is an exciting addition to our family of airlines, and we look forward to growing together in the years to come."
Avelo was founded with a vision to help its customers save money and time. Since taking flight on April 28, 2021, Avelo has flown more than 1.8 million customers on more than 15,000 flights.
In addition to offering customers everyday low fares on every route, Avelo customers can always change or cancel their itineraries with no extra fees. Avelo also offers several unbundled travel-enhancing options that give customers the flexibility to pay for what they value, including priority boarding, checked bags, carry-on overhead bags, and bringing a pet in the cabin.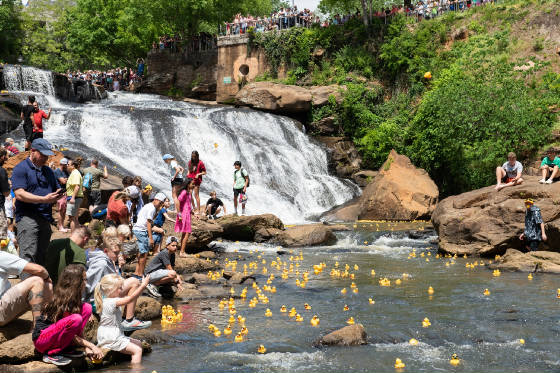 The 19th annual Reedy River Duck Derby will be held May 6, at Falls Park in downtown Greenville.
The 19th annual Reedy River Duck Derby is back on May 6
Greenville - The Rotary Club of the Reedy River Greenville is gearing up for its 19th annual Reedy River Duck Derby to be held May 6, 2023, in Falls Park. With a goal of 14,000 ducks to race down the falls, community members can expect an exciting and free day at the park. The Derby will have live music, face painting, balloon twisting, yard games, and food trucks. At 2:30 p.m. sharp, a bugler will call the race and watch all 14,000 ducks race down the falls. For those that adopt ducks, there's a chance to win a million dollars, a first-place prize of a year of groceries from Publix, a second-place prize of $2,500 cash from the Rotary Club of the Reedy River Greenville, and many more prizes coming in.
"The Duck Derby plays an integral role in bringing our community together and providing local nonprofits with funding to serve the community," says Ed Irick, Head Duck of the Reedy River Duck Derby.
Not just a fun day in the park, the Reedy River Duck Derby is the largest local Rotary fundraiser providing proceeds to local nonprofits through grants. The nonprofits supported by the 2023 race will not be selected until after the Derby. Still, last year's nonprofits supported included: Academy of the Arts, Augustine Literacy Project of the Upstate, Camperdown Academy, Carolina Youth Symphony, Girls on the Run, Habitat for Humanity, Mauldin Miracle League, STRIDES Tutoring, United Ministries, and Litter Ends Here.
Ducks are currently $10 for a single duck, and a Super Quack Pack of 5 ducks for $30. On April 17, the Super Quack Pack option will disappear and be replaced with the Quack Pack (4 ducks for $30) and include an option for a Raft (10 ducks for $70). To adopt your ducks or learn more, visit reedyriver duckderby.com.
About The Rotary Club of the Reedy River Greenville: The Rotary Club of the Reedy River Greenville is involved in many community service projects throughout the Upstate. Our signature fundraising event each year is the Reedy River Duck Derby held on the first Saturday in May. To learn more, visit our website at ReedyRiverRotary. org or on social media @reedyriverduckderby or @reedyriverrotary.
AAA survey shows 38% of South Carolinians plan to travel for spring break
Charlotte, N.C. – Travel bookings for 2023 are off to a very strong start and that is reflected in a new survey from AAA. According to the Auto Club Group, 86% of South Carolinians plan to travel this year. That's significantly higher than the 59% in 2022.
AAA is also citing a big jump in travel during spring break. According to the report, 38% of South Carolinians are planning a spring break vacation. That's up from 23% last year.
"AAA expects one of the busiest spring break travel seasons in years," said Debbie Haas, Vice President of Travel for AAA – The Auto Club Group. "Previous spring travel seasons were affected by COVID-19. However, Americans are largely more confident about traveling again, and AAA has seen very strong bookings for beach destinations, cruises, and attractions."
Beach vacations are the most popular among Spring Breakers, according to AAA's survey. Florida is the top domestic destination with its beaches, theme parks, and cruise ports.
Hawaii is another Spring Break favorite, with six unique islands and stunning scenery. AAA tour partner Pleasant Holidays says bookings for Hawaiian hotels and cruises are popular this year, as many travelers are opting for warm weather beach destinations.
Cruising is making a big splash this year. Ships leaving from Charleston, Orlando, Fort Lauderdale, Miami, and Tampa – heading to the Caribbean, Mexico, and Central America – top the list of AAA cruise bookings for Spring Break. Cruises sailing to Alaska, Canada, Northern Europe, and the Persian Gulf have also seen a spike in popularity.
International Travel Surges
AAA travel bookings show a 30% spike in international Spring Break bookings compared to last year. Travelers looking for warm weather are flocking to the Caribbean and Mexico or sailing to tropical destinations while enjoying the amenities of a cruise vacation. Additionally, Americans are taking advantage of the strong U.S. dollar and the exchange rate in Europe.
Top Spring Break Destinations
USA Hot Spots
Florida
Hawaii
Las Vegas
New York City
San Francisco
New Orleans
Mexican Getaways
Cancun and Riviera Maya
Mexico City
Caribbean Vacations
Nassau, Bahamas
Punta Cana, Dominican Republic
Montego Bay, Jamaica
San Juan, Puerto Rico
European Escapes
Paris, France
London, England
Amsterdam, Netherlands
Rome, Italy
Barcelona, Spain
Unique Cruises
Bahrain
Papua New Guinea
Danube River
Last-Minute Spring Break Ideas
Only 19 percent of South Carolinians say they haven't decided yet if they will travel for Spring Break, according to AAA's survey. It's not too late to make plans, but travelers may need to think outside the box. AAA recommends cities in colder climates where hotel rates are lower this time of year. If traveling with kids, look for hotels with indoor swimming pools. Research destinations that are within driving distance and offer free museums or outdoor attractions. AAA travel agents can help brainstorm other ideas and AAA members enjoy discounts on hotels, car rentals, and attractions.
Plan Ahead for Summer
The demand in Spring Break vacations signals a busy summer travel season. AAA travel agents say more people are booking trips farther in advance. AAA recommends making plans for summer sooner rather than later to avoid higher airline ticket prices and hotel rates. For inspiration, ideas, and itineraries, AAA offers a free online travel tool: Trip Canvas, where travelers can dream, research, and book.
Travel Insurance is a 'Must Have' This Year
Severe weather spoiled many spring breakers' travel plans last year, by causing widespread flight delays and cancellations. Because of that, almost half of South Carolinians (47%) are likely to purchase travel insurance. AAA encourages anyone traveling this year to consider travel insurance, which can provide compensation for expenses associated with flight delays and cancellations. There are also options that provide a refund if you must cancel your trip.
The AAA Consumer Pulse™ Survey was conducted online among residents living in South Carolina from January 27 – February 2, 2023. A total of 400 residents completed the survey. Survey results asked of all respondents have a maximum margin of error of ± 4.9% points. Responses are weighted by age and gender to ensure reliable and accurate representation of the adult population (18+) in South Carolina.