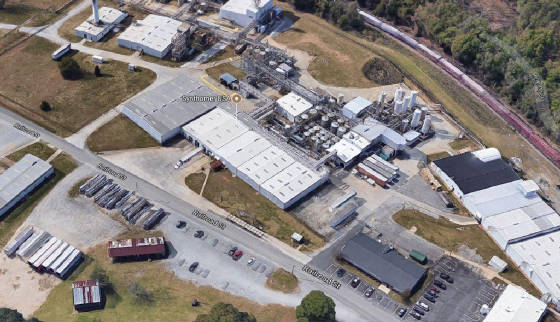 Synthomer recently announced plans to expand its manufacturing operations located on Railroad Street in Roebuck. The $16 million investment is expected to create 10 new jobs.
Synthomer to expand Roebuck manufacturing operations with $16 million investment
Columbia - Synthomer recently announced plans to expand its existing manufacturing operations in Spartanburg County. The company is investing $16 million and is expected to create 10 new jobs as a result.
Synthomer is one of the world's top suppliers of acrylic and vinyl emulsion, latex and specialty polymers. A market leader in coatings, construction, adhesives, textile and latex products, the company is headquartered in the United Kingdom and has more than 24 facilities in 14 countries around the world, with a significant presence in Asia, Europe and the Middle East.
"Synthomer is very excited to be investing in the capacity and capability of our Spartanburg County site. This site has a 50-year history of successful operations, and this investment will support continued growth into new markets and applications," stated Synthomer North America Business Director Wayne Steinberg.
Located at 200 Railroad Street in Roebuck, Synthomer will be expanding its operations by installing a new production reactor and associated equipment. Hiring for the new positions is slated to begin in 2019, and interested applicants should visit www.synthomer.com for more information.
Wofford receives major grant for faculty development
Wofford College has received a grant of $250,000 from the Arthur Vining Davis Foundations designed to align faculty development and support with the learning needs of tomorrow's college students.
The college will create a reciprocal mentoring program for faculty that enhances collaboration and leverages the faculty's talent and expertise at all levels, and the grant will allow faculty and administration to work together to better address the challenges of the future in private higher education.
"Tomorrow's college students are increasingly first-generation, socio-economically diverse and students of color," Dr. Michael J. Sosulski, Wofford's provost, says. "They often are driven by specific value propositions about college education and its pathway to career outcomes, and upon graduation, they will enter a rapidly changing economy with industries facing disruption on all sides."
Dr. Stacey Hettes, associate provost for faculty development, adds, "To build on more than a century of success in educating tomorrow's community and professional leaders, Wofford must create time and space for our faculty to dive deeply into discerning how best to prepare our students to navigate an unpredictable future that is evolving at an unprecedented pace."
Wofford will use the three-year, $250,000 grant to create an innovative approach to faculty mentoring for pre-tenured, mid-career and advanced-career faculty as well as a comprehensive leadership development program for academic department chairs. "These programs will assist our faculty as they build a well-prepared, informed and energized team of campus academic leaders who will work through shared governance to meet the challenges the future of higher education brings," Sosulski says. "They also align extremely well with the leadership development focus area of the Arthur Vining Davis Foundations' Private Higher Education program."
Sosulski notes that since he arrived at Wofford in 2016, he has been impressed by the faculty's engagement and enthusiasm when seeking out professional development opportunities. "Throughout their careers, Wofford's faculty make critical contributions to their students and to the institution. Tailoring development opportunities appropriately ensures that everyone is included in the process.
"A mentoring program based on reciprocity will allow faculty to learn from and collaborate with each other to solve problems and achieve goals," he adds. "The hope is to go beyond the traditional top-down mentoring that sometimes falls short in meeting challenges faced by faculty members at certain career stages."
The network of mentoring groups will provide the structure to help new faculty develop key competencies such as navigating academic advancement, developing a suite of original courses, sustaining a research program while getting a foothold in full-time teaching, developing professional networks and managing career challenges salient to women and faculty of color, Sosulski explains. "At the same time, it will assist mid- and advanced-career faculty who seek opportunities such as leadership development, redirecting scholarly interests or rethinking how their courses address changing student needs," he adds.
The program also provides an opportunity to leverage previous faculty training in reflective practice through ePortfolios – a key element of a recently completed AVD grant Wofford received – for faculty development purposes at each career stage.
An important focus will be placed on providing learning opportunities – both on and off campus – for faculty department chairs. "Department chairs are critical to Wofford's success because they represent the first major leadership step in the academy and because they directly foster our faculty members' individual success and satisfaction," Sosulski says. They will be provided opportunities for training, mutual support and continuing education in such topics as topics as budgeting and financial management, communications and conflict resolution, pedagogical and curricular innovation, and the best practices in shared governance.
Wofford envisions creating a similar but customized experience for its department heads based on the program offered by the Great Lakes Colleges Association Academic Leadership and Innovation Institute, in which Sosulski participated when he was at Kalamazoo College. Once established, the program may be extended to collaborate with faculty development efforts at the other nine colleges in the Southern Conference academic exchange.
"We are grateful that with this major Arthur Vining Davis Foundations grant, Wofford faculty will be better prepared to meet the needs of our ever-changing student population," Sosulski adds.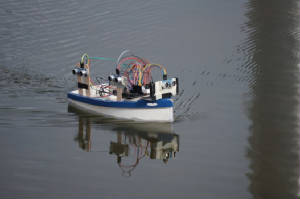 Elementary, middle and high school students built their own boats at the Autonomous Boat Summer Camp for Ocean Conservation at CU-ICAR. This boat was built last year by Clemson students.
Youngsters learn value of preserving Earth while building autonomous boats at CU-ICAR
By Bryce Donovan, Clemson University Relations
Greenville - A boat that drives itself and picks up trash from the ocean? That's the stuff of science fiction, but it's reality for a dozen lucky Upstate elementary, middle and high school students who are building their own autonomous boats in a Clemson University summer camp.
The campers are led by automotive engineering professors Srikanth Pilla and Yunyi Jia at the Clemson University International Center for Automotive Research (CU-ICAR). Sponsored by Bosch, the Autonomous Boat Summer Camp for Ocean Conservation guides students as they engineer their own small self-driving boats and learn the importance of cleaning the oceans.
Mike McCormick, vice president and technical plant manager at Bosch Rexroth in Fountain Inn, said, "Bosch has always supported programming that combines STEM education with environmental stewardship initiatives and this is a terrific example of that cross-section."
"Plastic waste is the biggest threat to our oceans," said Jia. "Animals end up eating these microtoxins and, in turn, die. Or sometimes we end up eating the animals and effectively poison ourselves."
Jia said the camp is intended to keep students interested in STEM subjects – science, technology, engineering and math – but they also get a lot of ecological and sustainability knowledge.
"While teaching them all sorts of great information on autonomy, we're using this as an opportunity to also show them that the ocean is worth saving," he said.
During the camp students are learning about the harms of plastics, the basics of boat building, software coding and, of course, boat autonomy.
"It's exciting to work with students of all different ages," Pilla said. "These younger campers, their minds are wide open. Their creativity has no bounds. It's truly remarkable. I can honestly say that sometimes they come up with stuff that I end up writing down because it's that profound. I'd even say we end up learning just as much from them as they do from us."
Thanks to additional funding from the Bosch Community Fund, the camp builds on a previous 2017 grant supporting an autonomous boat competition among Clemson students at CU-ICAR. In that competition, 71 students were divided into 18 groups that built autonomous boats with cruise control, boundary tracking and collision avoidance using the sensing signal processing, filtering techniques and advanced control methods they learned in class.
According to Jia, it was so well-received by the students that it prompted the professors to get involved for another go-round.
This summer's camp wrapped up on July 9 when students put their creations to the test by launching their boats in the pond on the CU-ICAR campus.