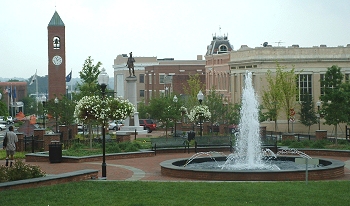 Spartanburg City Council recently approved a consultant, who will work with the Morgan Square Enhancement Committee to guide the public process on recommendations for the Square.
Spartanburg City Council approves consultant for Morgan Square redesign
Prepared by the City of Spartanburg
At their meeting on Monday, November 14, Spartanburg City Council gave unanimous approval to move forward with hiring planning firm MKSK to work with the Morgan Square Enhancement Committee on a public process to craft recommendations for the first physical changes to the square in more than 17 years. In his presentation to Council, City Manager Chris Story said that the committee had interviewed three finalists firms for the project and came away impressed with MKSK's plan to engage the public in the process and its previous work in the Upstate. The City Manager estimates the cost of developing the plan to come to around $260,000.
The committee and the firm plan to hit the ground running with a public kick-off for the Morgan Square process on December 13 at 4 p.m. at Chapman Cultural Center. Attendees will have the opportunity to hear from members of the committee and MKSK about the process, learn more about the project's scope, and find out how they can participate in creating a plan for Morgan Square's next phase. The design process is expected to be completed in spring 2023.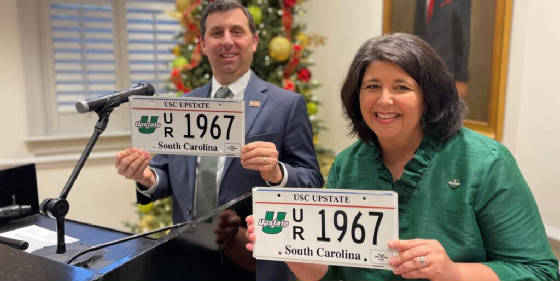 RJ Gimbl, vice chancellor for university advancement at USC Upstate, and Charlianne Nestlen, the university's director of alumni relations, show off examples of new specialty license plates during a ceremony on Tuesday, Nov. 10, 2022. USC Upstate photo
USC Upstate unveils specialty license plates
By Trevor Anderson, USC Upstate News Service
The University of South Carolina Upstate and the S.C. Department of Motor Vehicles (SCDMV) have unveiled the official USC Upstate-branded license plate available to all residents of the Palmetto State who want to support student scholarships and show their love for the university wherever their travels take them.
The first 100 numbers are reserved and can be selected by contacting the USC Upstate Alumni Office. In addition to the regular registration fees, the specialty plate two-year tag costs $70 and a portion of the proceeds from each plate supports the general scholarships for students at USC Upstate. License plates outside of the first 100 numbers, will be assigned randomly and can be purchased by visiting the SCDMV website or any SCDMV location.
"As our university's alumni, donors, students, fans, and friends now have the opportunity to showcase their pride through the branded plate, the impact undoubtedly coincides with our recent branding campaign Greater Heights," said RJ Gimbl, vice chancellor of advancement and executive director of USC Upstate Foundations. "As plates begin to hit the streets, the USC Upstate brand will be felt not only across South Carolina but where our travels take us."
"We are excited to have USC Upstate join our plate gallery," said Stephanie Ford, deputy director of vehicle services for the SCDMV. "We think this will yield some wonderful things for (the university)."
To learn more visit www.uscupstate.edu/licenseplates or contact the USC Upstate Alumni Office at 864-503-5093.
Greenville-Spartanburg Airport District celebrates 60 years
The Greenville-Spartanburg Airport District recently celebrated the 60th Anniversary of the airport's opening with several events. The airport opened to the public on October 15, 1962.
On Wednesday, October 12 the airport hosted a reception for elected officials and economic development leaders to celebrate the long-range impacts of GSP on the Upstate. The Airport District Commission shared memories of the airport's founding and growth and GSP President and CEO Dave Edwards outlined his vision of the airport's future.
"Through the vision and dedicated efforts of leaders from both Greenville and Spartanburg counties, we have seen Greenville-Spartanburg International Airport develop into a major economic engine and a model for other airports to emulate," said Edwards.
On Thursday, October 13 GSP held in-terminal events for passengers and airport employees and tenants, complete with games, prizes, and cupcakes to mark 60 years of operations.
"At the end of the day, our people have made all the difference to this airport and the community," said Edwards. "With support of our employees and the passengers who make GSP their airport of choice, we're looking forward to another six decades of success."
SCC announces new faculty staff endowment at first annual Rick Teal Memorial Walk
On Tuesday, November 8th, Spartanburg Community College held the first annual Rick Teal Memorial Walk as part of its yearly internal giving campaign in support of the SCC Foundation, One SCC. The walk was held in honor of the late Mr. Rick Teal, SCC's Vice President of Human Resources, who passed away in 2021 following a fight with cancer. Follow-ing the walk, SCC leadership announced the Rick Teal Employee Memorial Fund for Employee Engagement and Recog-nition would be permanently endowed thanks to the amount of funds raised in its support.
"The outpouring of enthusiasm and support for Mr. Teal by the College staff and retirees is tremendous," said John Jaraczewski. Executive Director of the SCC Foundation. "Through their gifts, the Foundation will endow the funds and celebrate Rick's legacy of service in perpetuity."
"I am truly thankful to Dr. Mikota and the College for making Rick feel like part of the family," said Ashley Teal, Mr. Teal's widow. "Thank you so much for honoring him and for continuing to support this great College. I love that his name will continue here even when he personally can't be with us."
More than 150 SCC faculty and staff members donated $20 to participate in a one mile walk around the Giles Campus, one of only five recognized arboretums in Spartanburg County, in honor of Mr. Teal. At the completion of the walk, Mr. Jaraczewski announced that over the course of the last four weeks, more than $13,000 was raised specifically for the fund from both current and former employees of the College, enabling the SCC Foundation to endow this fund in perpetuity in honor of Mr. Teal and his legacy.
Mr. Teal served as the VP of Human Resources at Spartanburg Community College for over a decade until his passing in August 2021. Even through rigorous chemo treatments, he worked to maintain the spirit of family at the College. A self-described foodie, Beatle-maniac, and Gamecock fan, Rick's love of life spread to all who knew him. The Rick Teal Employee Memorial Fund commemorates this love of life by supporting SCC faculty and staff in pursuit of their passions through personal development.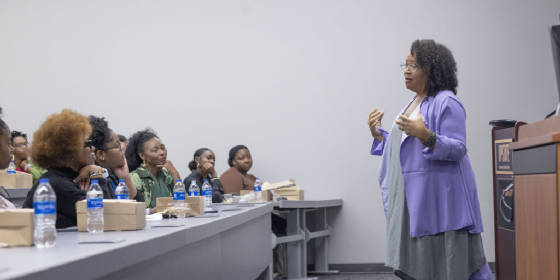 Lisa Price, the founder of Carol's Daughter, 8th annual Johnson Innovation Speaker Series event on Nov. 10.
Prominent entrepreneur Lisa Price speaks at USC Upstate
By Trevor Anderson, USC Upstate News
"Follow your instincts." That's what one of the country's most successful minority small business owners recently told a group of local business leaders and University of South Carolina Upstate students, employees, and alumni.
"As an entrepreneur, you have to trust your gut always," said Lisa Price, founder of the popular Carol's Daughter beauty brand. "There's always going to be someone in the room with more experience on paper. But they are not the founder. They are not you. They don't have your gut or intuition. It doesn't mean your gut is always right, but you have to act on it, acknowledge it, and research it."
Price delivered her keynote speech "How I Turned a Hobby Into a Multimillion-Dollar Cos-metics and Beauty Empire" at the 8th annual Johnson Innovation Speaker Series event on Thursday, Nov. 10. The event was held at the George Dean Johnson, Jr. College of Business and Economics (JCBE) in downtown Spartanburg.
"I was blown away," said Frank Rudisill, interim dean of the JCBE. "She did an amazing job weaving her personal story in with the growth of her company. It's a powerful message. One that our students and those in attendance needed to hear."
In 1993, Price, a native of Brooklyn, N.Y., was working freelance in TV production with little income and no health insurance. She started mixing fragrances and beauty products at her kitchen sink and selling them at flea markets and from her living room.
By 2014, her company Carol's Daughter was acquired by France-based L'Oreal in a multimillion-dollar deal that enabled the global personal care company's U.S. affiliate to establish a multicultural beauty division.
Price said a lot has happened in the three decades since she began her trailblazing entrepreneurial journey. She became a millionaire and garnered endorsements from cele-brities like Jada Pinkett-Smith, Erykah Badu, Rosie Perez, Halle Berry, and Oprah Winfrey. Price has health care. Really good health care.
She has been featured in films, received numerous awards, and served on the National Women's Busi-ness Council. In April 2021, Price and Carol's Daughter partnered with the world-renown doula Latham Thomas and her foundation, The Mama Glow Foundation to launch Love Delivered, an initiative focused on raising awareness about black maternal health.
However, she said she hasn't let any of that change her.
"At the end of the day, I'm still that chick in the kitchen, with my stuff and my music," Price said. "Maybe my shoes are on, maybe they're off. Maybe my hair's in a pineapple, maybe it's not. I'm still her. I'm still the founder."
Nikoya Shaw, a 2014 USC Upstate graduate who owns Red Leaf Artisans LLC with her business partner Laura Brochin, said she learned a lot from Price's address.
"She really offered some great perspective, especially about evaluating pros-pective partnerships," said Shaw, of Spartanburg. "We are trying to build our own philanthropic side to the business. It was interesting to hear her talk about that."
Founded in 2014, the Johnson Innovation Speaker Series, sponsored by JCBE, is dedicated to bringing distinguished business professionals to USC Upstate for the benefit of students and the local business community. Named for the renowned Spartanburg entrepreneur George Dean Johnson, Jr., the series has hosted Dr. Derek Lidow, Esther Dyson, Dennis Hayes, David Pensak, Dr. Peter Roberts, Nicholas Glover, Robin Chase, John Rossman, and Dr. Simone Ahuja.
South Carolina Secretary of State Mark Hammond announces Angel for 2022
Columbia – South Carolina Secretary of State Mark Hammond recently announced the Angels of 2022. Secretary Hammond recognized ten Angel charities at a press conference in the Edgar Brown Building on the Capitol Complex.
The Angels honored are organizations that have demonstrated good stewardship of charitable resources in South Carolina. Representatives from all organizations were in attendance to receive a plaque and recognition from Secretary Hammond. The Angels recognized, with the percentage of their expenditures that went toward their program services, are listed below. Those recognized are listed in alphabetical order and are not ranked by the Secretary of State.
* Cancer Association of Spartanburg & Cherokee Counties, Inc., Spartanburg, SC 93.2%
* Child Advocacy Center of Aiken County, Aiken, SC 85.2%
* Defenders For Children, Greenville, SC 91.0%
* Mercy Medicine Free Clinic, Florence, SC 95.6%
* Operation Home, Inc., N. Charleston, SC 91.6%
* Programs for Exceptional People Inc., Bluffton, SC 91.1%
* Restore Mobility for the Blind, Lake Wylie, SC 94.1%
* Sharing God's Love, Inc., Irmo, SC 92.3%
* The Dream Center of Pickens County, Easley, SC 95.0%
* The Village Group, Georgetown, SC 98.9%
The Angels were selected by review of financial reports submitted annually to the Secretary of State's Office, as well as by nominations from the public. To be selected as an Angel, the charity must have devoted 80% or more of its total expenditures to charitable programs; must have been in existence for three or more years; must make good use of volunteer services; must receive minimal funding from grants; must have a significant presence in South Carolina; and must be in compliance with the South Carolina Solicitation of Charitable Funds Act. Each year the Secretary of State's Office attempts to showcase Angels with diverse missions from several areas around the state.
"Charities do so much for our communities, and I am proud to recognize these wonderful organizations that have made a difference in the lives of so many South Carolinians," said Secretary Hammond.
Charitable donors may research charities registered in South Carolina by visiting the Secretary of State's website at sos.sc.gov. To look up a charitable organization, select the Charities Search feature to learn a charity's total revenue, program expenses, total expenses, net assets, and fundraiser costs, as well as the percentage of total expenses that the charity has spent on program services. You can also call the Division of Public Charities at 1-888-CHARITI (242-7484) or send an email to charities@sos.sc.gov for more information. If you have concerns about a charitable organization, professional fundraiser, or raffle, you can file a confidential complaint with the Secretary of State's Office by using the online Charitable Solicitation Complaint Form.