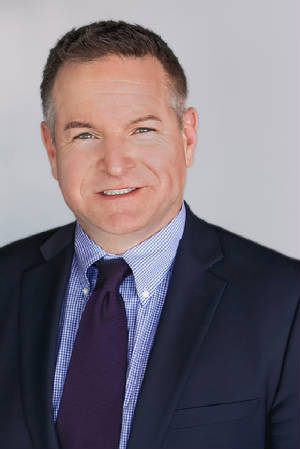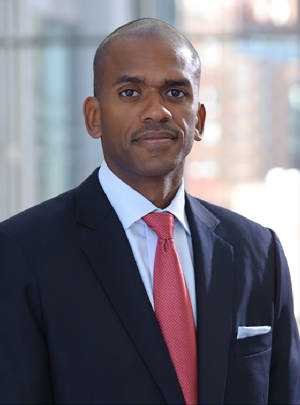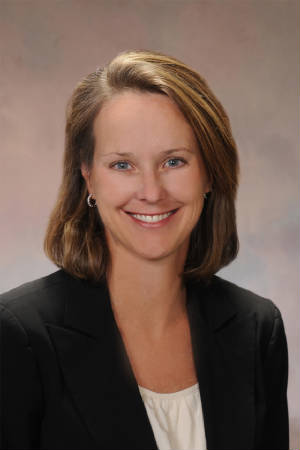 Wofford's new trustees, left to right, are Dr. Blanding Jones, Greg O'Dell, Wade Keisler, and Margaret Young.
Wofford elects new board members
Four alumni have been elected to the Wofford College Board of Trustees, replacing outgoing trustees Mike James, class of 1973; Jim Johnson, class of 1971; Pat Prothro, class of 1996; and Joe Taylor, class of 1980.
The new trustees were elected June 6 at the South Carolina Annual Confer-ence of the United Methodist Church held in Greenville.
The new trustees, elected June 6 at the South Carolina Annual Conference of the United Methodist Church held in Greenville, are Dr. Blanding Jones, cardiothoracic surgeon in California's Kaiser Permanente system; Wade Keisler, real estate developer and philanthropic leader in the Midlands of South Carolina; Greg O'Dell, chief executive officer of Events DC, the official convention and sports authority for the District of Columbia; and Margaret Young, partner with international accounting and consulting firm PriceWaterhouse Coopers. Re-elected to new four-year terms on the board were John Hipp, class of 1975; Stewart Johnson, class of 1967; Craig Melvin, class of 2001; and Dr. Danny Morrison, class of 1975.
At its May meeting on campus, the board elected these officers for the 2019-20 year: Corry Oakes, class of 1989, chair; Chris Carpenter, class of 1990, vice chair; and Costa Pleicones, class of 1965, secretary.
Jones is a practicing cardiothoracic surgeon and physician leader/administrative chief of cardiovascular services for the Southern California Kaiser Permanente system. A native of Sumter, Jones graduated from the Medical University of South Carolina in 1997 and pursued extensive surgical training at both Emory University and the University of California-Irvine. Jones is deeply engaged with the Wofford College, hosting alumni events in California and serving on the President's Advisory Council as well as serving on various committees as a member of Wofford's Alumni Advisory Council.
Keisler is a respected business and philanthropic leader in the Midlands area of South Carolina and has served as a licensed real estate broker for the past 25 years. A longtime supporter of Heathwood Hall Episcopal School in Columbia and a member of Saint Stephens Lutheran Church in Lexington, Keisler is a member of the Greater Columbia Association of Homebuilders and the National Association of Homebuilders. Keisler serves on the FOR WOFFORD Campaign Steering Committee and is a former member of the college's Investment Advisory Committee.
As chief executive officer of Events DC, O'Dell heads the official convention and sports authority for the District of Columbia. Hailing from Stone Mountain, Ga., he was a member of the Wofford men's basketball team from 1988 through 1992. In his role at Events DC, O'Dell oversees the operations of a $2 billion portfolio of sports and hospitality-related venues inclusive of the 2.3 million-square-foot convention center, which hosts 1 million guests annually. O'Dell serves on several national and international boards, including the Washington, D.C., Economic Partnership; Destination D.C.; the Children's National Medical Center; the National Cherry Blossom Festival; and the Professional Convention Management Association.
Young is an audit partner with Pricewaterhouse-Coopers (PwC). A native of Camden, and resident of Blacksburg, Va., she is the east region leader for the private company services practice of PwC, overseeing a staff of approximately 600 individuals and 65 partners focused on delivering audit, tax, advisory and personal financial services to privately held and family-owned companies with domestic and international operations. She also has served as an elder at First Presbyterian Church of Spartanburg as well as on the boards of the Girl Scouts Mountains to Midlands, the Mary Black Foundation, the United Way of the Piedmont, the Chapman Cultural Center and Wofford's Terrier Club.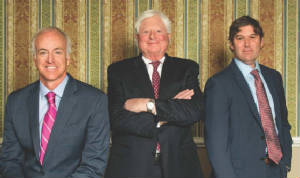 (l-r) Tom A. Killoren Jr., John B. White Jr., Wes A. Kissinger
Killoren, Kissinger and White earn top accolade
Harrison White, P.C. recently announced that three of the firm's attorneys have been selected to the 2019 South Carolina Super Lawyers List, an honor earned by just five percent of the state's attorneys.
This year represents managing partner John B. White Jr.'s 12th consecutive year being selected to the list, as well as partner Wes A. Kissinger's fifth consecutive year. New to the 2019 list is Harrison White, P.C. partner Tom A. Killoren Jr.
Super Lawyers, a Thomson Reuters business, is a rating service of outstanding lawyers from more than 70 practice areas who have attained a high degree of peer recognition and professional achievement. The annual selections are made using a patented multiphase process that includes a statewide survey of lawyers, an independent research evaluation of candidates and peer reviews by practice area. The result is a credible, comprehensive and diverse listing of exceptional attorneys.
With nearly two centuries of combined professional experience, the attorneys at Harrison White, P.C. serve the upstate of South Carolina in state and federal courts in multiple practice areas, including personal injury, family law, criminal defense, workers' compensation, pharmaceutical litigation and appellate practice.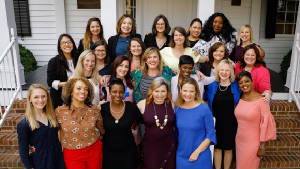 WLI provides an engaging educational forum for executives and senior managers from diverse backgrounds and disciplines in corporations, law, government agencies, education and nonprofits.
Graduates of Women's Leadership Institute recognized
By Tina Underwood, Contributor
The Women's Leadership Institute (WLI) of Furman University recently recognized the following Class of 2019 graduates:
* Tina Belge, Greenville County
* Deanna Berry, McWhorter Capital Partners
* Katherine Boda, Furman University
* Jamie Bryant, Christ Church Episcopal School
* Rachel Cavin, Lockheed Martin
* Donna Cox, Furman University
* Erin Culbertson, Kehl Culbertson Andrighetti, LLC
* Dawanda Evans, Newell Brands – Process Solutions
* Yukichi Hagins, Yukichi Hagins Realty
* Tracy Harper, Fluor Corporation
* Nichelle Harrison, The MAP Agency
* Sommer Johnson, Timken
* Jennifer Maness, Prisma Health-Upstate
* Allison McGarity, Simpsonville Area Chamber of Commerce
* Heidi Medlin, Fluor Corporation
* Tami Miller, Greenville Chamber of Commerce
* Gaia Phillips, Greenville County Schools
* Lauren Prunkl, Furman University
* Lisa Rouby, Michelin
* Karina Santos, Michelin
* Brandy Sperry, GHS Eye Institute
* Johanna Stoddard, Gregory Pest Solutions
* Laura Turner, Prisma Health-Upstate
* Valida Walker, Sherman College of Chiropractic
WLI provides an engaging educational forum for executives and senior managers from diverse backgrounds and disciplines in corporations, law, governmental agencies, educational institutions and nonprofit organizations. By working with one another, the goal of WLI is to enhance vital leadership skills and form a collaborative, lasting network of relationships.
"An understanding of the complex dynamics involved in achieving true success as a leader requires insight into one's personal leadership style and keen business acumen. The seminars offered during each session include a comprehensive view of concepts and strategies that have immediate and practical application in real-world work environments," said Sam Tisdale, director of Furman's Center for Corporate and Professional Development.
WLI explores topics such as negotiation and conflict resolution, communication skills, the psychology behind success, network diversity, leadership styles, best practices for shared success, public speaking, life balance and time management.
WLI extends the invitation to participate in an immersive experience with a nationally recognized liberal arts university, esteemed faculty and accomplished business leaders. The 2020 Institute will be held January through May on the Furman University campus. Applications will be accepted online beginning Aug. 1st.
GADC Existing Industry Manager Kim Williams graduates from Leadership Greenville
Greenville - The Greenville Area Development Corporation has announced that Existing Industry Manager Kim Williams has graduated from Class 45 of Leadership Greenville.
Founded by the Greenville Chamber of Commerce in 1973, Leadership Greenville is designed to identify and inform committed and qualified leaders for Greenville County. The 10-month program takes an intensive look into issues impacting Greenville, and prepares and motivates participants to provide quality, dynamic leadership within the community. As a graduate, Ms. Williams joins over 2,000 program alumni who are making a difference in their communities.
As Existing Industry Manager at GADC, Ms. Williams serves as a liaison to existing companies in Greenville County and supports retention and expansion projects. To facilitate capital investment and job creation, she assists with locating buildings and sites, develops customized financial packages, and provides statistical analyses.
She joined GADC after 13 years with site selection firm McCallum Sweeney Consulting (MSC), where she held the role of Principal. While at MSC, Ms. Williams led site selection and incentive negotiations for both domestic and international companies that included manufacturing, headquarters, and distribution facilities. She also worked as a project manager in MSC's economic development practice, leading site readiness and certification programs for states and regions throughout the United States.
Ms. Williams holds a master's degree in City and Regional Planning from Clemson University and a Bachelor of Science degree in Economics from Centre College in Danville, Kentucky. She is an active member of the South Carolina Economic Developers' Association, the Greenville Splash, and the Greenville Track Club.