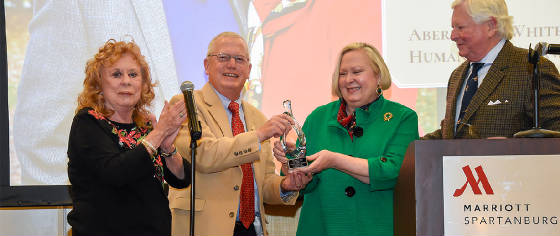 David M. and Cynthia C. Beacham were recently honored with the Abernathy-White Humanitarian Award.
Beachams honored with Abernathy-White award
Courtesy of Wofford News Services
David M. and Cynthia C. Beacham are famous for saying yes. For more than 40 years, if the Spartanburg community asked, the Beachams answered in the affirmative — serving on boards, chairing committees, leading projects, volunteering, advocating and giving.
"They're a power couple, and they've given 110% through service to more than 20 charitable organizations in our community," said John White, attorney and managing partner of Harrison White PC, during the Abernathy-White Christmas Eve Annual Breakfast. "Spartanburg is a better place because of their involvement, and it is our honor to recognize their contributions with the Abernathy-White Humani-tarian Award."
In addition to presenting the award, Harrison White contributed the lead gift toward the establishment of the David M. and Cynthia C. Beacham Endowed Internship Fund in the Beachams' honor. The fund will give students with financial need the resources to say yes to career-enhancing and life-changing internship opportunities.
"Over the years, we have realized that internships are vitally important for college students," said David Beacham. "They give students the opportunity to put their academic training to practical use, advancing their skills while discovering their professional passions and purpose. Cyndi and I have been fortunate to have found our passion and purpose in our work and in our engagement in the Spartanburg community. This fund will give future generations the same opportunity."
David Beacham came to Spartanburg as a Wofford College student in the mid 1970s. He joined the college's admission staff not long after graduation in 1977 and transitioned to advancement and senior leadership positions. He will retire from the college this summer as senior vice president for administration and secretary to the board of trustees after 45 years of service. His civic and non-profit commitments have included First Presbyterian Church, the Cancer Association of Spartanburg and Cherokee Counties, Partners for Active Living, the American Red Cross Piedmont Chapter, Habitat for Humanity, St. Luke's Free Medical Clinic and The Piedmont Club.
Cyndi Beacham retired in June 2020 as president of the Charles Lea Center Foundation. Prior to that, she was vice president for community improvement and education with the Spartanburg Area Chamber of Commerce. There she ran Leadership Spartan-burg and Junior Leadership Spartanburg. Through the years, she has supported numerous community organizations, serving as president of the Junior League of Spartanburg, St. Luke's Free Medical Clinic, the American Red Cross Piedmont Chapter, Ellen Hines Smith Girls Home and the Upstate Center for Educational Support.
"This breakfast is all about planting seeds, and we've watched the seeds that David and Cyndi Beacham have planted grow and make a lasting impact in our community," said White. "We want our community's young people to take note and follow their examples."
The Abernathy-White Christmas Eve Annual Breakfast began more than 60 years ago when two prominent Spartanburg citizens — John B. White Sr., founder of the Beacon restaurant, and Warren Abernathy, senior advisor to Sen. Strom Thurmond — started gathering people who often did not see eye-to-eye for a breakfast on Dec. 24. The point was to get people to put aside their political differences to build cooperation and community. Over the years, the modest gathering, which was originally held at the Beacon, grew to an event that now brings nearly 700 people together at the Marriott downtown for breakfast, fellowship and a cause that furthers the Spartanburg community. Harrison White hosts the breakfast in memory of White and Abernathy.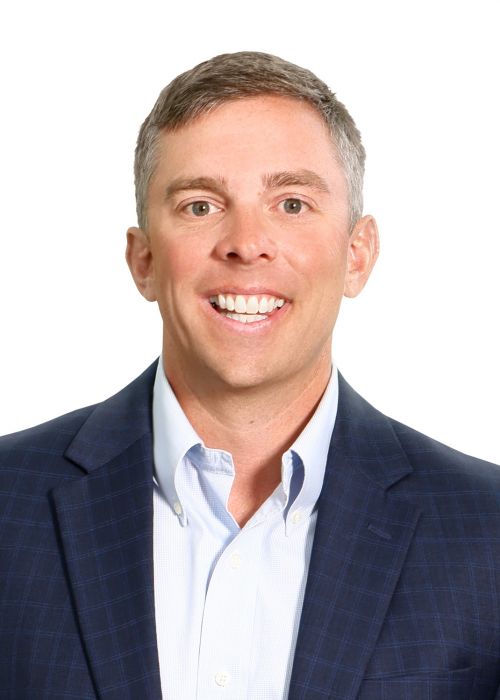 Todd Horne
Todd Horne named President of Clayton Construction Co.
Clayton Construction Company, Inc. is pleased to announce that Todd Horne, former Vice President of Business Development, has been promoted to President, effective January 1.
In announcing the promotion, former President Harry Clayton, said he is "thrilled to announce Todd's promotion to President of Clayton Construction Company. He has been an integral part of our company's evolution and growth and I am confident that he will lead with the same integrity and enthusiasm that he has shown over the last decade."
Since 2008, Horne has served as VP of Business Development at Clayton Construction Company, Inc. where he has developed relationships with industry professionals to generate new business opportunities. CCC is a commercial general contractor, specializing in turn-key construction projects around the Southeast. Exceeding expectations for over 40 years, CCC has been named one of SC's Fastest Growing Companies and recognized as one of the Best Places to Work in SC.
In addition to his role with CCC, Horne enjoys serving the Spartanburg community. He actively serves on the boards of One Spartanburg Inc., United Way, Ten at the Top, and the USC Upstate Foundation Board. Horne has received numerous awards including the Spartanburg Area Chamber of Commerce Volunteer of the Year, Leadership Spar-tanburg Emerging Leader Award, Leadership Spartanburg Alumnus of the Year, Who's Who of the Upstate, and the University of South Carolina Upstate Distinguished Alumni of the Year. Horne is a proud graduate of USC Upstate where he earned a BA in Communication Studies.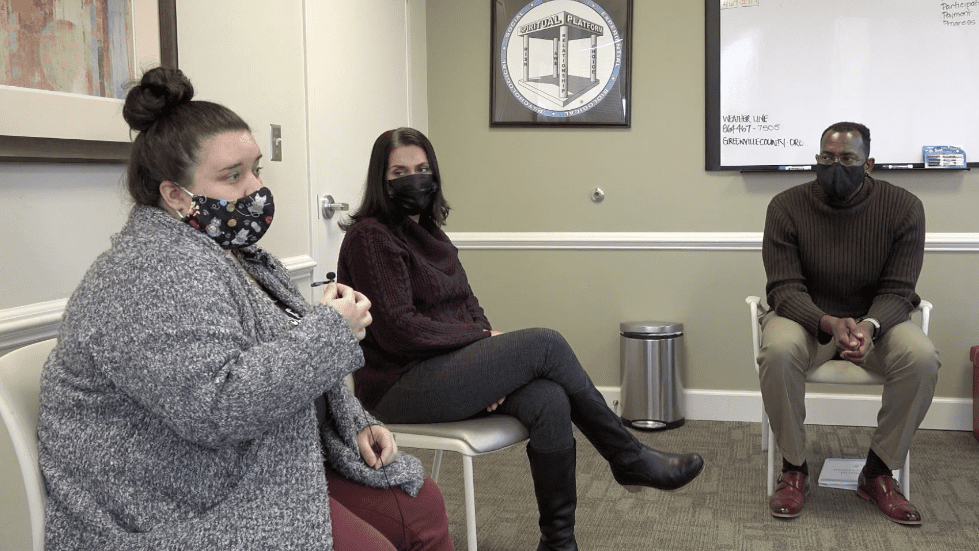 Nelson Jones (left) from the Phoenix Center facilitates a process group with members of his supervision team. Photo courtesy of Clemson University News Services
Upstate counseling program infuses curriculum with addiction-focused learning
The counselor education program at Clemson University has received grant funding to infuse its curriculum with content that will enhance counselors' knowledge and awareness of substance use disorders. The funding comes from the Substance Abuse and Mental Health Services Administration (SAMHSA), a branch of the U.S. Department of Health and Human Services.
The six Upstate counties surrounding Clemson University fall within the top 10 counties in the state with the highest need for treatment related to alcohol, marijuana, opioid, cocaine or amphetamine. Four of the counties also fall within the top five counties in the state for the highest need for treatment related to these substances.
Use of state funded treatment services increased 135% in South Carolina between 2006 and 2016. According to Corrine Sackett, principal investigator on the grant and associate professor in the College of Education that houses the program, this increase in demand for services combined with the historically large presence of Clemson graduates working in the counseling field in the Upstate meant an augmented curriculum was needed and would be immediately effective.
"These alarming numbers support the need for counselors in the region who are trained to deliver high-quality screening, assessment, referral and treatment," Sackett said. "Around 70% of graduates from our programs practice in the Upstate and a large portion of them practice in settings that treat substance use disorders, so we know our graduates will put this knowledge to use immediately."
The addiction focused learning has been infused into the core curriculum of the counselor education program, benefiting both clinical mental health counseling and school counseling students.
Students in the counselor education program have worked to increase their capacity to identify and treat substance use disorders through the integration of instructional video modules into core curriculum courses.
Megan Quackenbush, a student and graduate assistant in the program, works to film and edit role plays and interviews that are used in the curriculum's modules. She has worked as an educator and counselor as well as a children's yoga and mindfulness instructor, but she decided to pursue the counseling program because she sees it as a marriage of both mindfulness training and education.
"There's no doubt that we will encounter substance misuse in counseling moving forward," Quackenbush said. "Whether in schools or private practice, we'll work with children or families affected by it. This grant ensures that information about symptoms to look for and how to support children and families in these situations is present in counselor training."
Quackenbush said that in addition to specific classes and electives on addiction, the faculty behind the program have inserted information about substance use disorders into almost every class. They have also partnered with FAVOR Greenville, an addiction peer recovery support organization, which has provided real-life stories and interviews from individuals or their family members who have been impacted by substance abuse.
Cierra Townson, another student in the program, said the modules included in the Group Counseling and Crisis Counseling courses have helped her learn about the ways in which substance abuse forms, what symptoms manifest from that use and what barriers exist for clients. She said she has come away with an understanding of what people with addictions endure and what counseling methods work best to assist them.
"Truly, we gained empathy and the capacity to approach substance abuse from the perspective of the user," Townson said. "Through my internship, I've also been able to help children cope with the substance abuse of adults in their lives. I've learned to support students by acknowledging their pain, but also by acknowledging the humanity of the person using substances."
Sackett and grant team members Amanda Rumsey and Liz Boyd are extending the reach of the additions afforded by the SAMHSA grant outside of the program and its current students. The project team will plan, implement and deliver a substance use disorder training program and offer continuing education units for counselors in the Upstate region in Spring 2022.
Palmetto Venture Fellowship to increase venture capital funding accessibility for S.C. startups
Columbia – The South Carolina Department of Commerce's Office of Innovation has partnered with Venture Carolina, a nonprofit dedicated to bridging the funding gap between investors and entrepreneurs, to launch a pilot fellowship program to create more local accredited investors, expanding risk-capital accessibility for early-stage startups in South Carolina.
The Palmetto Venture Fellowship is a seven-part workshop series that exposes participants to the intricacies associated with early-stage capital formation. The program, with an inaugural class of 40 participants, begins in February and ends in October 2022. Ideal candidates include current or aspiring investors seeking the expertise necessary to be successful investing in early-stage companies.
"South Carolina has a proven climate for success for companies of all sizes, and the Palmetto Venture Fellowship will help develop a pool of well-equipped investors to help expand our state's startup business environment," said Secretary of Commerce Harry M. Lightsey III. "Building a pipeline of educated investors will help diversify our local economy and keep South Carolina regionally competitive in recruiting innovative startups."
According to 2018 data from the National Science Board, South Carolina ranked 39th in the United States for venture capital dollars disbursed per $1,000 in state gross domestic product. Historically, states that rank well in this measure possess companies that have been successful in attracting venture capital investments. Positive trends in this measure may be predictors of new products and services, job creation and revenue growth.
"We have proven that if we educate investors on the complexities of investing in early-stage companies, they are much more willing to participate in the asset class," said Charlie Banks, executive director of Venture Carolina. "We believe there is an important foundational proficiency that every investor needs in order to be effective at investing in early stage companies. Topics such as term sheets, valuations, capitalization tables and how to do proper diligence are just a few of the complexities this fellowship will equip attendees with. We're thrilled to be partnering with the South Carolina Department of Commerce's Office of Innovation and applaud their leadership on this critical component of any successful entrepreneurship ecosystem."
The inaugural class of the Palmetto Venture Fellows will be selected by a committee of business leaders and investors throughout South Carolina.
For more information about the fellowship, contact chris@venturecarolina.org.