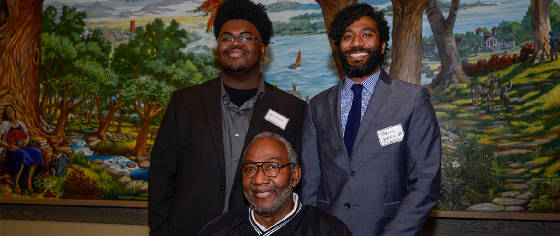 Doug Jones '69, the first Black student to graduate from Wofford, poses with his son, Jarvis Jones '04, and grandson, Hayden Jones '25, during the Order of 1854 Heritage Society brunch on Saturday, Oct. 9.
Lasting legacies
Courtesy of  Wofford News Services, https:// www.wofford.edu/about/ news/news-archives
Hayden Jones '25 sees a lot of people who look like him when he walks across the Wofford College campus. That wasn't the case for his grandfather, Doug Jones '69, the first Black student to graduate from Wofford.
"It's nice to see faces like mine and to have people to turn to when we're going through struggles," says Hayden Jones, an undeclared major from Honea Path, South Carolina.
The Jones family attended the Order of 1854 Heritage Society brunch on Saturday, Oct. 9. The society celebrates students who are direct descendants of a Wofford graduate. The brunch honored the 126 legacy students in the classes of 2024 and 2025.
Hayden Jones is a third-generation Terrier. His aunt, Moneefa Jones '95, and uncle, Jarvis Jones '04, also are Wofford graduates.
Doug Jones was the second Black student to attend Wofford, joining Albert Gray, who came in 1964. When Gray left to fight in the Vietnam War, Jones was on his own for two years.
"It means a lot to me to have him here," Jones says. "Things were a lot different when I was here. But I got a good education. I owe Wofford a lot."
Hayden Jones says he's driven to uphold the family's tradition of success. The enormity of the shadow cast by Doug Jones isn't lost on him.
"My grandfather is a pretty big deal at this college," he says. "That's a hell of a lot of pressure. He said I didn't have to come here, but I felt like I did."
It's really happening
Gavin Taylor '25, an undeclared major from Columbia, grew up dreaming of playing football at Wofford like his dad, Brian Taylor '95. He wasn't sure that would happen, until he got the offer he was looking for late in his recruiting process.
"I was going to go somewhere else and not play football," says Gavin Taylor, an offensive lineman who is redshirting this season. "But once I got the opportunity to come to Wofford, I knew there was nowhere else I wanted to go."
Brian Taylor says it's been "surreal" watching his son's journey to Wofford.
"I didn't think he was going to come here or play football, and he's doing both," he says. "It's going to be fun for him to see how his life will change with a Wofford education and through the connections he'll make."
Valuing the family tradition
Wofford wasn't on the radar screen of Kierstin Smith '24, even though her father, Brandon Smith '02, was a graduate. That changed after a visit to campus when she was a senior in high school.
"Growing up, I wasn't really into Wofford," says Kiersten Smith, an undeclared major from Green-ville. "Then I visited, and I loved it. There's something about the family tradition that makes it special. It's challenging. You've definitely got to lock in and get your work done."
Brandon Smith says it's gratifying to see his daughter charting her own Wofford course.
"It's awesome to know your child is walking down the same hallways you walked down," he says. "This is an amazing opportunity, and I'm extremely proud of her."
Shared bonds
Nettles Green Jr. '24, an undeclared major from Columbia, South Carolina, is the fourth generation of his family to attend Wofford. His father, Dr. Nettles Green Sr. '89; grandfather, James Green '57; and great-grandfather, William Nettles '28 all made their place at Wofford.
"It's really cool knowing we have that connection," Nettles Green Jr. says. "It's something we can share."
Nettles Green Sr. says he's proud that his son chose Wofford and will experience some of the same things as his predecessors.
"There's just something unique about being a legacy," he says.
The Courage Center receives National Recovery grant
Lexington - The Courage Center (TCC) was the only South Carolina organization to be awarded the Building Communities of Recovery (BCOR) grant by the Substance Abuse and Mental Health Services Administration (SAMHSA). TCC was one of 31 nationwide recipients.
The purpose of the grant is to mobilize resources inside and outside of the recovery community to increase both the prevalence and quality of long-term recovery support from substance abuse and addiction.
The grant is intended to support the development, enhancement, expansion, and delivery of recovery support services (RSS) as well as promotion of, and education about recovery.
During the three year duration of the grant, TCC will work to improve long-term recovery for residents of Lexington County. TCC will provide services including individualized recovery programs and sustained support for recovery-focused community efforts that reduce the stigma associated with drug/alcohol addiction through a stigma reduction campaign and by conducting public education and outreach.
"We are excited to launch this grant, especially during September and National Recovery Month." said Interim Executive Director, Dr. Pam Imm. "The Courage Center has been providing services in the Midlands for more than five years and this funding will allow us to continue and expand programming, providing further linkages between treatment and community support. We will also be highlighting the stories of individuals in recovery as they share the journey they took to get where they are today."
To learn more about the BCOR grant and The Courage Center, visit www.CourageCenterSC.org
The Courage Center is a 501(c)3 nonprofit that provides one-on-one recovery coaching and peer support services at no cost to their participants. They are the only Recovery Community Organization (RCO) in South Carolina focusing specifically on adolescents ages 14-18, young adults ages 19-26, and families. Our programs and recreation take place at 860 Park Road, and administration and expanded programs are located at 5205 Augusta Road, both in Lexington. Reach us at (803) 369-3905 or CourageCenterSC.org.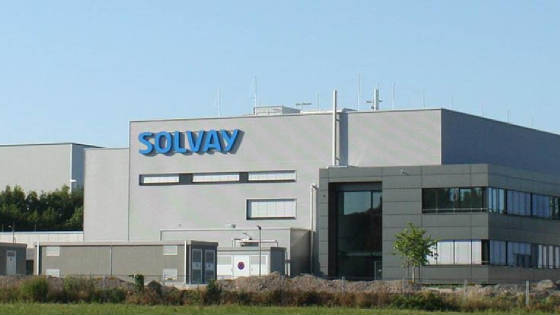 Solvay has completed installation of its new thermoplastic composites manufacturing facility at its Greenville site located at 7139 Augusta Road in Piedmont.
Solvay making investment in Greenville operations, adding over 30 new jobs
The Greenville Area Development Corporation (GADC), charged with promoting and enhancing quality of life in Greenville County by facilitating job growth and investment, has announced that Solvay has completed installation of its new thermoplastic composites (TPC) manufacturing facility at its Greenville site. At full production capacity, the new line will add more than 30 positions at the new 27,000-square-foot dedicated facility.
The project represents a major milestone in Solvay's efforts to industrialize its TPC capacity. A key driver for the world-class facility is growing demand from energy companies, supported by increasing aerospace and automotive demand. The new product line will have the ability to manufacture unidirectional composite tape from a range of high-performance polymers including PVDF, PPS and PEEK.
"The TPC solutions that will be manufactured in our Greenville facility will help our energy, aerospace and automotive customers achieve better environmental responsibility by making cars and planes lighter, thereby reducing emissions," said Mike Finelli, president of Solvay's growth platforms. "Our new capacity and differentiated technologies will allow us to expand with our customers as TPCs gain momentum in a growing number of applications and play an important role in the energy transition."
Located at 7139 Augusta Road in Piedmont, Solvay's expansion includes the recently acquired Cytec Engineered Materials and increases the company's capacity to meet growing demand.
The Greenville facility is part of a series of recent strategic investments in line with the Group's commitment to build the infrastructure required for the growing TPC market. Other recent commitments to the industry include Solvay's addition of capacity for TPC tape in Anaheim (CA), two new R&I centers in Brussels (BE) and Alpharetta (GA), and Solvay's membership in the TPRC consortium.
"Solvay's expansion is yet another example of the unparalleled success companies are finding in South Carolina. We thank Solvay for their continued partnership with our state and look forward to their future growth in Greenville County and beyond," said South Carolina Governor Henry McMaster.
With the project now complete, Solvay is working toward qualifying products to meet customer-specific requirements. Individ-uals interested in joining the Solvay team should visit the company's careers webpage.
"South Carolina has a rich history in the chemical production sector, and today's announcement by Solvay shows that this industry continues to flourish in the Palmetto State," stated Secretary of Commerce Harry M. Lightsey III. "We congratulate Solvay on this expansion and thank them for their commitment to South Carolina."
Upon commercialization of the Greenville facility, Solvay will be uniquely positioned with proprietary technologies enabling the company to position the right product for the right application. Solvay's TPC portfolio includes Evolite™, which offers reliability and lower total cost of ownership in markets such as energy and automotive, and APC tapes, which offer significant weight and cost advantages in aerospace and urban air mobility applications.
"We're pleased that Solvay is once again expanding operations in Greenville County. Solvay is a leader in our business community and a world-class manufacturer, and we appreciate their investment here, commented Greenville County Council Chairman and Greenville Area Development Corporation Board Member Willis Meadows. "Their decision is an important affirmation of our continued focus on advanced manufacturing and on supporting existing industry."
The Coordinating Council for Economic Development awarded Greenville County a $200,000 Set-Aside grant to assist with site preparation.
USDA announces new South Carolina Rural Development State Director
Columbia - President Joe Biden announced the appointment of Dr. Saundra Glover to the office of the U.S. Department of Agriculture South Carolina State Director on Tuesday, October 12.
Dr. Glover, a product of rural South Carolina, is currently a Distinguished Professor Emerita and adjunct professor in the Department of Health Services Policy and Management in the Arnold School of Public Health at the University of South Carolina. She served for several years as the first Associate Dean for Health Disparities and Social Justice in the Arnold School of Public Health and directed the Institute for Partnerships to Elimi-nate Health Disparities research portfolio that grew to $35 million under her leadership. Additionally, Dr. Glover served as Associate Director of the South Carolina Rural Health Research Center. A graduate of the School of Business at South Carolina State University, Dr. Glover received her MBA and Doctor of Philosophy in Management and Organizational Behavior from the University of South Carolina.
The announcement also included the appointments of five Farm Service Agency State Directors and six other Rural Development (RD) State Directors for Alabama, Georgia, Michigan, New Mexico, North Carolina and Pennsylvania.
"These twelve individuals are incredible public servants who have a proven track record when it comes to their commitment to advance their states and communities," said Agriculture Secretary Tom Vilsack. "Each will serve on the frontlines, carrying out USDA's mission at the state level and ensuring the voice of each and every USDA customer is heard. We are fortunate to have each of these talented individuals at this critical time for farmers and producers and rural communities across America."
RD State Directors serve as the chief executive officer of Rural Development in the states and territories and are tasked with carrying out the mission of rural development to the benefit of everyone in rural America. In conjunction with the guidance and support of the National Office, State Directors are responsible for promoting the mission and strategic goals of Rural Development and provide key leadership to develop and support a productive, diverse, and inclusive state workforce.
USDA Rural Develop-ment provides loans and grants to help expand economic opportunities and create jobs in rural areas. For more information, visit www.rd.usda.gov/sc