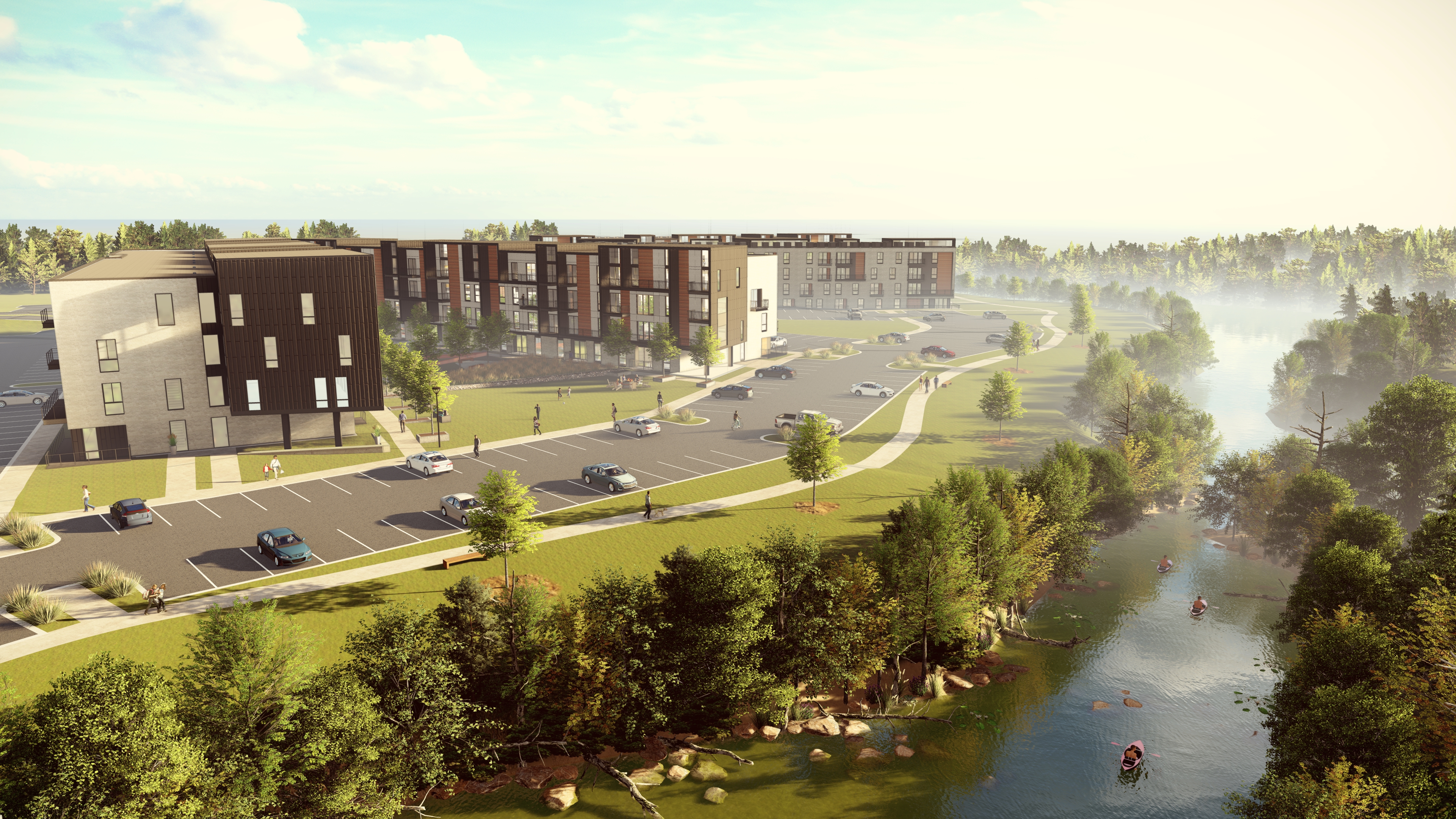 OneSpartanburg, Inc. has announced a partnership with Spartanburg County and the M Peters Group to redevelop the former site of Clifton Mill Number Two. Courtesey of SGA/Narmour Wright Design
Bringing new life to former Clifton Mill
OneSpartanburg, Inc. is proud to announce a transformative public-private partnership with Spartanburg County and the M Peters Group, an upstate real estate development company, to redevelop the former site of Clifton Mill Number Two.
Spartanburg County, who acquired the site in 2013 for $226,000, will transfer 30 acres to the M Peters Group who will invest approximately $60 million in private redevelopment and public improvements. Upon completion of significant enhancements, MPG will return approximately 19 acres to Spartanburg County as an improved public park.
"OneSpartanburg, Inc., works with developers to bring quality projects to the overall Spartanburg community. Katherine O'Neill and her team wrap support around developments to make sure that barriers are minimized or eliminated. Our team has been impressed with the manner in which Spartanburg County, the City of Spartanburg, and One-Spartanburg, Inc. work collaboratively and diligently with developers on their projects," stated Mark Peters, president of M Peters Group.
David Britt, economic development chair for Spartanburg County Council added, "Until now, former mill sites in eastern parts of Spartanburg County have not seen the same level of interest and investment as those in central and western parts. We have had high hopes for the Clifton Mill Number Two site, and are very fortunate that the M Peters Group has the vision to take it on. The project will be transformative for the Clifton, Cowpens and Glendale area for generations to come."
"Spartanburg County recognized opportunity in this site almost a decade ago and made the decision to purchase it. At the time, resources limited development to a passive park. This partnership with the M Peters Group will help bring a long awaited vision to reality," added Cole Alverson, county administrator for Spartanburg County.
"One of the long term goals of The Daniel Morgan Trail System is to tie our urban areas together from the Pacolet River to the North Tyger, and this connection from Glendale to Clifton is critical in making that goal a reality. The 4.1 mile trail connection will highlight two of Spartanburg's most beautiful natural amenities – the Pacolet River and Lawson's Fork Creek. While PAL is still working through the exact routing, we are confident and excited about what this connection will mean for the eastside of Spartanburg," stated Laura Ringo, executive director of PAL: Play. Advocate. Live Well! (formerly Partners for Active Living)
"We are seeing a wave of interest in eastern Spartanburg County. We are thankful to find a partner who is aligned with Spartanburg's vision. This project elevates recreational amenities, improving access to trail systems and blueways, and creates new housing options a convenient distance from our urban center and the Cowpens community," added Katherine O'Neill, chief economic development officer at One-Spartanburg, Inc.
Located in Greenville, the M Peters Group specializes in transforming blighted land and abandoned buildings into places that contribute to the health, economic vitality, and quality of life of their communities. Optimistic about Spartanburg's trajectory, MPG is vetting additional projects within Spartanburg County.
PROJECT DETAILS
An approximate 30-acre former mill site situated along Clifton Glendale Road will be redeveloped.
The property borders the Pacolet River on both sides, is home to a spillover dam, and is partially utilized as Spartanburg County's Clifton Park.
The thoughtful project will maintain the area's natural setting and retain existing riverside trails, picnic areas and access points.
The multi-family development will include 239 modern market rate units, a blend of studios, 1, 2, and 3-bedrooms, offering brick balconies, natural light and river views. Led by award-winning firms Perkins & Will and SGA Narmour Wright Design, the architecture is inspired by the historic mill's setting, architecture, massing, scale and materials.
7,000 SF of commercial space gives potential for a riverfront restaurant.
MPG will build public facilities to serve Clifton Park beachgoers, as well as repave the existing parking area. A small playground area with parking lot will also be improved.
MPG will improve an informal kayak put-in to become a formal livery, providing boat access to travel downriver for about 3 hours to reach a take out in Pacolet.
MPG and Spartanburg County will partner to widen and straighten River Rd.
PAL: Play. Advocate. Live Well! will expand the Daniel Morgan Trail System east with the addition of a 4.1 mile trail connector between Glendale and Clifton. The County and MPG will partner to develop a trail spur including a pedestrian bridge across the river connecting the site to the trail.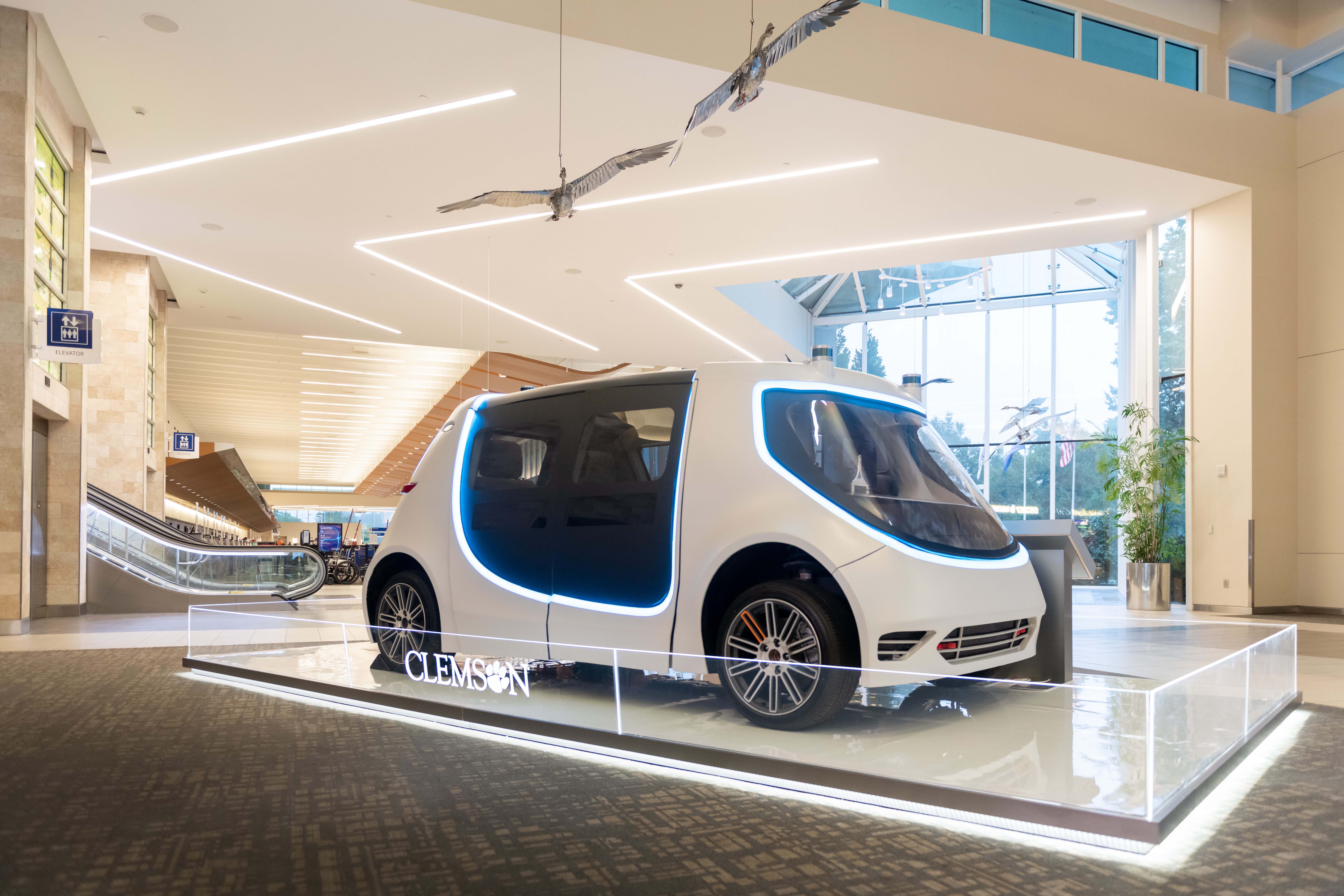 Now on display at the Greenville-Spartanburg International Airport, if you are in the Greenville area you can see Clemson University's first autonomous passenger vehicle prototype. Photo courtesy of Clemson University
Clemson reveals first student-engineered autonomous prototype
Courtesy of Clemson University News Services
Creating innovations for the future and driving advancements in mobility requires a workforce of dedicated engineers, designers and creators passionate and knowledgeable about our industry. That's why Ford teamed up with Deep Orange, a student-driven vehicle prototype program within the Department of Automotive Engineering. Housed at the University's International Center for Automotive Research (CU-ICAR), the two-year master's program empowers students to design and build fully-functional concept vehicles from the ground up.
For the program's tenth iteration, the students designed the University's first self-driving electric vehicle prototype for passengers. Throughout the project, Ford's role was to guide and advise students. The student team's hard work resulted in an inventive prototype: a self-driving, battery electric vehicle experience with human-centered design at the forefront.
Built from the ground up
To bring this autonomous vehicle to life, the students started from the ground up to imagine use cases for self-driving vehicles. Using the human-centered design lens, the students focused on: giving time back to families during a commute or while traveling; connecting college students who might not have a vehicle; and maximizing productivity for business professionals on the go. Driven by these personas, the final design features a vehicle experience focused on passenger comfort and intuitive controls.
* Spacious ride: For use as a personal vehicle, the interior feels like a living room on wheels, with seats facing each other, low floor clearance and sliding swing-out doors for maximum accessibility. The team also envisioned a semi-transparent display screen on the windshield to show navigation and entertainment options.
* Touchless experience: With intuitive controls like voice and gesture commands, a rider can direct the vehicle to make a decision. For example, by pointing to a parking space or by voicing a direction, the car could self-navigate to the indicated destination. This could be extremely helpful in a post-COVID world, minimizing contact with high touch surfaces.
* Passenger comfort: The team also wanted to gauge passenger comfort via wearable devices that detect any passenger discomfort and modify the car's driving behavior such as speed and driving style to mitigate discomfort for things like motion sickness.
Driven by partnerships
Deep Orange is a sought-after program for students because it provides them with the hands-on experience of taking a car from concept to reality. Students are free to pursue their creativity and vision for the future of the automotive industry while receiving feedback and guidance from an automaker like Ford. It is a powerful learning experience for a budding engineer. They also had a chance to work with Sage Automotive Interiors and Ford's color material and finish team, broadening their understanding of the vehicle design process. Working with students doesn't just help prepare them for a successful career in the industry — it also keeps Clemson's faculty and industry partners at the forefront of cutting-edge research and creative thinking. This project also held a special significance for the team as the Ford employees advising the students were Clemson alumni from previous Deep Orange projects.
Nurturing the talent of tomorrow
Since hiring their first Clemson Deep Orange alumni, Ford has had great success bringing graduates and undergraduates from the University on board. Today, Ford employs over 50 graduates of Clemson's Automotive Engineering program, half of which participated in the Deep Orange program. Out of the Deep Orange 10 team, five found their home at Ford following graduation. Working hand in hand with industry allows Clemson to develop the best and brightest leaders driving the mobility industry.
First look at the design
From their early designs to the finished prototype, these Clemson students brought new focus and passion to a real-world project. Congratulations to this outstanding cohort of engineers. We truly will see a brighter, better transportation future, because of passionate, skilled engineers like the Deep Orange 10 class.