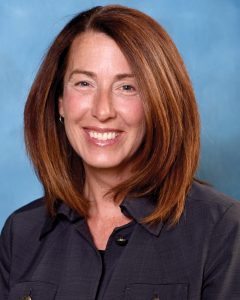 Laura Reynolds, Ph.D.
Reynolds named dean of the School of Education at USC Upstate
The University of South Carolina Upstate has selected a new dean for its nationally-accredited School of Education following a rigorous search process. Laura Reynolds, Ph.D. will begin her duties on January 22.
"We are most excited to have Dr. Reynolds join our academic leadership team as she brings expertise in accreditation and assessment, and she was responsible for the preparation, evidence collection, and re-accreditation of the University of Michigan – Dearborn campus by the Higher Learning Commission," said Dr. Clif Flynn, provost and senior vice chancellor for academic affairs. "USC Upstate serves as a critical force in fulfilling regional and state workforce needs and serves as a major engine of social and economic development. Our School of Education plays an extremely vital role in that it prepares graduates to excel as reflective, effective leaders in classrooms and schools as well as more broadly in our increasingly complex global society."
Reynolds, who is returning to South Carolina where she received her Ph.D. in educational psychology and research methodology at USC, said "I am excited and honored to join the School of Education in this role, and to be a part of a team and campus community focused on student success, academic innovation, and strategic development. In the face of growing national teacher shortage, the faculty and staff of the School of Education at USC Upstate are poised to be innovative and responsive as we continue to prepare highly-qualified educators and exercise science professionals to meet the needs of our region and beyond. I am grateful to have the opportunity to contribute to the work of USC Upstate."
At UM-Dearborn, Reynolds was an associate professor of educational psychology and had served as the associate dean of the College of Education, Health, and Human Services from 2014 to 2017. Previously she served for more than two years in academic affairs and the Office of the Provost as chief assessment officer and accreditation lead for campus-wide assessment and planning. Reynolds earned her M.A. in American history from Midwestern State University and her B.A. in Multidisciplinary Social Science from Michigan State University.
As an academic and researcher, Reynolds has been involved in classroom and clinical assessment and instruction, focused on interrater training, validity, and reliability. In conjunction with Public Broadcasting Service (PBS), Reynolds and a colleague created the supporting materials and documents for Ride the Tiger – a national PBS film on bipolar disorder.
Additionally, Reynolds does significant research in the field of play and human development, focusing on outdoor play. She partners with non-profit organizations in India and in Vietnam to create and evaluate urban and rural playgrounds targeting improved child outcomes and community health. Reynolds recently returned from Hanoi where she had the opportunity to give two invited presentations and conduct fieldwork on street play and urban playgrounds.
The USC Upstate School of Education is accredited by the Council for the Accreditation of Educator Preparation (CAEP) and its professional preparation programs are approved by the South Carolina Department of Education and the respective professional organizations. It offers bachelor's degrees in early childhood, elementary, middle level, secondary, physical education and special education – learning disabilities, as well as master's degrees in early childhood, elementary, and visual impairment, which is the only program of its kind in South Carolina.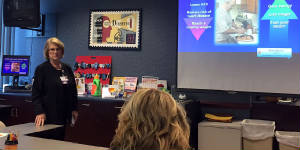 Diabetes educators offer classes with one-on-one patient consultations to discuss healthier eating on a budget and self-care
By Baker Maultsby
Courtesy of Spartanburg Regional Healthcare System"
DiscoverHealth.org
Diabetes has been described as a national epidemic. And in our community, the disease is widespread. It affects roughly one in four patients who visit Spartanburg Medical Center, according to diabetes educator Daphne Pittman.
Without proper care, these patients have an increased likelihood of returning to the hospital, and their overall prospects for long-term health are dim.
"Diabetes affects everything," Pittman said.
Diabetes compounds other health problems, especially cardiovascular issues, she said.
Pittman encourages patients to become educated about how they can improve their health and care for their diabetes. She points them to the self-management classes conducted by staff with Medical Group of the Carolinas – Diabetes Education.
The class offer a one-on-one consultation for patients as well as group discussions about self-care and eating healthier on a budget.
On a Thursday afternoon in December, recently diagnosed patient Mary Ann Sharer took a nutrition class, where she learned about limiting sugars and carbohydrates.
It wasn't necessarily what Sharer wanted to hear. She enjoys snacks and other high-carb foods, but she was ready to manage her diabetes through eating better.
"I eat terrible," she said. "But I'll make it – I'll find a way."
Sharer said her insurance covers the cost of the class. For those who do not have insurance and are unable to afford the course, Spartanburg Regional Foundation's Diabetes Management Fund provides financial assistance. The fund may also be used to help patients who cannot afford blood glucose test strips or medicines.
Diabetes will likely remain a major public health issue for years to come. But with the proper approach, patients can lessen the impact of the disease on their overall well-being.
"It's 99.9 percent a self-managed problem," said diabetes education manager Erica Moore. "We are here to give patients the tools they need to better care for themselves."
Zylö Therapeutics locating new operations in Greenville County, creating 30 new jobs
Columbia - Zylö Therapeutics, a developer of state-of-the-art technology for the pharmaceutical industry, is locating new operations in Greenville County. The company is expected to create 30 new jobs.
Zylö Therapeutics has developed an innovative sustained-release drug-delivery system that delivers traditionally hard-to-deliver therapeutic agents through topical administration. With more than 10 years of research and development, the second generation of this technology continues to improve, providing 24-hour sustained release of a variety of agents, including nitric oxide, curcumin, lidocaine and more.
"With the bulk of our scientists and advisors located in the Northeast corridor, we considered a variety of alternative locations, but Greenville represents a wonderful balance of small-town feel, sophistication, high growth and vibrancy. In addition, the city offers a wealth of start-up resources that will assuredly work to our advantage over time," according to Zylö Thera.peutics CEO Scott Pancoast.
South Carolina Governor Henry McMaster added, "To see a company like Zylö Therapeutics choose to invest in our state and our people is an important sign to the business community around the world that South Carolina is the place to be. We've worked hard to create a pro-business environment and cultivate a highly-trained workforce, and those efforts continue to pay off."
Zylö Therapeutics is headquartered at the NEXT on Main facility at 101 North Main Street in Greenville, S.C. NEXT is a program of the Greenville Chamber of Commerce that currently supports more than 100 knowledge-based companies in Upstate South Carolina.
Zylö Therapeutics' operations will soon include a lab facility, where formulation and product development work will be performed. Those interested in joining the Zylö Therapeutics team should visit www.zylotherapeutics.com for more information.
Upstate residents plead guilty to mail theft conspiracy
Columbia - United States Attorney Beth Drake stated recently that John P. Garrett, age 35, of Simpsonville, and Benjamin G. Eller, age 30, of Simpsonville, pled guilty in federal court in Anderson, to a conspiracy to commit mail theft, a violation of Title 18, United States Code, Section 371. United States District Judge Timothy M. Cain, of Anderson, accepted the plea and will impose sentence after he has reviewed the presentence report which will be prepared by the U.S. Probation Office.
Evidence presented at the change of plea hearing established that the defendants stole mail in and around Greenville County in an effort to obtain bank account numbers, routing numbers, and identification information. Once in possession of this material they would create counterfeit checks and negotiate them to obtain money for methamphetamine.
Defendants often stole automobiles in order to steal mail and pass checks. This was done so that the tag would not come back to them if law enforcement or a citizen spotted them. Hundreds of pieces of stolen mail were recovered in this case along with checks already altered and made payable to defendants.
Ms. Drake stated the maximum penalty defendants can receive is a fine of $250,000 and/or imprisonment for 5 years, plus a special assessment of $100.
The case was investigated by agents of the United States Postal Inspection Service and the Greenville County Sheriff's Office. Assistant United States Attorney Bill Watkins of the Greenville office handled the case.