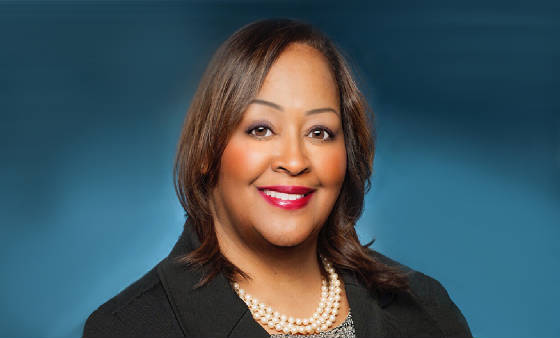 Converse College recently announced that Phyllis Perrin Harris has taken the helm as chair of the school's Board of Trustees.
Converse College welcomes leadership of first African American Board Chair
Converse College recently announced that alumna Phyllis Perrin Harris '82 has taken the helm as chair of the Board of Trustees, marking an historic milestone for the College as she becomes the first African American to hold this leadership position.
Recognized as a transformational leader in the corporate and federal sectors, Harris is Senior Vice President and General Counsel for Legal Operations for Walmart Stores, Inc. In this role, she leads legal operations and focuses on technology advances for the world's largest company.
"Serving Converse is one of the most meaningful and important roles in my life because I believe so strongly in the educational experience it provides young women," Harris said. "Converse opened my mind to new ways of thinking about myself and my world, and it helped me become confident and resilient. Much of who I am today stems from that experience."
Both a trailblazer and a leader, Harris is paving the way for fellow women through the launch of the Walmart Ready conference, which secures work for female and other diverse attorneys and prepares them for the demands of Walmart legal work. Earlier in her career, Harris was the first African American to serve as Regional Counsel and Deputy Assistant Administrator for the Environmental Protection Agency where she advocated for justice, directed the nation's environmental enforcement programs, and received the Presidential Rank Award for Meritorious Service.
"We know that diverse organizations are stronger, make better decisions, and are more successful because their Boards consider different perspectives and their decisions resonate with the variety of experiences, cultures, talents and contributions that comprise our global society," said Converse President Krista L. Newkirk. "We believe that ensuring diversity on our Board of Trustees is an important step in building a stronger community both within and beyond Converse College."
This year, Converse celebrates the 50th anniversary of the enrollment of its first Black students with a year-long series of events, Celebrating Courage & Charting the Future: Commemorating 50 Years of Black Women at Converse. Harris will speak at the Opening Convocation service on Friday, Sept. 21, which is the centerpiece of the anniversary celebration.
"When my journey towards chairing the Converse Board of Trustees began two years ago, the 50th anniversary celebrating Converse's first Black students was not yet on the horizon. It is very special that my first year leading our Board coincides with this milestone," she said.
In addition to her service at Converse, Harris currently serves on the Thurgood Marshall College Fund Board of Directors, the Environmental Law Institute Board of Directors, Theater Squared Board of Directors, the Council on Legal Education Opportunity Advisory Board, and the Wake Forest Graduate School of Sustainability Advisory Board. She was featured as a "Woman Worth Watching" in the 2016 Profiles in Diversity Journal, which highlights women who are visionaries, innovators and leaders in their fields; and was also recently featured by Corporate Counsel magazine. Harris has been named as one of the 50 Most Influential Black Lawyers and among the 25 Most Innovative In-House Legal Teams.
Downtown street programming to expand
Chapman Cultural Center is expanding its street music programming downtown to now include all of the performing arts!
"Our street music programming has been a huge success booking 241 gigs over 21 weeks and showcasing 10 different genres of music on the sidewalk of Main Street." said Jennifer Evins, President and CEO of Chapman Cultural Center
Chapman Cultural Center's Downtown Programming came out of the process of developing goals for the Spartanburg Downtown Cultural District. With goals of increasing pedestrian and visitor activity as well as fostering art and performances in public spaces, the street music was a natural fit.
It's also been a win-win. Businesses leaders like Johnson Development's Claudia Albergotti said: "I believe that music has the most impact on the downtown cultural experience, but it could be interesting to see some visual art-in-action as well."
Local musician, TJ Jeter when asked how Downtown Programming helped his transition from playing in a group to performing solo said: "It forces me to build my repertoire, to learn new styles and have something for everyone instead of catering to a specific group."
Now Chapman Cultural Center is ready to take it to the next level.
Melanie Terry, Special Events Coordinator at Chapman Cultural Center said: "We are currently seeking dance, theater, acrobat, improv, visual and all other types of performing creatives to register to our performing artist registry. The registry is where we look when we open up gigs for downtown programming. It also helps us to refer artists to other businesses and organizations when we get requests. We currently have 9 non-musician, performing artists registered and are looking to increase that number as word gets around."
Performances started with The Maddd Artist on Thursday, September 19th. Lydia Lundgren will be on Wall Street on Saturday, September 22nd starting at 5:30 p.m. These performances are meant to be casual encounters with the public and are 100% free.
The Spartanburg Downtown Cultural District programming is proudly sponsored by The City of Spartanburg, OneSpartanburg, Spartanburg Regional Healthcare System, and South State Bank.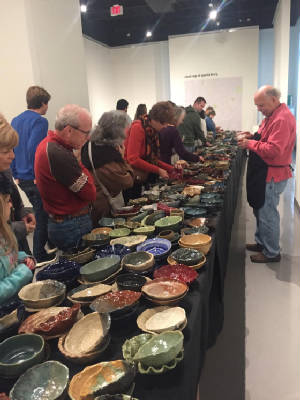 Soups on! Hub City Empty Bowl's Soup Day slated for Sept. 29
The people have made pottery bowls all summer long. Now, Hub City Empty Bowls will host Soup Day on Saturday, Sept. 29, at Indigo Hall in downtown Spartanburg, and a great many needy people will be fed for months to come.
Annually, Soup Day is the culmination of many people's creative and hard work during the summer, making hand-shaped clay pottery bowls that will be used to raise money for local citizens who are "food insecure," which is generally defined as "not knowing if you'll have the ways and means for your next meal." In Spartanburg County, about 40,000 people are food insecure.
Hundreds of people turned out for Hub City Empty Bowls's three bowl-making sessions during the summer, producing hundreds of unfinished bowls. The members of the lead agency Carolina Clay Artists repaired, touched up, painted, glazed, and fired the bowls, making them ready for people to donate $20 per bowl on Soup Day. In addition to getting a handmade pottery bowl to keep, patrons of Soup Day will also get to feast on about a dozen different soups that will be donated by the community's finest restaurants. They will also get to bid on a silent auction, hear live music, and enjoy the fellowship of knowing they have done something that will improve the lives of others in Spartanburg. The money raised on Soup Day will be given to TOTAL Ministries, a faith-based agency in Spartanburg that helps local citizens faced with hard times. For each of the past two years, Carolina Clay Artists has donated more than $33,000 to TOTAL Ministries.
"This being Hub City Empty Bowls's 10th anni-versary, we are hoping for a historic turnout of people on Soup Day," Chairman Bruce Bowyer said. "This is always the real test of people's concern for others -- to come out to Soup Day and get one or two or three or more bowls, and then enjoy themselves with a wonderful meal, music, and people who share their concern for others. Soup Day is so many things: heartwarming, creative, community minded, giving, grassroots, and most certainly fun. If you want to see how a little bit of effort can produce great results, come to Soup Day. It will change how you look and feel about those less fortunate."
This year, the location of Soup Day will be in vibrant downtown Spartanburg at Indigo Hall, a special events venue. It will start at 11 a.m. and end at 4 p.m. The street address is 190 Ezell St. Ample parking for Soup Day has been secured by the organizers.
"We are very excited about our new location for Soup Day," Bowyer said. "Everyone wants to be in downtown Spartanburg, and Indigo Hall is a wonderful space with lots of room for the bowls, the soup stations, the silent auction, and outdoor covered seating. I think people will really like this change. It will also be the location for a new pre-Soup Day celebration. (Please see sidebar for details.)
In preparation for Soup Day, TOTAL Ministries has secured soup and other food-related donations from the following restaurants and providers: Andre Nguyen, Hub City Co-op, Country Club of Spartanburg, Cribb's Kitchen, Fatz Cafe, Garner's Natural Foods, Gerhard's Cafe, Lime Leaf, Carolina Country Club, Mon Amie, Moveable Feasts, Palmetto Palate, Renato's In Centro, Southern BBQ, Sparks: Fire Inspired Grill, Sun King, II Samuels Restaurant, Le Spice Kitchen, Willy Taco, Delaney's Irish Pub, Blue Moon Specialty Foods, The Beacon Drive Inn, Cakehead Bakery, LongHorn Steakhouse, Wade's Restaurant, and Chick-fil-A.
The live music will be performed by David Giles and the RJ Rockers Orchestra (11 a.m.-1 p.m.), Fayssoux McClean (1-2 p.m.), and Roy McBee Smith (2-4 p.m.).
The silent auction items will be fine art and other items donated by local artists, businesses, and concerned citizens.
The sponsors for the 2018 Hub City Empty Bowls campaign are JM Smith Corp., Allegra - Marketing • Print • Mail, Spartanburg Art Museum, West Main Artists Co-Op, Chris Williams, and Kohler.
"It takes a lot of community support to make Hub City Empty Bowls come together," TOTAL Director Traci Kennedy said. "This is a truly grassroots fundraiser that is supported by some really great local businesses and individuals. We give them our sincere appreciation and want the community to know about their generosity."
Hub City Empty Bowls is Spartanburg's version of Empty Bowls, a worldwide fundraising effort that has hundreds of communities participating in similar but different ways and independently of each other. There is no global central control, administration, or oversight agency. Empty Bowls is a concept that normally inspires volunteer clay artists to make pottery bowls that are used to raised money to feed the needy in the local community. It is grassroots project that uses creativity to generate funds. Most Empty Bowls projects find ways to make pottery bowls and use them to host a fundraising event, such as Spartanburg's Soup Day.
"And every day when you look in your kitchen cabinet for a bowl," Bowyer said, "you'll see your own personal Empty Bowl, and you'll be reminded that someone out there is having a meal -- just like you -- because of you."
For more information about Hub City Empty Bowls, please visit HubCityEmptyBowls.com
***
Hub City Empty Bowls Celebrate 10 Years of Feeding the Needy
Hub City Empty Bowls is 10 years old, and it is time to celebrate the major accomplishment of feeding thousands of food-insecure people by having local citizens make pottery bowls. The special event celebration will be a ticketed party the night before Soup Day, an event that will give patrons first dibs on the bowls made this year, adult beverages, catered foods, a silent auction, and the fellowship of others who care about feeding people who are hungry.
The after-work party will be Friday, Sept. 28, 5:30-8:30 p.m. at downtown Spartanburg's Indigo Hall, the same place where Soup Day will be the next day. Tickets are $50 each and will include a choice handmade pottery bowl, beer, wine, a signature drink, catered finger foods, a silent auction, and free access to the next day's Soup Day.
The dress code will be dressy casual, meaning coming straight from work will be fine. The food is being catered by Sophie's Choice Catering.
"This is going to be a great way to celebrate the good that Hub City Empty Bowls has done in this community for the past 10 years," Traci Kennedy, Executive Director of TOTAL Ministries, the faith-based agency that will receive the funds raised by Hub City Empty Bowls's 2018 campaign. "If you've ever participated in Hub City Empty Bowls, as someone who has made a bowl or attended Soup Day in the past, please join us for this special event. You'll have a great time eating and drinking and sharing in the fellowship. Plus the next day, you get to come back to Soup Day."
For tickets to the pre-Soup Day party, please visit the website hubcityemptybowls.com