The Spartanburg County Bar Association recently elected officers for the upcoming year. Photo by Christina Lockaby-Peeler.
Spartanburg County Bar Association holds annual meeting, elects officers
The annual meeting of the Spartanburg County Bar Association was held at the Spartanburg Memorial Auditorium on June 25.
Officers elected for the upcoming year are Charles Edwards, President; Andrew Poliakoff, Vice President; Edwin Haskell, Executive Committeeman; and Ginger Goforth, Treasurer. Pat Anderson will remain a member of the Executive Committee replacing Wesley Stoddard as immediate Past President.
The Claude Taylor Distinguished Service Award was presented to attorney J. Edwin McDonnell, recently retired as Deputy Director of Litigation and Training of Piedmont Legal Services. The Claude Taylor Award is presented annually to an attorney for outstanding humanitarian service.
Attorney Chelsea Rikard of A Business Law Firm was presented the C. Bruce Littlejohn Young Lawyer of the Year award. This award is to recognize outstanding contributions of young lawyers to the practice of law and to the Spartanburg community.
Dorothy Earle, Register of Deeds for Spartanburg County, was presented the E.C. Burnett III award. The E.C. Burnett, III award recognizes non-attorneys whose work has improved the legal system in Spartanburg County.
This year over 90 high school students from Spartanburg and Cherokee counties participated in the J. Mark Hayes, II Law Day Essay Contest.
Judge Hayes presented the overall winner award and a $500 check to Emma Saunders, a Byrnes High School student of Ms. Susanne Cash.
The subject of the essays concerned the 19th amendment to the US Constitution which provided for Women's Suffrage.
This is the 11th year of the contest.
Upward Sports announces new Executive Director
Upward Sports, the leading youth sports ministry choice for thousands of U.S. churches, announced Kevin Drake as the new Executive Director of the organization. In his role, Drake will lead Upward Sports' strategic ministry vision, overseeing organizational growth and expansion.
"We are excited and honored to have Kevin leading our dynamic teams. His heart for equipping church leaders to reach their communities with the gospel of Christ is aligned with our ministry," said Drew Provence, Partner Engagement Manager. "During such a unique time in our nation, we believe Kevin's strategic organizational leadership will empower Upward to really walk alongside church leaders as they grapple with complex issues and unique ministry needs in today's ever changing environment."
Upward Sports is currently a partner and consultant to more than 1,200 churches across the United States, supporting them in their unique ministry goals and enabling them to bring gospel-centered sports experiences to children, families and communities. Under Drake's leadership, Upward will expand upon this role, offering innovative resources, tailored sports experiences and individual consultation to better meet the unique needs of churches around the country.
Kevin Drake comes to Upward Sports with an extensive background in organizational leadership and communications. Before joining Upward, he served as the Regional Publisher of the Western Carolinas for Gannett Media. Kevin is a proven leader in digital innovation with unique skills in connecting people to relevant information that will enhance their lives. In previous roles, he served as publisher of a newspaper in Lakeland, Florida and Hendersonville North Carolina. Kevin has also served on the boards of many nonprofit organizations including multiple chambers of commerce, Rotary, Salvation Army, and United Way, as well as the boards for the South Carolina and Florida Press Associations. He holds a Bachelor's degree in Business Management from Gardner Webb University. Personally, Kevin is active in his local church and resides with his wife and four children in Spartanburg. He is an avid sports fan, particularly of college football and basketball.
"Churches everywhere are facing unprecedented challenges and obstacles to ministry. And we, at Upward Sports, want to be in it with them every step of the way," said Kevin Drake. "We fully believe this unique time will yield unbelievable opportunities for ministry and we want churches across the nation to have everything they need to step in and care for hurting communities and isolated families."
Drake continued, "Sports are a powerful and unifying tool that people of all backgrounds, socioeconomic situations, religions, and ethnicities can appreciate. For twenty five years, Upward Sports has been a trusted partner to churches seeking to leverage the power of sports to reach their communities, and I'm excited to be a part of what God is doing through this ministry."
Upward walks alongside churches as they pursue their gospel-centered missions, equipping them with innovative resources and helping them overcome challenges as they bring transformational sports experiences to their communities.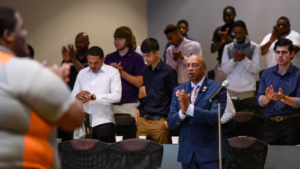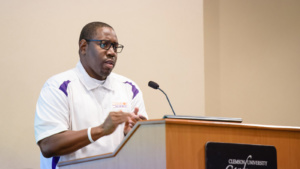 At left, Roy Jones listens to a Call Me MISTER student address the room during a previous Summer Leadership Institute. Image Credit: College of Education. At right, Mark Joseph, program coordinator for Call Me MISTER, speaking during a previous Summer Leadership Institute. Image Credit: Clemson University
Call Me MISTER transforms summer leadership institute into yearlong series in response to COVID-19, national protests
By Michael Staton, College of Education, Clemson University
2020 was off to a great start for Clemson University's storied Call Me MISTER® program. In February, the College of Education's program was recognized on the floor of both the South Carolina Senate and House of Representatives as part of its 20th anniversary celebration. MISTERs from every participating institution convened for a reception later that day celebrating the legacy of the program joined by educational leaders from across the state.
The next big item on the anniversary celebration agenda was the Call Me MISTER Summer Leadership Institute, which has become a key piece of the program experience for students over the years. Students and site coordinators from every participating institution get together to hear from guest speakers, network with one another and learn valuable lessons about the part they'll play as change agents in education.
The institute is also when the investiture ceremony takes place and graduating MISTERs receive their signature black blazer. It's far more than an article of clothing. It's a major milestone. It's the peak of a mountain ascended before a MISTER moves on to fulfill their commitment to teach in a public school.
However, those students have yet to don the blazer in front of their peers, and what was to be a weeklong institute in late June became a single speaking event held via Zoom. According to Roy Jones, executive director of Call Me MISTER, 2020 had other plans.
"Just like everything else we had planned for our MISTERs, those blazers will arrive, just maybe not in the timeframe we originally planned," Jones said. "COVID-19 meant we had to adapt, so while an abbreviated summer leadership institute was disappointing, it has changed into something we're very excited about."
The late June speaking event featured Dr. Sandra McGuire, director emerita of the center for academic success and retired assistant vice chancellor and professor of chemistry at Louisiana State University. McGuire is a metacognition expert who has successfully closed the achievement gap for students of color. The online event held via Zoom was well received by students, so it proved to be a trial run for an entirely new, expanded version of the institute.
The Call Me MISTER Leadership Series was born from this event and the recognized need to convene MISTERs in an online format. MISTER leaders wanted to take advantage of Zoom to cover topics ranging from practical instruction to leadership values, so it quickly became clear that it could not—and should not—be relegated to the summer.
According to Mark Joseph, program coordinator for Call Me MISTER and assistant professor at Anderson University, the schedule lasting into next summer is not completely filled out yet, but that is by design. MISTER leadership want to first "take the pulse" of current students in their home areas to learn what they want out of an ongoing, online series.
"There are many conversations around race going on at the moment all across this country, and we've always seen that context is one of the most important things to get right when discussing anything with our students," Joseph said. "It's now more important than ever to have future educators understand their place in history and the responsibility they will bear as educators moving forward."
Protests revolving around race, police brutality, statues of historical figures and building names have obviously emerged as topics that students want to explore and seek guidance on. Jones and Joseph admit that if there was ever a time to provide MISTERs with context, now would be it.
Dr. Alfred Tatum, dean of the University of Illinois/Chicago's College of Education, will lead off the Call Me MISTER Leadership Series in September. Tatum is a nationally known scholar for "reorienting how we think about literacy" in the language development and understanding of Black boys. He will be addressing the MISTERs on this theme and will pull information from his most recent book, "Literacy Development of Black Boys: An Advanced Literacy Perspective." Tatum was instrumental in establishing Call Me MISTER on his campus three years ago and continues to be a champion in promoting the mission to diversify the teacher workforce.
Joseph said that the key to tackling these sensitive topics for students is to clearly tie them to the mission of MISTER, just as Tatum will surely do in September. He said it would be misguided to try to educate students as a reaction to world events; instead, they need to understand those events and the bearing they will inevitably have on classrooms. With that knowledge, MISTERs won't just be able to recognize problems but come up with solutions.
"These conversations just make clearer what our role as educators needs to be," Joseph said. "If we call ourselves MISTERs but we're not willing to educate and empower, then we're doing ourselves a disservice. We use cohort meetings and we'll use this leadership series as a reminder and encouraging space for us, because it's easy to get swept away with larger conversations and frustration and hurt. Let's remind one another what our role is in this."
In a time of uncertainty in the future of higher education budgets and enrollment, this unwavering focus is why MISTER has only seen increased interest from institutions looking to start Call Me MISTER programs. Jones said that the pandemic has certainly disrupted site visits and consultations, but Zoom meetings and online site visits have occurred, nonetheless.
Jones said that a teacher shortage will still be present if not worse whenever the pandemic ends, and institutions will still prioritize diversifying the teacher workforce as student demographics continue to change. Current social crises only make the need to prioritize teacher diversity clearer for teacher preparation institutions, and Call Me MISTER's 20-year track record of positive impact and results is hard to ignore.
Jones can't help but see the news these days and imagine where the stories of so many people intersect. This upcoming school year, he imagines a future victim of police violence sitting in an elementary classroom. On one side of this student may sit another future victim, and on the other a future perpetrator of violence. In that same class may sit a future police officer tasked with protecting them all. With MISTER in mind, Jones thinks about what they all might have in common.
"Some of these students may be missing that crucial adult role model, but they will all have teachers in front of them," Jones said. "The masses won't be able to sit down and talk to a therapist about what's going on in the world. That would be great, but it's not realistic. If you have instability in a community, the next best thing is a teacher, and our program aims to continue positioning MISTERs to stand in the gap between vulnerable students and the outside world. The way we do that is preparing these teachers in the context of the world around them."
Call Me MISTER works to increase the pool of available teachers from more diverse backgrounds, particularly among the lowest-performing elementary schools. What started as a single program at Clemson University is now at 25 participating institutions in nine states. Ninety percent of students in the Call Me MISTER program come from South Carolina public schools; 85 percent of graduates are still teaching in them, often in Title 1 schools. If MISTERs leave the classroom, it's usually to become administrators as 36 alumni have. Of the 278 MISTERs who have graduated from the program in South Carolina, 42 have been named Teachers of the Year by their schools.