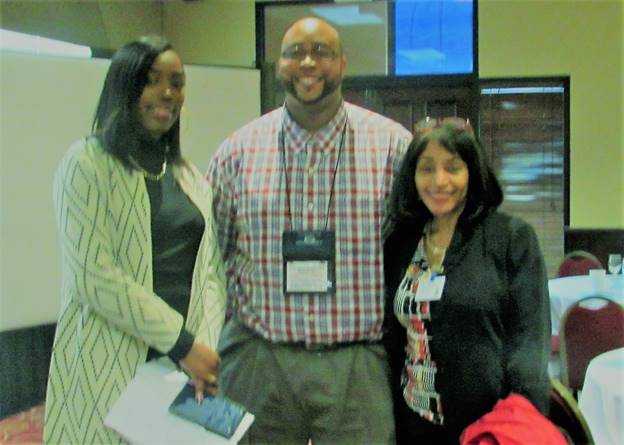 Destiney Feaster is the 2018 Statewide Representative for Piedmont Community Actions, Inc. and won first place out of eleven orators at the SCACAP Statewide Youth Leadership Oratorical Forum and Banquet.
Spartanburg High School student Destiney Feaster wins statewide public speaking competition
On December 15, 2018, the South Carolina Association of Community Action Partnerships (SCACAP) held its 2018 10th Annual Statewide Youth Leadership Oratorical Forum and Banquet under the leadership of its Executive Director, Jessica McMoore. The purpose of the banquet was to empower youth through strengthening their communicative and emotional skills, and increase self-confidence through public speaking. Over 200 students, family members, and staff gathered to witness eleven students speak on current events.
Destiney Kensha Feaster is the 2018 Statewide Representative for Piedmont Community Actions, Inc., and won First Place out of eleven Orators in the competition. Ms. Feaster is a 16-year-old junior currently attending Spartanburg High School. at She is the daughter of Kandice Tillerson and Terrance Feaster. Destiney has a total of 12 brothers and sisters, but is the second oldest of her mother's four. Destiney is an active member of The United House of Prayer in Spartanburg and is currently on the praise team. Destiney's passion includes working with children, cosmetology, and traveling. Ms. Feaster is on her school's honor roll, and is scheduled to graduate in 2020. After graduation, Destiney plans to further her education in the medical fields of radiology and sonography.
The Piedmont Community Actions Agency, is one of fourteen South Carolina agencies, whose service area includes Spar-tanburg Chief Executive Officer Mrs. Cynthia Lounds was in attendance at Saturday's competition. This is Ms. Feaster's second year in the youth leadership program.
SCACAP is a statewide community based nonprofit organization, which aims to develop and support programs to promote self-sufficiency and improve the quality of life for the low-income children, individuals, and families in the 46 counties in the State of South Carolina. SCACAP is the umbrella organization and hub for the 14 Community Action Agencies Across the State.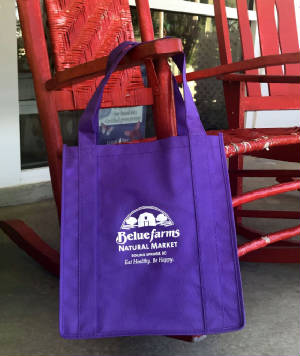 Belue Farms Natural Market 'bags' plastic shopping bags
Boiling Springs – In an effort to minimize plastic waste, Belue Farms Natural Market has stopped use of plastic grocery bags, effective January 1st. The store will provide cloth tote bags and thermal bags for sale and recycled boxes when available, plus welcomes customers to bring in bags of their own.
Owner Harriett Belue states that the decision was made following a continued effort to reduce the store's carbon footprint. "Our Market's mission promotes customer wellbeing through good nutrition and healthy habits. But we believe it's equally important to contribute to a healthier planet." She continues, "We started phasing out plastic bags in fourth quarter 2018, and customers have been very receptive to our goal. It's a small step, but one that we think will make a big difference over time."
According to the Center for Biological Diversity and Sierra Club, Americans use more than 100 billion plastic bags each year, requiring 12 million barrels of oil for production. National Geographic confirms these figures, adding they amount to 360 bags per person each year or one bag per person per day. Of the bags Americans consume, only nine percent are recycled with the majority ending up in landfills, as well as oceans. As a result, the Conservancy for Sea Turtles estimates that plastic debris kills more than 100 million marine mammals every year.
"When we read these figures," Belue explains, "we were staggered by the amount of waste and the cost to the environment. So, our decision to go plastic bag-free in 2019 was an easy one." Belue notes that the Market also recycles all of its cardboard, paper and plastic to minimize its environmental impact.
Belue Farms Natural Foods Market is located at 3769 Parris Bridge Road, in front of Shoally Creek Elementary School, and specializes in natural and organic produce, meats, raw milk and dairy products, gluten-free products, and wellness supplements. Store hours are Monday through Saturday, 9:00 a.m. to 6 p.m. For more detail, visit www.BelueFarms.com.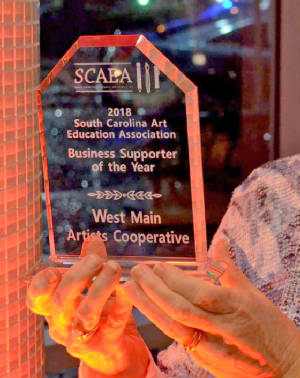 West Main Artists Co-op recently received the 2018 'Business Supporter of the Year' award from the S.C. Art Education Association.
West Main Artists Co-op receives 2018 'Business Supporter of the Year' award from S.C. Art Education Association
West Main Artists Co-op in Spartanburg received the 2018 "Business Supporter of the Year" award from the South Carolina Art Education Association. The award was presented to Co-op Chairperson Beth Regula on Dec. 1 in Greenville by Cindy Riddle, the Association's President-Elect and Assistant Superintendent of Visual & Performing Arts for Spartanburg School District 1.
"On behalf of West Main Artists Co-op, I want to thank everyone who has worked to make this recognition possible," Regula said. "I want to especially thank Jane Nodine and Susanne Gunter for taking the initiative to write the letters of recommendation. Most importantly, I want to thank the member artists of West Main Artists Co-op because they are the ones who are out in the community and here in our studios and galleries finding creative ways for the Co-op to be involved and relevant. There is indeed a business side to art, and West Main Artists Co-op works very hard to be an active -- and creative -- member of the business community."
In her letter of support, Distinguished Professor Emerita of the University of South Carolina Upstate Nodine said: "USC Upstate Art has maintained studio space at WMAC and offered that as an annual award to a deserving student. We have sponsored and partnered with WMAC in workshops and group exhibitions, and USC Upstate students have worked at the Co-op in internships that earn them academic credit and give them valuable field experience."
Dr. Gunter, the chair for Art and Design at Converse College, said in her letter, "WMAC is a true partner to area schools, colleges, and universities. This fall, students in the Converse Arts Management program will be working to help with the first annual multi-state juried exhibition, providing students with a unique opportunity to assist with all levels of administrative tasks to put on a major exhibition. WMAC provides 'work residencies' to help struggling artists to provide a studio and membership. This is critical to the success of many young artist, in particular."
South Carolina Art Education Foundation (Association) is a chapter of the National Art Education Association (NAEA), which advances visual arts education to fulfill human potential and promote global understanding. NAEA is dedicated to providing you with connectivity, resources, and opportunities to enrich your classroom, enhance your career, and inspire your creativity. Connect to a worldwide network of like-minded artists and educators representing K-12 art educators and administrators, college and university professors, preservice students studying art education, researchers and scholars, museum educators, teaching artists, and more.
To know about WMAC, please visit online: WestMainArtists.org
Local dentists strut their stuff for Healthy Smiles of Spartanburg
Healthy Smiles of Spartanburg will host the thirteenth annual Laugh for a Child event on February 8th at the downtown Spartanburg Marriott. Tickets are now available to the public for $75 per person, which includes entertainment by comedian Derek Richards, as well as heavy hors d'oeuvres, cocktails, and highlights and winners from a dub-smash/lip-sync contest hosted by local dentist offices.
"There are over 10,000 children in Spartanburg County who suffer from the most common chronic childhood disease, tooth decay, also known as a 'silent epidemic'. The solutions are basic oral healthcare education for parents and children as well as early prevention check-ups," said Kitta Cates, Executive Director of Healthy Smiles.
Susan Oldham, chair of the event, explains, "Smiles change lives by helping children build self-confidence. Healthy Smiles is a powerful organization that dramatically affects the lives of children. With the implemention of our portable unit, Healthy Smiles is reaching more children than ever before. Community and donor support is crucial to seeing our mission continue to come to fruition and expand."
This year, six local dentist offices are competing for community votes for the best dental dub-smash video. The winner of these short and hilarious original videos will be named the First Annual Golden Crown Winner. Participating offices include Cherokee General Denistry, Upstate Oral and Maxillofacial Surgery, Adair Family Dentistry, Carolina Pediatric Denistry, Nease and Higginbotham Orthodontics, and Smiley Orthodontic Associates. Voting is ongoing through the night of the event. Votes are $10 each and you can vote as many videos as you like, and you can vote as often as you like. Please visit https://www.healthysmilesonline.org/dubsmash
To order tickets to Laugh for a Child, contact the Healthy Smiles office at 864.592.4696 or email Kitta Cates at healthysmiles@ sccsc.edu