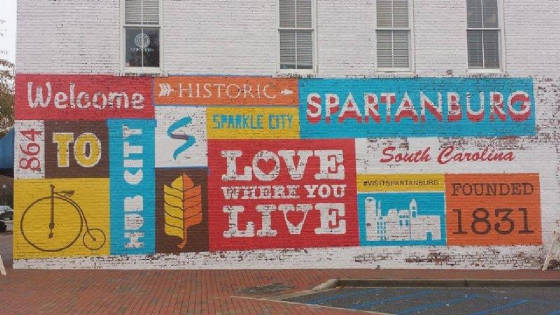 Brighten the future of the 'Love Where You Live' mural
The Love Where You Live mural in Downtown Spartanburg has become a local landmark and a symbol of Spartanburg, attracting residents and visitors alike for photo-ops. OneSpartanburg is proud to invest in an effort, led by artist Stephen Long, to revitalize the wall so it can continue to serve as a point of community pride for years to come.
OneSpartanburg is contributing matching donations, up to $2,000, to fully fund the $4,000 needed to strip old paint from the mural and repaint it, bringing back the mural's brightness.
Visit https://www.gofundme.com/love-where-you-live-mural to donate!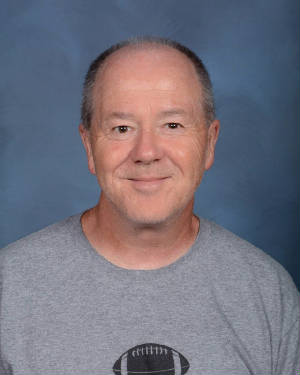 Bill Owens
Chesnee High School head football coach Bill Owens announces resignation
Wednesday morning, February 6th, Chesnee High School Head Football Coach Bill Owens announced to his players and coaches that he would not be returning for the upcoming season. Owens said he made his decision in order to pursue other opportunities.
"I greatly appreciate the FAITH that was placed in me when I was hired just over a year and a half ago. It was a great pleasure to have had the chance to lead the program and work with the players, coaching staff, and the CHS Administration the past two seasons," Owens said. "I have enjoyed watching our athletes grow both as football players and as young men. It is my prayer that what we have instilled in them will carry over in their lives far past the playing field. I wish the best for Eagle football program as they get set to begin preparations for a new season."
Chesnee High School Principal Tom Ezell said he greatly appreciates Owens time leading the Eagles.
"Coach Owens was a great role-model for our student-athletes and cared for them deeply," Ezell said. "We wish him the very best in the next chapter of his life."
The search for the Eagles next head coach will begin immediately said Superintendent Lance Radford.
"Chesnee is a wonderful community full of supportive families that deeply love the Eagles Football Program," Radford said. "We think this position will attract high quality applicants, and we will hire the best Coach for our students and the Chesnee Community."
Converse interior design students' work on exhibit at Spartanburg Co-op
Students and recent graduates who majored in interior design at Converse College will showcase their work at West Main Artists Co-op in the exhibit "Interiors from Studio 211," through March 2, giving the public an in-depth look at what it takes to design livable, functionable, and desirable spaces in buildings.
Much of work was based on well known buildings in Upstate South Carolina.
The exhibit of eight students' work will be open for public viewing Tuesday through Saturday, 10 a.m. to 4 p.m. There is no admission fee to see this exhibit, which is one of three exhibits during February. The exhibits' receptions will be Thursday, Feb. 21, 5 to 9 p.m., during the city's monthly ArtWalk. The students, their professors, and the other exhibiting artists will be there to meet and greet, and to discuss their work.
West Main Artists Co-op is one of Spartanburg's leading arts agencies. It is a nonprofit agency, supported mainly through sales, memberships, donations, and grants. The converted church houses about 30 studio spaces, three public art galleries, an art boutique that sells members' creative works, a working printery, two stages, and a ceramics studio. Locally made art is displayed abundantly throughout the entire three-stories building. For more information about West Main Artists Co-op, please visit the facility or visit online at WestMainArtists.org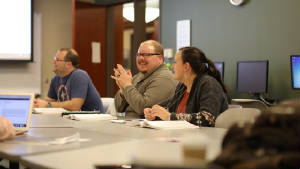 The Advisory Council supports and advocates for UES, which provides working adults the opportunity to earn a degree from Furman University.
UES engages business community with Advisory Council
Furman University's Undergraduate Evening Studies (UES) has announced the new members of its 2019 Advisory Council, which supports and advocates for the program that provides working adults the opportunity to earn a degree from the university.
The group, which was first formed in 2017, met on Jan. 31.
Members of the Council include Upstate business and community leaders, as well as Furman alumni and instructors. During the meeting, members will review UES programs, course formats, enrollment and community engagement. A new Advisory Council is convened every other year.
UES director Beth Crews sees the Advisory Council as crucial to the effectiveness of the program, saying, "Through our Advisory Council, we expand awareness of the exceptional degree programs Furman makes available to adult learners. We cultivate and deepen relationships, and solicit informed input from employers. Students then gain greater access to mentors and advocates, who ultimately help shape academic programs and inform learning outcomes."
The newly announced members of the 2019 UES Advisory Council are:
Betsy Anthony
Chief Operating Officer
Find Great People
Paul Batson ('73)
President & Owner
Batson Accounting & Tax P.A.
Jay Blankenship
Regional Workforce Advisor
SC Department of Commerce
William Bridges ('75)
Retired
The Graham Foundation
Phil Corbett
Content Analytics Leader
IBM
Doug Dorman
Retired
Greenville Health System
Ramona Farrell
Director
Greer Walker CPAs & Advisors
Robyn Grable
Founder & CEO
Veterans Ascend
John Harvey
Vice President, Worldwide Human Resources
ScanSource
Anthony Herrera
Executive Director, Office of Innovation & Entrepreneurship
Furman University
Dean Hybl
Executive Director
Ten at the Top
Linda Jameison
Assistant Vice President, Student Success and Engagement
TriCounty Technical College
Douglas Kim
Principal
Douglas Kim Law Firm
Robin Knox
Human Resources Director
Nutra Manufacturing
Carol Kunkel ('99)
Inside Sales Director
ABB
Mark Loftin ('17)
Senior Manager, Data Governance & Management
TD Bank
David Lucero
Program Coordinator & Instructor
Greenville Technical College
Sara Montero-Buria
Manager, Community Engagement & Strategy
Hispanic Alliance
Johannes Mutzke
Co-Owner, Blue Ink Strategies LLC
Global Innovation Council Chairman & Chief of Staff
Michelin, North America
Jamie Patterson
Director of Career Services
Clemson MBA Program
Jamie Rhyne ('11)
Plant Manager
Orbis Corporation
Ansel Sanders ('10)
President & CEO
Public Education Part-ners
Jokeitha Seabrook
Director of Community & Partner Relations
United Way of Greenville County
Evan Slavitt
General Counsel
AVX
Shaun Wagner
IT Manager
Greenville Hospital System
Paul Wickensimer
Clerk of Court
Greenville County Court
Fuyao North American launching new Greenville County processing center
Columbia - Fuyao North America Inc., a venture of China-based Fuyao Glass Industry Group Co. Ltd. (Fuyao Group), is launching a new processing center in Greenville County. The company's $16.1 million investment is projected to create approximately 70 new jobs.
Since 1987, the Fuyao Group has been producing high-quality automotive glass for original equipment manufacturers and aftermarket suppliers. Operating as one of the largest producer of automotive glass worldwide, the company holds more than 300 patents and manufactures four million glass car sets in the United States annually.
Fuyao North America Inc. will be establishing a new, 182,000-square-foot processing center with light production capabilities at 110 Milacron Drive in Fountain Inn, S.C. Hiring for the new positions is projected to begin this quarter.
"Today marks another chapter for our company as we invest in this new Greenville County processing center. We are thankful for the assistance we have received from the state and county governments, and we look forward to making a difference in the local community," stated Fuyao North America Inc. General Manager Dan Martin.
South Carolina Governor Henry McMaster added, "We're excited to welcome Fuyao North America to the South Carolina business community. Any time a company chooses to call South Carolina home, it's a testament to our great workforce and business-friendly environment. The 70 new jobs will have a big impact in Greenville County."
"We are ecstatic that Fuyao North America has chosen the city of Fountain Inn as the location for its new processing center. We look forward to having another international company in the Diamond Tip of the Golden Strip," added Fountain Inn City Administrator Shawn Bell.
The Coordinating Council for Economic Development has awarded a $100,000 Set Aside grant to Greenville County to assist with costs associated with the project.