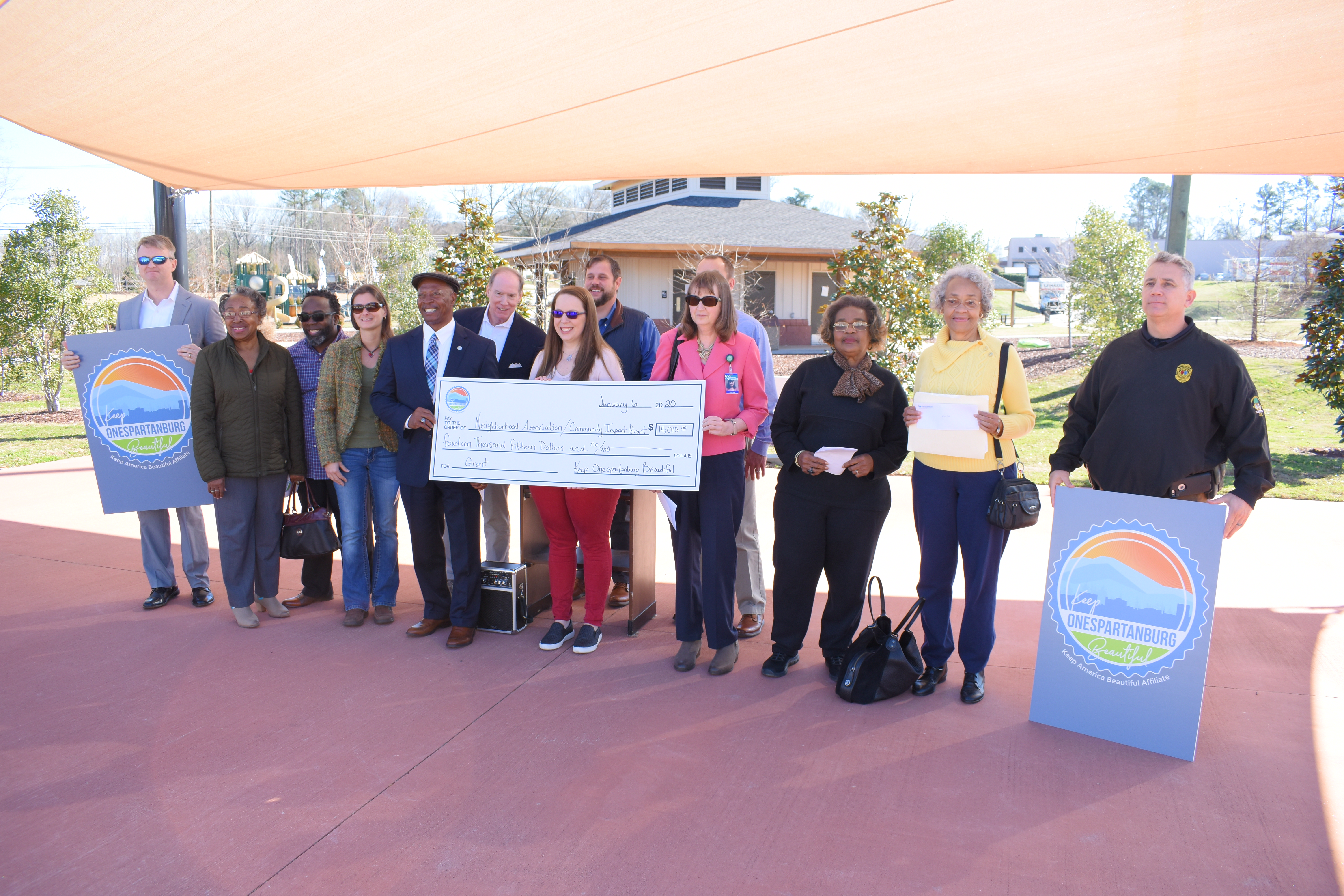 The first round of community impact grants were recently announced, with a total of $14,565 being awarded countywide.
Keep OneSpartanburg Beautiful announces first six recipients of Neighborhood Association/ Community Impact grants
Keep OneSpartanburg Beautiful recently announced the first six recipients of Community Impact grants, designed to fund beautification projects across Spartanburg County.
Grant-receiving projects include attractive signage for visitors, neighborhood cleanup and revitalization efforts, and adding more accessible green space for residents and visitors. In all, $14,565 in grants were awarded countywide.
"We were happy to have an interesting list of projects submitted from across Spartanburg County for grant approval. Each of these efforts will be an important catalyst for the organizations receiving grant funds, and they all align with the larger goals of Keep OneSpartanburg Beautiful," said Keep OneSpartanburg Beautiful Executive Director Christy Snow.
Projects receiving grand money are:
The City of Woodruff received $2,000 to replace outdated signs welcoming residents and visitors to the town with eye-catching designs, aimed to be reflective of the growth Woodruff has seen.
The Hampton Heights Neighborhood Association received $2,390 for beautification and landscaping of the area around the gazebo serving as the neighborhood's entrance at the corner of South Church Street and West Hampton Avenue. Funds will also be used for cleanup efforts near Cecil Court.
The South Carolina School for the Deaf and the Blind received $2,125 to improve the landscaping around the school's electronic signs to create a better first impression for passersby travelling on Highway 56.
The Country Club Springs Community received $2,700 that will be used to remove dead trees and cut back overgrown trees to visually improve the area and allow for sunlight to help new grass grow, adding new green space. Grant money will also be used to revitalize the neighborhood's common area to be more welcoming.
The Forest Park Neighborhood Association received $2,850 to restore the neighborhood marquis at the corner of High Street and Collins Avenue. The revitalized marquis will serve as an impressive landmark and a welcoming entrance.
The Converse Heights Neighborhood Association received $2,500 for beautification efforts for the largest neighborhood entryway, at the intersection of Connecticut Avenue and Woodburn Road. Along with residential traffic, that neighborhood entrance sees cut-through traffic to and from the new Spartanburg High School and the Hillcrest Shopping Center.
Spartanburg Area Chamber of Commerce announces 2020 Legislative Agenda
The Spartanburg Area Chamber of Commerce released its 2020 Legislative Agenda in December, focused on increasing teacher pay, tax reform, and continuing to attract high-paying jobs to Spartanburg County.
The agenda, released in partnership with the Upstate Chamber Coalition, is split into advocacy efforts at the local, state and federal level. The legislative priorities were determined by surveys examining the priorities of the Upstate business community.
"Our legislative priorities are based on feedback from our members, so we know the issues that are most important to their business success," said John Kimbrell, chief business affairs officer at the Spartanburg Chamber. "This year's agenda features some key legislative action items as the previous year's agenda, including increasing teacher pay and simplifying the state's income tax structure."
Portions of the Spartanburg Chamber's legislative priority list, like education and workforce issues, infrastructure upgrades and tax code simplifications, remained similar to last year's agenda.
Locally, the Spartanburg Chamber plans to continue working to attract more high paying jobs to the area as part of a comprehensive corporate development strategy, an effort outlined by the OneSpartanburg community assessment.
Statewide, the Chamber will continue advocating for legislation investing in the future workforce of South Carolina. The Chamber supports giving the 2,800 young adults living in the state through DACA the right to earn statewide professional licenses.
A new item on this year's legislative agenda is childcare. Chamber members expressed the cost and accessibility of childcare was a workforce barrier, making it imperative that legislators work on solutions to increase the accessibility of childcare and lower the cost for workers.
The Spartanburg Chamber remains supportive of the need to sell Santee Cooper to protect wholesale, retail and industrial ratepayers. The Chamber also supports closing the state pension system to new employees and switching to a defined contribution plan.
Federally, the Spartanburg Chamber supports the passage of the U.S.-Mexico-Canada (USMCA) free-trade deal. International trade powers much of the economy of the Upstate and Spartanburg County in particular, making international trade and open markets critical for the area.
At the federal level, the Spartanburg Chamber will continue advocating for infrastructure investments and legislation supporting international trade that powers the Upstate economy and allows Spartanburg County's many manufacturing businesses to prosper.
The full Legislative Agenda can be found at http://www.spartanburgchamber.com/advocate/advocate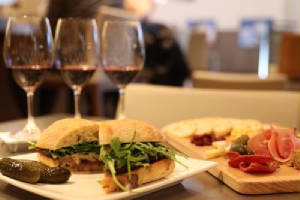 The new Vino Volo MarketBar at GSP will offer wine, beer and gourmet bakery items in a wine country casual and modern setting.
Vino Volo opens new MarketBar concept at Greenville-Spartanburg International Airport
Greer - Vino Volo, a nationally recognized airport wine bar operator and retailer, has made Greenville-Spartanburg International Airport (GSP) the first airport to offer a Vino Volo MarketBar. The new concept, which offers wine, beer and gourmet bakery items in a wine country casual and modern setting, opened on December 16. Vino Volo's MarketBar occupies an 824-square foot space in the airport's Grand Hall near Concourse B and the Airside Garden. Wines are sold by the glass and the bottle. The MarketBar also features local products by Greenville-based Methodical Coffee, Southern Pressed Juicery and Le Petit Croissant Bakery.
"We are thrilled to offer our customers another opportunity to experience high-quality food and beverage service at GSP. Vino Volo is a terrific addition to our award-winning concessions program," said Minor Shaw, chairperson of the Greenville-Spartanburg Airport District.
"At GSP, we continually look for ways to take the customer experience to new heights. We are proud to work with another company that's so well regarded in the airport food and beverage industry," said Dave Edwards, GSP's president and CEO.
GSP and Vino Volo have both been recognized by Airport Experience News (AXN) with AXN Awards for their innovative offerings. GSP won an AXN award for Best Concessions Program Design and Vino Volo won for Food Operator with the Highest Regard for Customer Service 11 years in a row. In addition, Vino Volo has been honored as the Retailer with the Highest Regard for Customer Service, Best Airport Bar, Best Brand and Best Overall Operator.
"Vino Volo is extremely excited to bring our new MarketBar concept to Greenville-Spartanburg International Airport," said Mark Sill, Senior Vice President of Vino Volo. "GSP is the gateway to a burgeoning food and wine-savvy region and we intend to represent the best locally-inspired products and food menu items. We can't think of a better airport partner to work with as we launch this extension of our brand."
Vino Volo was founded in 2004 and it has 47 company stores in 35 airports across the United States and Canada.
Global Lending Services adding hundreds of positions in Greenville
Greenville - Global Lending Services LLC (GLS), an automotive lending company, recently announced plans to expand its current operations in Greenville County. The more than $4.2 million investment is expected to create 669 new jobs.
Founded in 2011, GLS provides consumer financing for the purchase of new and used vehicles at more than 12,000 automotive dealerships that service over 150,000 customers throughout the U.S. The company has developed state-of-the-art technology and analytics with the ability to approve more customers at competitive rates and provide automated decisions to customers and dealers in less than 20 seconds.
"Greenville has been a great home to GLS. The city has provided a climate for tremendous growth for our organization," said GLS CEO Steve Thibodeau. "The talented workforce, along with the focus on automotive and consumer finance, has aligned well with our vision for GLS. We are excited about the next phase of our growth and look forward to many more years of continued growth and success in Greenville."
Located at 1200 Brookfield Boulevard in Mauldin in Greenville County, GLS' expansion will increase its footprint and capacity to accommodate growing sales. This expansion will enable GLS to double its operations in Greenville over the next five years to support customer growth and dealer demand. GLS currently employs more than 550 employees in its Greenville offices, along with an additional 200 employees nationwide.
"It is truly a testament to our growing business community when a company chooses to expand within our borders. We congratulate Global Lending Services LLC on the decision to invest more than $4.2 million and create 669 new jobs," said South Carolina Gov. Henry McMaster.
"We have worked very hard to cultivate a positive business environment in South Carolina, allowing companies like Global Lending Services LLC to grow and succeed," added South Carolina Secretary of Commerce Bobby Hitt. "This expansion is a big win for the Upstate, and I'm excited to watch this company thrive for years to come."
The expansion is expected to be completed by the summer of 2020, with initial hiring efforts already underway. Individuals interested in joining the GLS team should visit the company online at https://glsllc.com/careers/