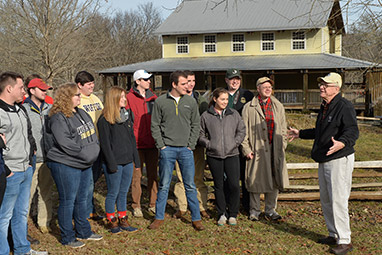 Wofford students recently spent time reading, researching, presenting and tromping through Upstate battlefields that helped shaped the Revolutionary War.
'Remember the Cowpens'
They walked in the footsteps of revolutionaries. During the month of January, a group of Wofford students who enrolled in the "Remember the Cowpens" Interim found themselves reading, researching, presenting and tromping through Upstate battlefields that were pivotal to American victory during the Revolutionary War.
"Interim is over but I have no doubt that the students in the class will 'Remember the Cowpens,'" says Simon Stricklen, enrollment and scholarship officer in the college's Department of Military Science. "They have a better understanding of the birth of our nation, and they now can give their own tour of the Cowpens Battlefield to family and friends."
The course was based on a detailed study of the Battle of Cowpens that Wofford students undertook 50 years ago during the college's first Interim. Many American military historians regard the January 1781 battle as the turning point of the Revolutionary War. The Wofford group studied the battle as it relates to the history of the American Revolution in the South and its place in local history. They examined the influence of the campaign on military strategy and tactics and explored the questions of battlefield preservation and memorialization.
According to Stricklen, who co-taught the course with Wofford archivist Dr. Phillip Stone, in addition to reading and classroom discussion, the class took three trips to Cowpens and visited battlefields at Kings Mountain, Mus-grove Mill and Blackstocks.
"Since the anniversary of the battle was Jan. 17, we went to Cowpens National Park's celebration event that featured period campsites, lectures, weaponry and clothing," says Stricklen. "The students particularly enjoyed the cavalry demonstration featuring eight horsemen in full dress."
Stone and Stricklen also brought in local experts to talk with the group, including Dr. Joab M. Lesesne, president emeritus of Wofford and a retired brigadier general, who served as Wofford's first coordinator of Interim, and Dr. George Fields, president emeritus of Spartanburg Methodist College, retired major general and the person largely responsible for the preservation of our area's Revolutionary War history. Ed Hall, a retired lieutenant colonel, Vietnam veteran and assistant professor of military science, who taught the original 1968 Interim, led walking tours of the battlefields, and Ed Davis, a local military history collector and member of the college's multi-craft crew, gave the students a demonstration of the loading and firing of a black-powder weapon and allowed them to experience what it was like to work on the gun crew for a piece of Revolutionary War artillery.
Interim, Wofford College's January term, frees students and faculty to spend the month focused on a single topic designed to expand the walls of the traditional classroom, explore new and untried topics, take academic risks, observe issues in action, develop capabilities for independent learning and consider different peoples, places and professional options. This year marks the 50th anniversary of Interim at Wofford.
Annual household toxics recycling date is March 24
Over the past nine years, one household at a time, Spartanburg County residents have recycled over 320 tons of toxic, hazardous, corrosive, and acidic materials from homes during nine Annual Household Hazardous Waste (HHW) Collection Day events. This year's event will be held on Saturday, March 24th from 9 am - 2 pm in the parking lot of the Spartanburg County Administrative Services Building at 366 N. Church St. in Spartanburg. Spartanburg County is one of only a few counties in the state to offer an annual HHW collection event to its residents. The service is free to Spartanburg County residents, and is sponsored by Spartanburg County's Solid Waste and Stormwater Departments, the City of Spartanburg, Upstate Forever, Goldmine Rain Barrels, Pratt Recycling, Waste Connections, Master Gardener Association of the Piedmont, and Spartanburg Men's Garden Club.
Items to be accepted include herbicides and pesticides, mercury, aerosols, brake fluid, corrosives, flammable solids and liquids, solvents and degreasers, pool chemicals, propane tanks, paint and paint thinner, batteries, fluorescent bulbs, and other common household hazardous materials. This event does not accept electronic waste (e-waste), explosives, asbestos, radioactive materials, or commercial wastes. E-waste is currently accepted at four of the county's recycling collection centers daily.
The event will have locally-crafted rain barrels sold on site as well. Rain barrels can be purchased for $95 each, with discounts available for multiple barrel purchases. Payment is accepted by check or cash only.
"Long-term storage and improper disposal of HHW can lead to accidental poisonings and can endanger public health and the environment if these items make it into the water supply. Water treatment and wastewater treatment plants are not equipped to remove these types of contaminants, so they should never be poured down a drain, storm sewer, or into a water body. We also encourage citizens to make less toxic purchasing decisions for future needs," stated Shelley Robbins, a Project Coordinator with Upstate Forever, a non-profit with offices in Spartanburg and Greenville that focuses on sustainable development practices and protecting special places in the Upstate.
More information about HHW and this event can be found on the county's website www.spartanburgcounty.org or at http://safedisposalupstate.org/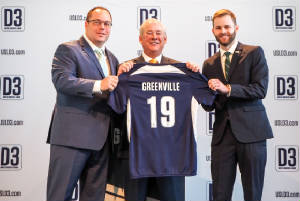 Greenville was recently granted a Division III expansion franchise with United Soccer League.
Greenville lands United Soccer League Division III franchise
Greenville - USL Division III executives announced on March 13 at Clemson University International Center for Automotive Research that Greenville will be the next addition to the new third-division professional soccer league set to begin play in 2019. President of Erwin Creates – operator of Endeavor – Joe Erwin leads the ownership group of the Greater Greenville team, joining the USL's Charleston Battery as the only professional soccer teams in South Carolina. Erwin Creates includes Managing Partner Shannon Wilbanks and Operating Partner Doug Erwin.
"We are honored to have such an economically diverse and vibrant market like Greenville, South Carolina, as a founding member of USL Division III," USL CEO Alec Papadakis said. "Greenville is a dynamic city, with a storied soccer history driven by the nationally-recognized programs at Clemson University and Furman University, along with the international influence of global corporations headquartered in the region. We welcome Joe Erwin to the USL family. As a long-time resident of this community, successful businessman and major contributor to Greenville's economic growth, Joe is the right person to lead this effort and develop a successful club for the region's passionate fans."
Successful Greenville entrepreneur Joe Erwin, who is the co-founder and former President of national marketing agency Erwin Penland and has deep ties to Clemson University as a graduate and Co-Founder of Clemson's Erwin Center for Brand Communications, joins the USL family's distinguished ownership group. Doug Erwin, Joe's son, is also a key member of the Erwin Creates venture creation and development team. Doug started his career with Vornado Realty Trust in Washington, D.C., a preeminent developer with more than 30 million square feet of LEED-certified office and retail space. He returned to Greenville to join Erwin Penland, where he worked on accounts including Verizon, Sears Auto Center and the Greenville Drive before becoming part of the Erwin Creates/Endeavor team in 2016.
"We are thrilled to be a part of the USL's new Division III league and to bring professional soccer to our community," Joe Erwin said. "The Upstate has a passion for the sport that extends from community soccer clubs that attract thousands of youth to high school teams that compete at the highest levels and nationally-ranked programs at Clemson University and Furman University."
"This is a huge win for Greenville and the entire Upstate," added Carlos Phillips, President of the Greenville Chamber who was in Louisville, Kentucky, when current USL champion Louisville City FC joined the USL in 2014. "I have seen firsthand the impact professional soccer can have on a community – in terms of economic development, company recruitment and attracting and retaining young professionals."
Chris Lewis was named President of Greenville's professional soccer team as part of the official announcement on Tuesday.
"Our success strongly depends on having the proven leadership of someone who understands professional sports, the market and, most significantly, is an active member of our community," Doug Erwin said. "We found that in Chris, and we've placed him at the top of the pyramid running this organization."
Lewis has more than 20 years of experience in professional and NCAA sports and most recently served as the President and General Manager of the Greenville Swamp Rabbits professional hockey team. During his more than five years at the helm of the New York Rangers' ECHL affiliate, Lewis led efforts that resulted in double-digit revenue and attendance growth. In addition, he oversaw the team's 2015 re-brand that helped propel the organization to new heights within the Greenville community.
"I am humbled to be selected to be a part of this group and the effort to launch a professional soccer team in the Upstate," said Lewis. "My family and I have grown to love this area and truly appreciate the incredible quality of life it provides. With both of our children playing academy soccer for two of the prominent clubs in the area, the sport has become an everyday part of our lives that we truly enjoy.
"I am proud and excited to be the steward of this effort and will make sure that this organization is a civic-minded asset to the Upstate that further enhances the tremendous quality of life offered by this community while also providing a top-notch family entertainment experience."
Greenville's pro team will make many significant announcements in the coming weeks and months in preparation for the 2019 campaign, including stadium plans, official team branding, coaching staff additions and more. Follow the team on Twitter, Facebook and Instagram for more information and to stay up to date on the latest news about the founding member.
With the addition of Greenville, USL Division III has named three founding members ahead of the inaugural season next spring. Two founding members – Tormenta FC and FC Tucson – will compete in the Premier Development League in 2018. Based in Statesboro, Georgia, Tormenta FC is led by Majority Owners Darin and Netra Van Tassell and has filed plans to construct a state-of-the-art 5,000-seat soccer-specific stadium in Statesboro. FC Tucson, which was acquired by the USL's Phoenix Rising FC, competes at Kino North Stadium and will anchor the western expansion of USL Division III.